US crackdown on Chinese mobile apps to hit TikTok and WeChat
Arun
US crackdown on Chinese mobile apps to hit TikTok and WeChat; next step could affect their use of US technology
This week the Trump White House issued separate Executive Orders banning US companies and people from transacting with either ByteDance, TikTok's current parent company, or the WeChat messaging service run by Chinese webscale giant Tencent. In effect these orders ban TikTok and WeChat from operating in the US, at least once the order takes effect on September 20. 
Note that this is 6 days after the May supply chain restrictions on Huawei are due to take effect. September is going to be a turbulent month for US-China relations and the broader tech industry.
Chinese ownership at issue
The orders are concerned with data security and censorship stemming from the Chinese ownership of WeChat and TikTok. As they are phrased, the orders affect WeChat directly but TikTok indirectly through a restriction on its current parent company, ByteDance. Hence, TikTok may get a reprieve if it is sold off to a US company like Microsoft. 
TikTok has been in the news for months and a frequent target of China hawks, and discerning parents. It's a catchy app, loved by millions. But it is also an incredibly invasive app configured to learn everything it can about your device and the network to which it is connected. And it's owned by a Chinese company, ByteDance, no matter what legal games are played to make it appear otherwise. 
WeChat is a messaging platform, or THE messaging platform of choice in China, widely used for much more than staying in touch – mobile payments, for instance. It's not a household name among most Americans but overseas Chinese use it widely. WeChat and Weixin, the domestic brand of the same platform, had a combined 1.2 billion active users as of March 2020.  
The last year of debates around Huawei have reminded us all that the Chinese government has incredible powers to do what it wants with Chinese companies, especially if a national security rationale can be contrived. There is a solid rationale for restricting these companies' operations in the US, or any other country not willing to give its network secrets away to China, and the US is not the first to make this decision. India similarly banned both apps last month, along with dozens of others.
Beyond network security, there is the issue of content censorship. An American teenager went viral on TikTok several months ago by cleverly inserting views about Xinjiang into a makeup tutorial, after she claims she had been censored for discussing the subject directly. Meanwhile, WeChat's censorship of content on its platform, even private conversations, has been common knowledge for many years. 
Implications of EO on networks
The ink is barely dry on these EOs and there is much online debate about the implications and legality of the move. They are probably legal, based upon citation to the International Emergency Economic Powers Act and the National Emergencies Act, and despite First Amendment concerns. In my opinion this issue might have been better handled by the FCC, which could have conducted a public investigation, and then established general principles to apply to the next TikTok or WeChat. But the Trump White House is not big on process, always eager to push the boundaries of what it is allowed to do, and there's an election coming up. 
So the question becomes, what's next? Let's assume the orders go into effect, even if they need some clarification down the road. It's not clear how much they affect Tencent's broader operations, for instance, including its many investments in affiliate companies in the gaming and video sectors. That will be ironed out, eventually.
What's interesting to me is what may happen in the network arena. I suspect the next step will be to target how these companies build their networks. Just as the US government can restrict Huawei from accessing US-origin technology, it can do the same for Tencent and TikTok, and the many other cloud/tech players in China attempting to spread their wings globally, many with a US presence.
Tencent's data center footprint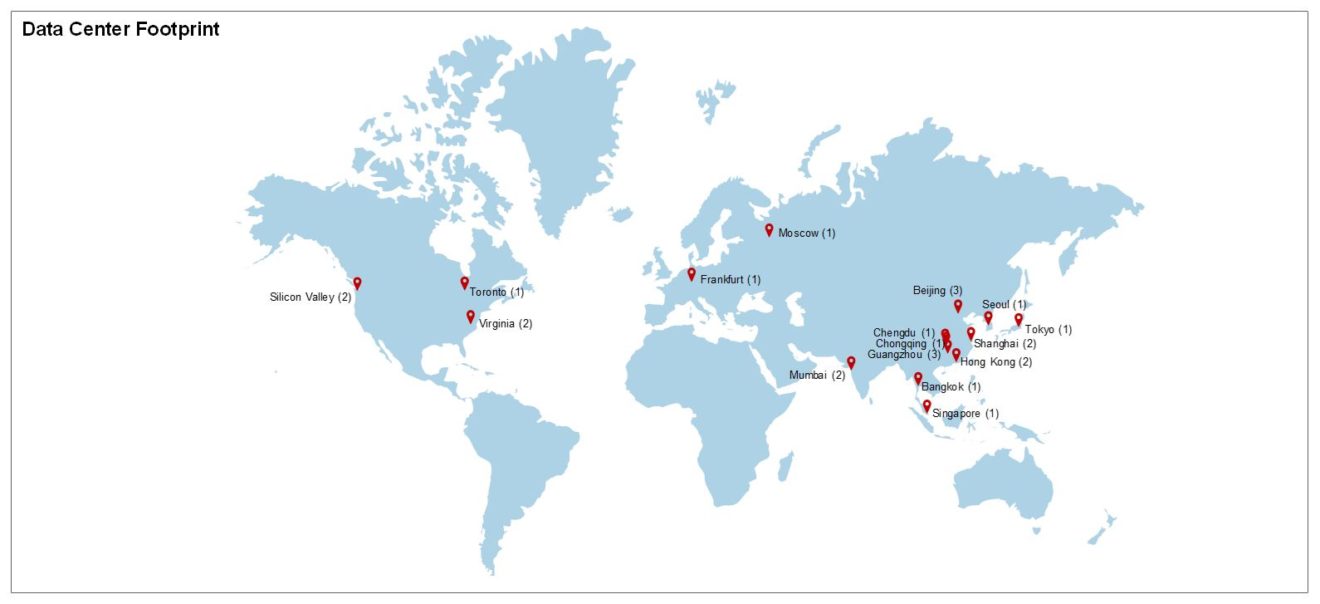 Hammering down on network design
Tencent, Alibaba, Xiaomi, and several other Chinese tech companies build large data centers using, at least in part, US-origin technology. Many of the firms are building global operations, and some have infrastructure in the US. If the US has security concerns about their scope of operations, ownership, and intentions, then it may limit the companies' access to certain US-origin technology. In fact, we predicted this would happen in a Commentary published in June. While the EO doesn't clearly reference this aspect, it seems inevitable that some arm of the US (yes, even under a President Biden) will restrict the Chinese cloud players' access to US tech. That would affect Tencent in a big way, as it has data centers spread across the globe and spent nearly $5B in capex in 2019.
In building out their clouds, much of the technology the Chinese players use is produced locally. That's not the case for chips, though. Even though they have been building their self-design capabilities for several years, Chinese webscale players continue to buy most high-end chips directly from US suppliers. And even for their self-designed chips, for production the Chinese option SMIC is not the solution. Alibaba's Pintouge chip unit has been relying largely on Taiwan-based TSMC, while Baidu has partnered with Samsung.
Tencent is also working on chip self-design, but at a much earlier stage. It relies even more heavily than Alibaba and Baidu on US companies for building out its network, including AMD, Intel, Nvidia, and Qualcomm. It also uses Acacia and (Finland-based) Nokia for data center interconnect optical transport. These vendors will be affected by the EOs eventually, and should expect to lose some sales. We should also expect the Chinese government to keep up the pressure on SMIC to mature production capacity, and expect the subsidies to keep flowing.
One other inevitability, in my opinion, is a crackdown on Zoom. It's amazing to me that it hasn't happened yet. The logic of limiting Zoom's US access is essentially the same as for WeChat and TikTok: Chinese ownership, requires disclosure of private device and network information to function, and at least some history of censorship.