COVID-19 impact on network operators and their suppliers
Arun
"The COVID-19 impact is, of course, hard to assess…"
With this comment, Ericsson's CEO has captured the general sentiment of the market. Many tech companies to report earnings over the last 1-2 weeks have withdrawn financial guidance. That includes Avnet, Infosys, Sanmina, and Wipro. Some have provided guidance for the next quarter only, but withdrawn full-year guidance (Harmonic). Chipmaker NXP has provided a high-low range on its revenue forecast, projecting between 14-23% lower revenues in 2Q20 than the prior year period. All companies emphasize how unstable the current environment has become, where – as F5 CEO puts it – "COVID-19 has altered just about everything about our daily lives."
New economic forecasts emphasize uncertainty, downside risk
As we covered in our last newsletter, the IMF issued its latest World Economic Outlook on April 14. That called for a three percent contraction in global GDP in 2020. While the COVID-19 curve may be flattening in some countries, the economic outlook remains stark. An advisor to US President Trump says US GDP could drop as much as 20-30% in 2Q20. JP Morgan expects the second quarter drop to be even worse, projecting a 40% decline. Europe also faces a recession; for full-year 2020, the Bank of America expects GDP to fall nearly 8%. Oxford Economics expects world trade in goods and services to fall by 10-15% in 2020. 
The prospects for the China market are, in theory, better than countries more recently dealing with COVID-19's spread. China is getting back to work in 2Q, after all. However, reliable information from China on COVID topics continues to be limited. Like other countries, China could face a double dip if things are loosened too quickly and a second lockdown is required. There are political risks to the current regime given both pressure from the US and domestic frustration. Moreover, nearly every tech manufacturer is now re-evaluating their supply chain strategy, looking to enhance resilience and lower China's leverage. 
Vendor revenues started showing signs of weakness in 1Q20 
The biggest tech vendor to report 1Q20 earnings so far may be chip specialist Intel, which reported a surprising 23% growth in revenues to hit $19.8B. Intel found itself in a sweet spot of growth with its Data Center Group in 1Q20, whose revenues rose 43% to $7B. Even the telco (comms service provider) segment of DCG saw double digit growth, up 33% YoY. Intel is an exception though, and it expects its own growth to moderate to 12% in 2Q20.
Other chip companies didn't do quite so well. Maxim reported 4% YoY revenue growth in 1Q20, while NXP and Sanmina saw revenue declines of -3% and -25% respectively. Revenue decline was worse for NXP and Sanmina in their communications segments, down 10% (NXP Comm Infra) and 38% YoY (Sanmina Comms Networks). 
A number of the biggest vendors active in the telecom network infrastructure segment
have reported, including Ericsson, ZTE, Juniper, F5, and Harmonic. F5 reported a 7% growth in revenues, to $583M, and Juniper reported flat revenues at $998M. All others reported YoY revenue declines (on a US$-basis) in 1Q20. Ericsson corporate revenues fell 4% YoY, while networks revenues dropped at a more modest 0.6% YoY rate due to an uptick in new 5G network deployments. Corning revenues fell 15% overall in 1Q20 to $2.39B, but optical communications revenues to telcos/CSPs dropped faster, down 27% YoY to $568M.  
Two large IT services vendors, Wipro and Infosys, have done slightly better than some of their hardware-focused counterparts. Infosys corporate revenues increased 4.5% YoY to $3.2B, while Wipro stayed flat at $2.7B. Communications sector revenues were flat for both: $416M for Infosys (from $413M in 1Q19), $114M for Wipro ($118M).
One other early reporter is Avnet, an electronics parts distributor with a peripheral role in the network infrastructure supply chain. Avnet's revenues dropped 8.3% YoY in 1Q20 to $4.31B. This is one of the companies which withdrew guidance for 2020. Avnet's commentary by region is interesting, and optimistic in places. It is "cautious" about the Americas and expects a drop-off in revenues in EMEA, but the rest of Asia is mixed, and "Greater China is operational and appears to be recovering." 
The figure below illustrates reported 1Q20 revenues for the companies mentioned, along with the YoY growth rate.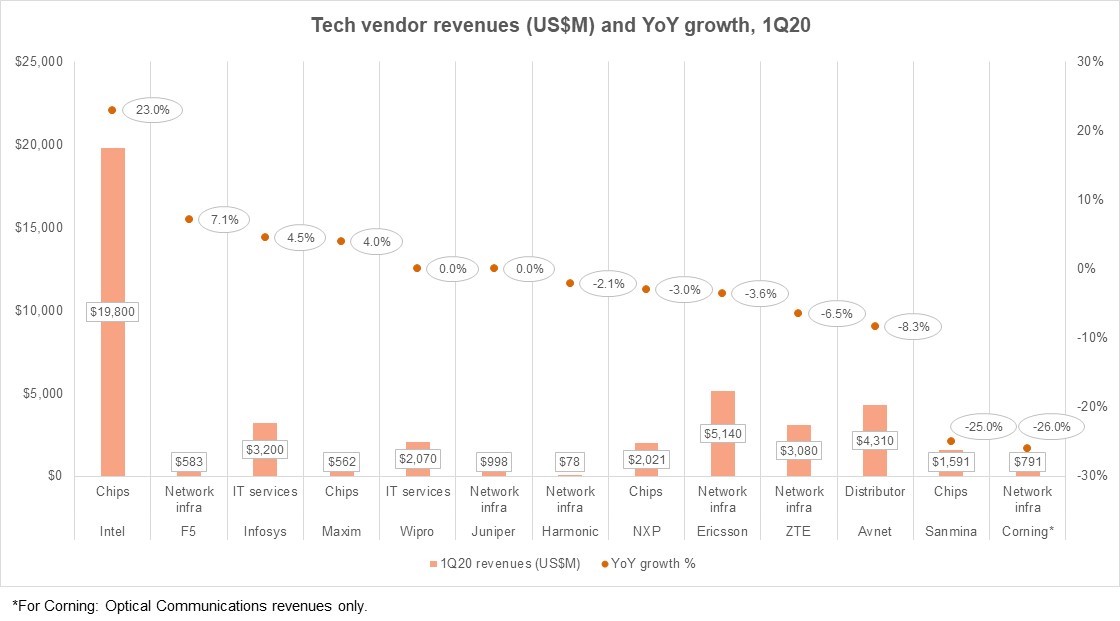 Implications of earnings
A few trends are apparent from a review of early earnings reports.
Companies are spending a lot of time rearranging operations to support working from home (WFH). Employee safety is the key priority for most companies right at the outset. This is not a small task, as some of these vendors are huge and accustomed to team working environments. Ericsson says that about 85,000 of its employees now work from home; for Wipro, it's 90% of 165,000 employees. Transitioning to WFH while getting work done and keeping customer satisfaction high is the ultimate goal. On that note, Wipro says its SLA performance on services contracts was stable in 1Q20. More companies may need to address this directly.
Networks may be largely software-based nowadays but building and maintaining them still requires human interaction. As such, vendors have had to modify processes to ensure customer safety, too. This hits telcos harder, especially fixed network operators who need to install or maintain service in residential units. That's something to watch as telcos report.
Cloud and data center spending in general appeared to hold up better in 1Q20 than telecom, and lifted several vendors. Some of this is due to COVID's (modest) positive affect on cloud usage in general, and services/apps that cater to the work (and study) from home market. Webscale operators continue to make big investment announcements. Facebook pushing into India with its Jio tie-up is one. Equinix announced a $1B joint venture with GIC to build data centers in Japan. There is even a rumor that Rackspace is hoping to go public (again) in 2020. Public equity markets will need to stabilize before the IPO market kicks up, though.
Vendors are spending more time and ink addressing their liquidity position than usual. Faced with a potentially double digit drop in global GDP in 2020, they have to consider the long-run. Some companies won't make it. And when you choose your supplier, their financial viability in this climate needs to be a primary criteria.
Changes in tech supply chains are underway. Companies need to diversify sources away from China, most important. The trade war started this, and COVID-19 will give it new life. For IT services vendors, this is an opportunity for them to advise other companies, and help to foster new processes and value chains. TCS notes that it is "helping customers re-orient supply chains to ensure resilience and meet critical needs." For most vendors, it is about better managing risk. Ericsson notes that its strategy "since long has been to secure a dual mode production," regularly conducting continuity assessments including multi-source component sourcing. Smaller vendors will have to address the issue too, and it will stress some. The need for more resilient supply chains will add to the industry's momentum towards consolidation.