Vodafone Idea to work with Red Hat on distributed cloud platform
Arun
Vodafone Idea to work with Red Hat on distributed cloud platform 
On October 21, Red Hat announced that it would help Vodafone Idea "transform its distributed network data centers to open standards, open interfaces based 'Universal Cloud.'" Vodafone Idea (VI) will deploy several Red Hat platforms: the OpenStack Platform, Ceph Storage, Ansible Automation Platform and Enterprise Linux. 
Marshal Correia, VP/GM of Red Hat India says the company will setup and extend a distributed cloud platform for VI's customers, and help the operator adopt a "more agile, DevOps-centered workflow based on Red Hat's open hybrid cloud technologies."
Red Hat is a unit of IBM, which has supported Vodafone Idea in previous projects. In May, VI signed a five-year agreement with IBM to modernize and consolidate its IT infrastructure. IBM stated at the time that the operator would use IBM's "hybrid cloud and multicloud services, plus analytics and artificial intelligence (AI) security capabilities, to better engage with customers." IBM did not disclose the deal value, but press rumors put the value in the hundreds of millions of US dollars. Prior to this deal, IBM had separate data center outsourcing arrangements in place with Vodafone and Idea.
Commentary
Vodafone & Idea completed their merger in August 2018. The merger left a telecom market with three big private players: Vodafone Idea, Jio, and Bharti Airtel. It also left Vodafone Idea with a huge integration task, while India's telco market continues to recover from the Jio effect. Indian telcos have been laying off employees, selling assets, and – for everyone but Jio – spending capex cautiously (see figure, below). Further, Jio is not just a threat in mobile markets. It signed a sweeping cloud deal with Microsoft this summer. 
Vodafone Idea began its life with some data center assets, but almost entirely consisting of rented space in other providers' facilities. IBM is the main partner but another is CtrlS, announced in May. Given the need to save capex for 5G, VI seems likely to continue relying on infrastructure partners for its data center and cloud assets. 
These assets are not just needed for cloud and enterprise services. They're needed to efficiently support network operations and deliver a wide range of services. VI hopes to use Red Hat solutions to improve user experience and reduce latency on its networks. This is important for two reasons. First, VI has been shedding mobile subscribers, per the latest TRAI report. Second, the newly merged Vodafone Idea has begun to focus more on Business Services unit for growth. It claims to have over 40% market share locally in enterprise mobility and IoT, for instance. Keeping market share at that level in the face of Jio's ongoing expansion will be almost impossible. VI hopes its work with IBM/Red Hat, Cisco, Optiva and other suppliers will help.
Who is Vodafone Idea
Vodafone Idea is India's largest mobile operator per the TRAI, with 32% market share as of end August 2019, and corporate revenues of $6.6B over the last 12 months (3Q18-2Q19, i.e. annualized). MTN Consulting figures indicate Vodafone Idea captured 34% of India's total telecom revenues in 2Q19, with Jio and Airtel lagging with 20% and 18%, respectively. Jio spends over half the market's capex, for now, as shown in the figure below.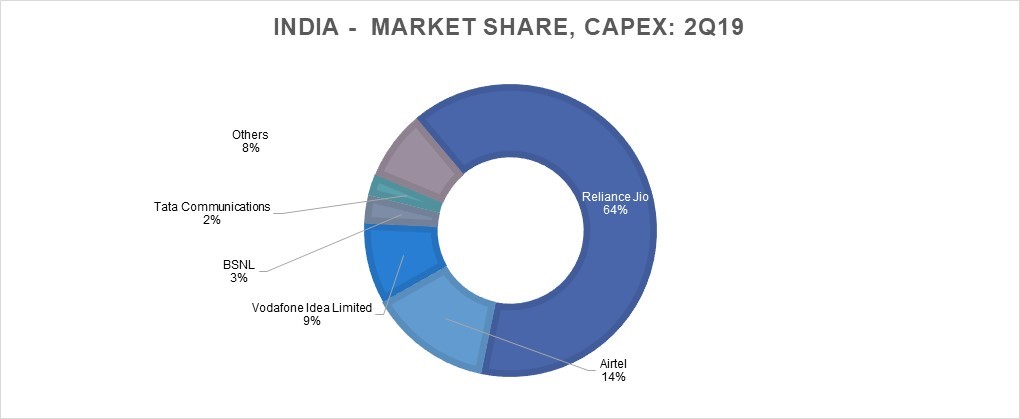 Source: MTN Consulting