Webscale sector's capex push to bring many more data centers online in 2021-23
Arun
Webscale sector's capex push to bring many more data centers online in 2021-23
Capex surge from webscale operators will continue
Technology spending by the webscale sector is on a tear. While COVID-19 depressed the telco sector in 2020, strong demand for cloud services and ecommerce drove the webscale operators providing these services to expand investments considerably. Webscale capex rose 25% YoY to hit $34.7 billion in 3Q20, or $120.9 billion on an annualized (12 month) basis. That amounts to 42% of the telco industry total for the same period. Just three years prior, in the 3Q17 annualized period, webscale capex was only 24% of the telco market.
The webscale market is dominated by a small number of big spenders. Alphabet, Amazon, Facebook and Microsoft captured 70% of sector capex in the last 4 quarters, Apple added 6%, and each of China's two big players (Alibaba and Tencent) added another 5% each. Going forward, China will account for a bigger share of the total, possibly as much as 20% by 2025.
As a reference point, the figure below illustrates recent single quarter capex trends for the 5 biggest US-based and 3 biggest China-based webscale providers.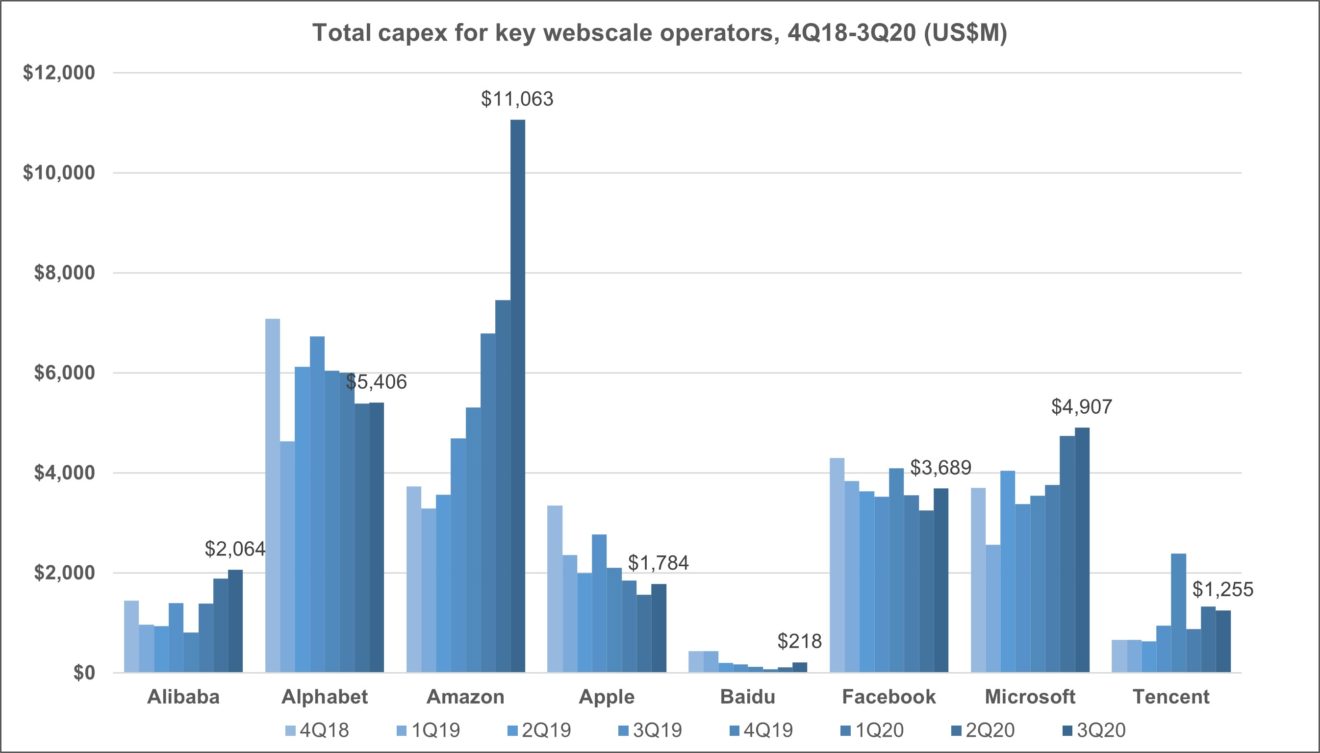 Source: MTN Consulting
The growth in 3Q20 wasn't a one-time thing. While the outlook for telco capex is modest, MTN Consulting expects webscale sector capex to end 2021 at roughly $143 billion, and grow further to reach approximately $201 billion by 2025 (figure, below). The network/IT/software portion of capex will come in at roughly 50% of total in 2020, as it did in 2019, decline to 42% by 2023 as a spate of new data centers come on line, but grow back up to 50% by 2025 as more of capex is for server/capacity expansion of existing infrastructure. Within the technology piece of capex, data centers and their components (networking, compute, storage, power) will soak up the bulk of spending, but subsea cables and satellite networks will become increasingly important over the next 5 years.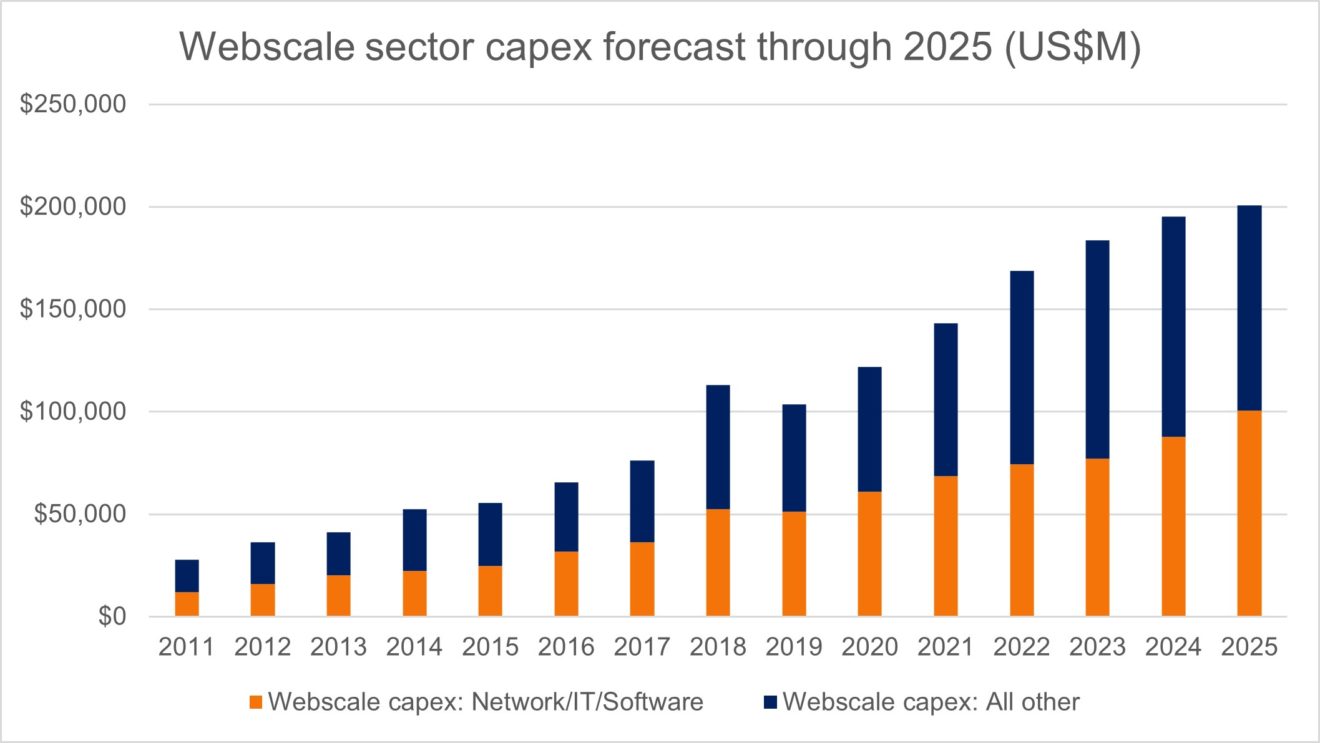 Source: MTN Consulting
All of the big webscale providers have major data center construction or expansion projects underway, in multiple corners of the world. Some of this activity leans on partners from the carrier-neutral sector, for instance Oracle is relying heavy on leased collocation space from Equinix for the Oracle cloud buildout. However, the bulk of webscale capex is aimed at enormous, self-owned facilities designed to spec. The choice of location is crucial, and depends on many factors, including access to major population centers, big customers, submarine cables, internet exchanges, and low-cost renewable energy; government incentives such as tax abatements; and how the location complements the operator's overall global network strategy. Because location is so important, many webscale providers buy land in attractive markets far in advance of a decision to build a data center; this is known as "land banking."
Below is a brief summary of some of the webscale sector's major data center projects, either currently underway or recently completed.
Table 1: Data center projects underway – a snapshot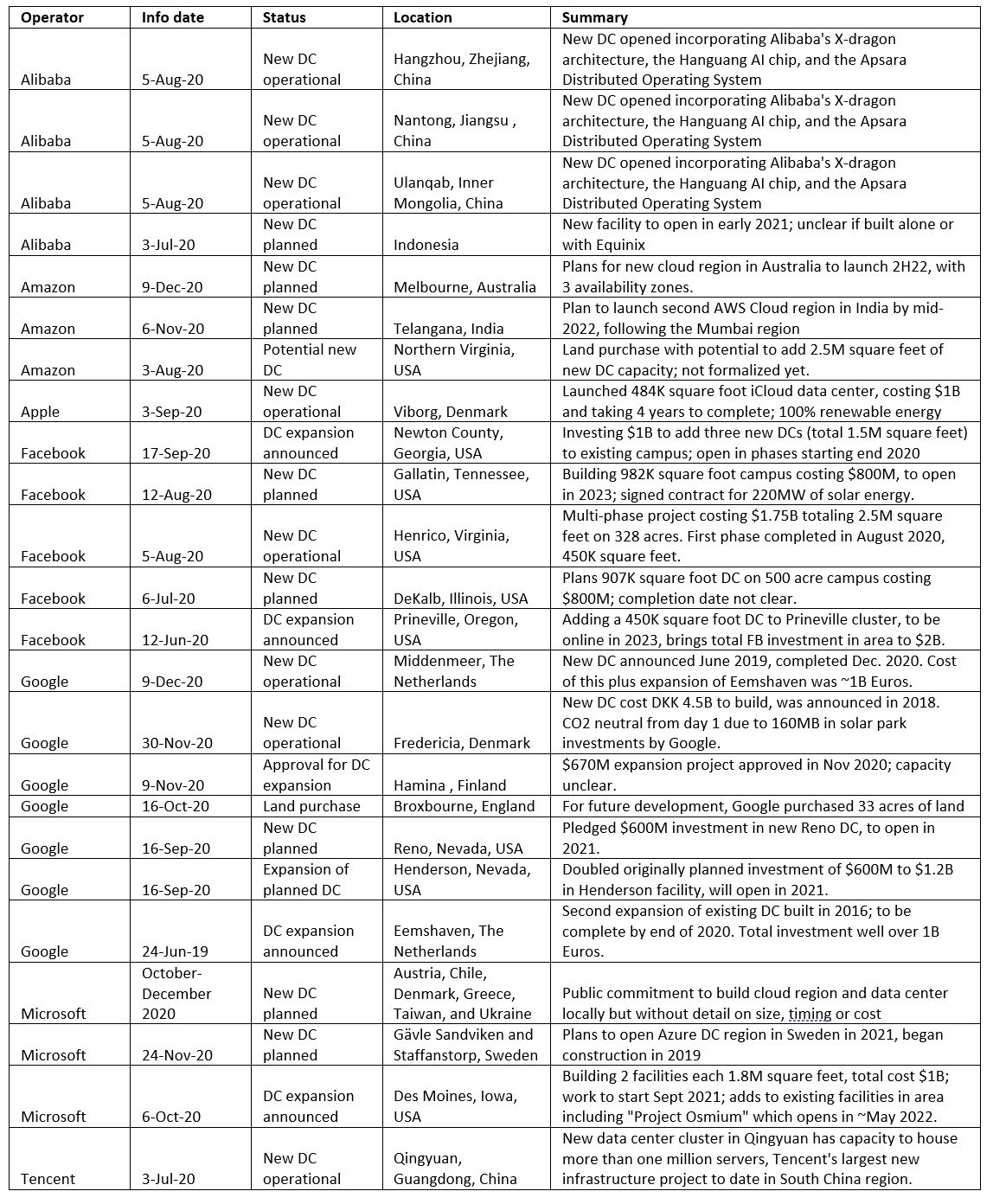 Source: MTN Consulting