Connected cars: Telco strategies and growth opportunity
Arun
Connected Car Emerging Tech Series Part 2
Author: Waseem Haider
In the first part of this series we outlined the role of telcos in the connected car ecosystem. Historically, telcos are well experienced in adding value to adjacent verticals based primarily on their core assets. Some of the verticals where telcos have already made a mark are  Smart Home, Utilities/Smart Energy, Finance, Retail and Public sector, to name a few. Telcos are now making their mark in connected cars.
Telco connected car strategies
Connectivity is the cornerstone of any connected car and telcos have a competitive advantage in providing safe and reliable connectivity. However, with the ever-expanding connected car ecosystem, it is not only connectivity which telcos bring to the table but also other capabilities. In this write-up we will have a look at what different strategies telcos are implementing in the growing connected car market.
Core strategy: connectivity
As part of telcos' strategies in the connected car space, Figure 1 provides an overview of connectivity categories.
Figure 1: Automobile connectivity categories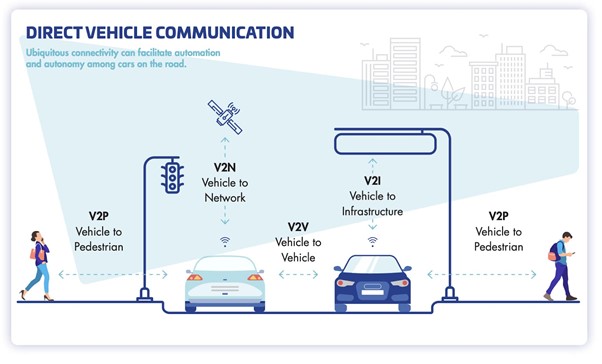 Source: McKinsey & Company
Connectivity is a vital part of the technology stack seen in connected cars being manufactured by OEMs. Some of these cars are capable of exchanging data and information not only in-vehicle but also with the external environment (see Figure 1, above). V2X (vehicle-to-everything) encompasses all the related terms – communication with other vehicles (V2V), networks (V2N), infrastructure (V2I) and pedestrians (V2P). Most of the OEMs already allow car owners to connect, monitor and interact with their vehicles. As we move towards autonomous vehicles in future, cars will rely on connectivity to communicate with one another and the external environment. Broadly, connectivity for any connected car falls into two major types:
Cellular & Satellite (Network based communication)

Wireless point-to-point (Direct communication)
Network-based Communication is long-range, also known as V2N (vehicle-to-network) communication, where V2N employs telcos' commercially licensed spectrum. Connected cars also have access to cloud services and other security offerings of telecom networks.
Direct Communication involves short-range wireless communication between nearby vehicles (V2V), infrastructure (V2I) such as traffic lights, and pedestrians (V2P) where vehicles communicate directly with the device carried by pedestrians. In some specific scenarios such as non-line-of-sight (NLOS) objects, cellular network-assisted direct communication is of relevance.
Regardless of the type of communication, telcos are playing a significant role in providing connectivity to today's connected cars today, and will do so in the future when autonomous cars will be commonplace. The telcos are working with a mix of complementary technologies to enable reliable and safe connectivity to connected cars like 4G/LTE, Satellite, DSRC (dedicated short-range communication) and 5G for autonomous vehicles with low latency and more reliable communication compared to existing technologies.
Adjacent strategy: VAS (value-added services) 
Apart from providing reliable and safe connectivity for the connected cars ecosystem, telcos have an edge in deploying integrated solutions which leverage their experience working with multiple partners. Telcos are uniquely positioned to manage value-added services (VAS), collaborating across consumers and OEMs. There is no "one-size fits all" strategy and strategies can vary across telecom operators, depending upon which area of the connected car value chain they are focusing on and where they want to compete. 
As customer expectations are increasingly high and technology is much more advanced, telcos can be at the forefront of new emerging use cases in the connected car space. Some of the most popular value-added services which are part of telcos' offerings are:
Cloud-based integrated platform

Customized billing solutions

Telematics and big data analytics platform

Other VAS
Some of the specific examples of value-added services provided by Telcos in the connected car space are:
Lost/stolen vehicle recovery end-to-end service

Usage-based insurance

Vehicle location monitoring

Pay-per-use billing for in-vehicle services 

Cross-device identity management

Fleet management services

Data management across IoT sensors

Vehicle/Infrastructure data integration services

Vehicle and device security solutions
Future strategy: end-to-end mobility services
The future of mobility is more connected, intelligent, shared, and autonomous, which creates a plethora of opportunities for telcos. One of the biggest opportunities coming out of the shifting mobility landscape is the leveraging of all the data generated by vehicles. For example: the in-vehicle infotainment data could be analyzed by telcos to track consumer usage to advise content producers, advertisers, and media houses on consumption patterns, and can be monetized by telcos, leveraging consumer data insights. Another example is fleet management services including tracking, dispatching, and scheduling fleets. Telcos can make use of customer profile data and other authentication details to manage vehicle access on behalf of fleet operators. 
However, any opportunity emerging from data monetization in the connected car space is surrounded with challenges. Some of these challenges are – who owns the data? Are consumers willing to pay for data services and/or provide consent to use their personal data? Are automotive OEMs ready to share the pie with telcos and other ecosystem players? What measures are telcos undertaking for data protection and security? Telcos can overcome some of these challenges based on their history of managing sensitive customer data while ensuring personal data protection. This gives the telco an edge to provide data-based products and services, including targeted advertising, pay-as-you-go infotainment, Mobility-as-a-service (MaaS), consumer health monitoring including user-based insurance etc.
Additionally, with the roll-out of autonomous vehicles and 5G, telcos will continue to work on more innovative products and services, to bring a differentiated offering to end-users and other ecosystem partners. The future role of telcos in the a connected car space will be providing  broader mobility solution, going beyond connectivity and value-added-services.
Figure 2 below illustrates how telco strategies in connected cars may evolve, from point solutions to transformational, end-to-end mobility experiences. 
Figure 2: Telco strategy evolution in connected car market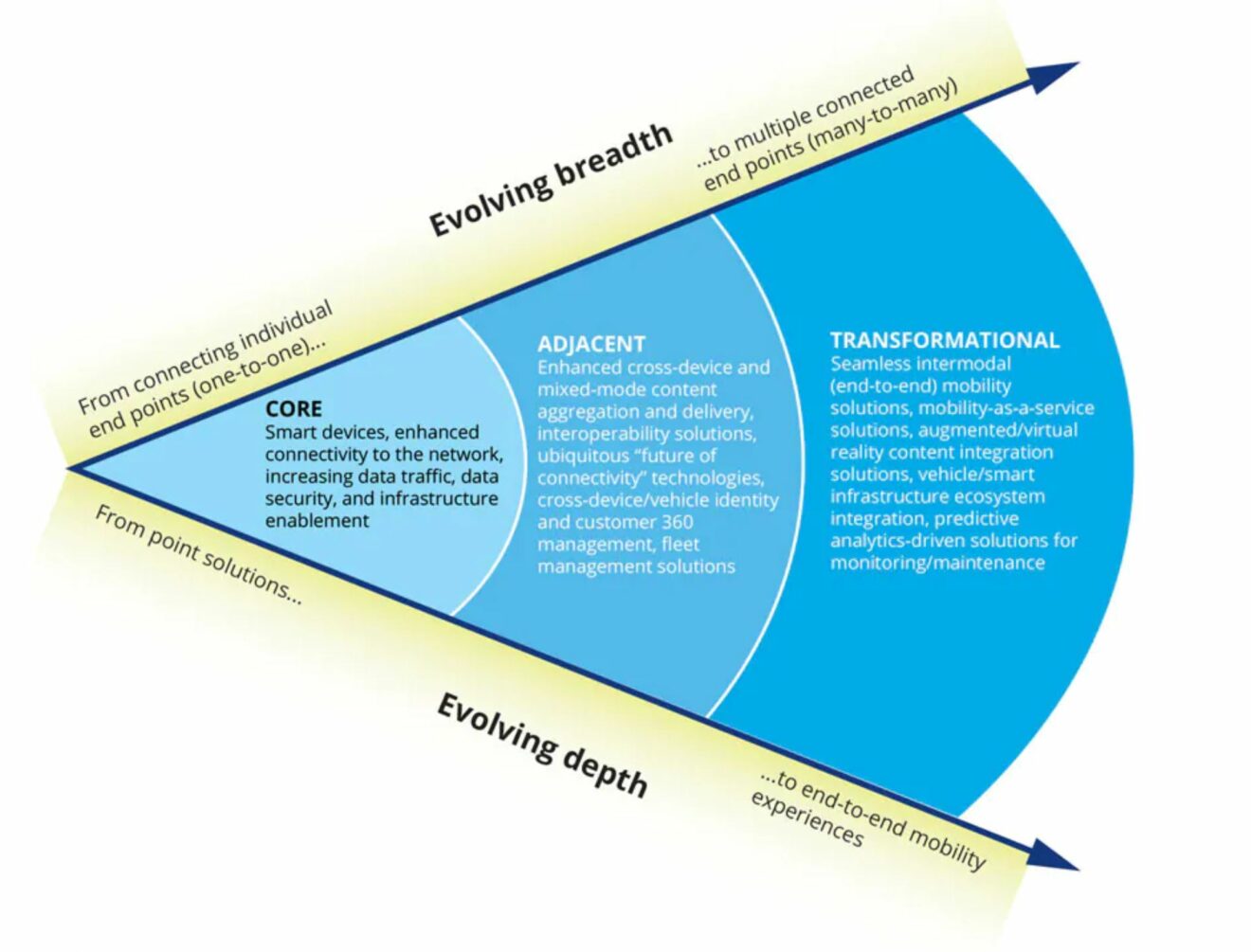 Source: Deloitte
Case Study: AT&T
AT&T has a dedicated connected car platform called "AT&T Drive". This is a modular platform which allows auto OEMs to choose from a range of services, from connectivity to revenue management solutions. AT&T is working with various stakeholders – automakers, developers, and other suppliers – to design customized solutions to bring new services to connected cars. Some of the services provided by AT&T in concert with other solution providers in the connected cars ecosystem are:
Amdocs: Customized Billing solution
Ericsson: Global Application delivery platform
Accenture: Telematics and Big Data Analytics
Jasper Wireless: Global cloud-based connected device platform
Figure 3 illustrates AT&T's current proposition in the connected car market.
Figure 3: AT&T's Connected Car Positioning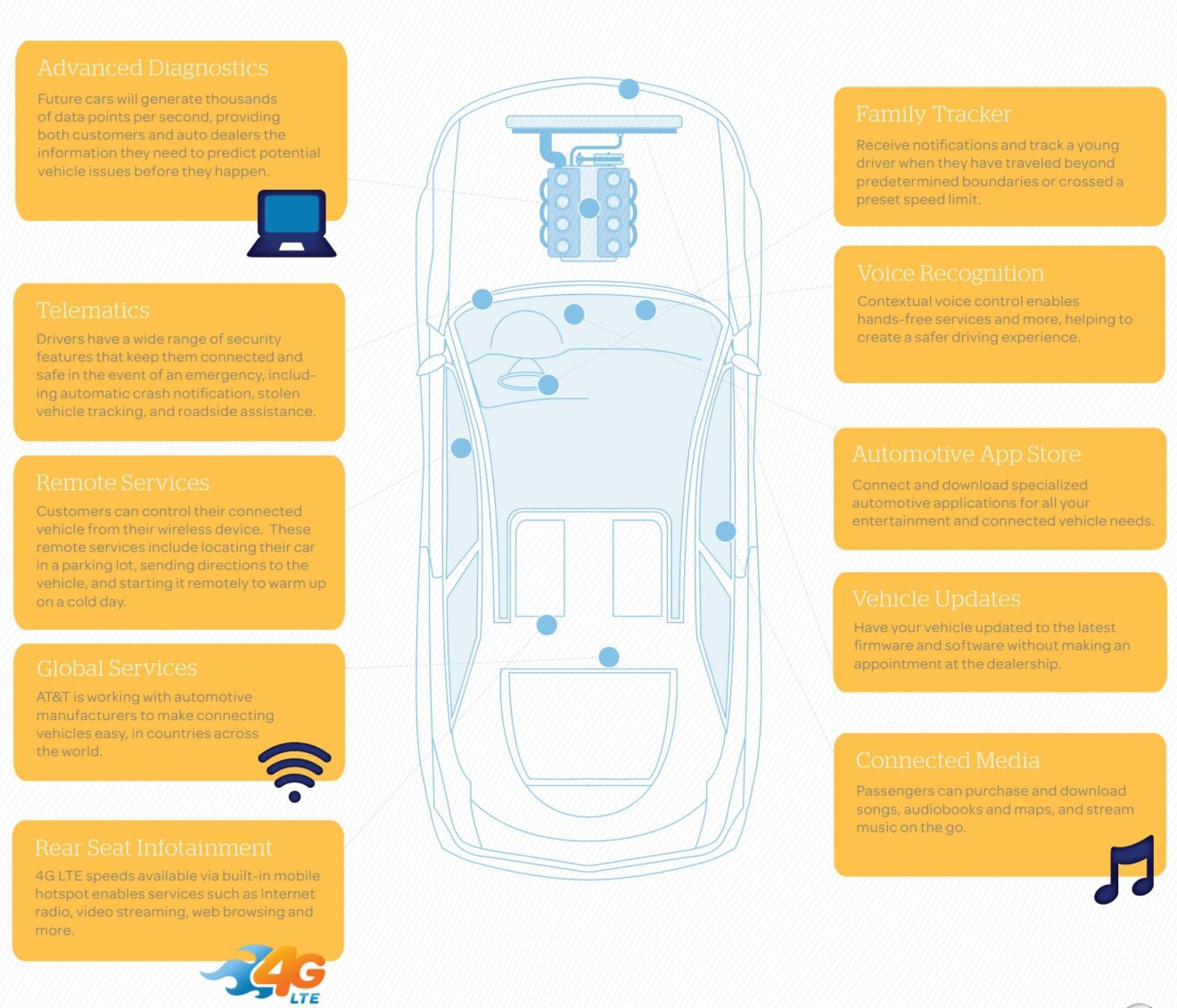 Source: AT&T
Conclusion
MTN Consulting believes that telcos have real revenue upside opportunities in the connected car space. However, for that to become a reality, there is a need for telcos to think out-of-the-box in terms of future strategies. Telcos should aggressively build capabilities which they do not own traditionally, even if that means new partnerships and alliances to develop service portfolios around the connected car landscape. For instance, they could partner with augmented-reality providers to demonstrate the ability to deliver enhanced multimedia content experiences within the vehicle, and they could partner with fleet management service providers to provide intermodal mobility device tracking, monitoring, and interoperability. 
Image Source: Toyota