Connected cars and telecom
Arun
Connected Car Emerging Tech Series Part 1: Role of Telcos
Author: Waseem Haider
Connected Car Ecosystem
Mobility today is changing rapidly, and connected cars are the driving force behind this disruption. The future of mobility is all about autonomous driving, electric vehicles, carsharing and connected cars. The biggest impact of this shift unquestionably is on Automotive OEMs and their suppliers. However, the connected car space is a dynamic ecosystem which includes OEMs and various stakeholders ranging from telcos, software & platform providers, equipment suppliers and consumers.
The connected car ecosystem is evolving extremely fast and many other key stakeholders apart from telcos are trying to establish or have already made a mark in the connected car value chain.
Figure 1 illustrates how complex the connected car ecosystem is becoming.
Figure 1: Connected Car Ecosystem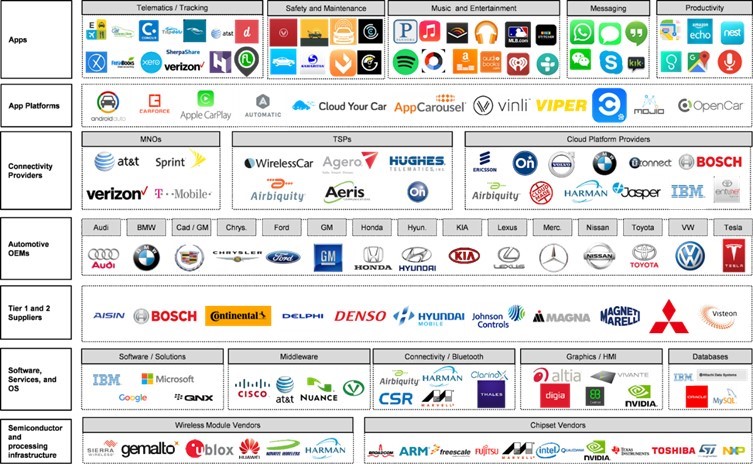 Source: Red Chalk Group
Some of the key elements in the connected car ecosystem include:
Telecom Operators – AT&T, Deutsche Telekom, Telia, Telefonica, Vodafone etc.
Technology Vendors – Nokia, Ericsson etc.
Cloud Providers – Google, Amazon, Microsoft etc.
Original Equipment Manufacturers (OEMs) – VW, Ford, BMW, Audi, Hyundai etc.
System Integrators (SIs) – IBM, Accenture etc.
Over-the-Top (OTTs) Players – Google, Apple etc.
Platform Providers – Jasper, Airbiquity
Other Suppliers – OnStar, Continental etc.
The connected car is providing fresh opportunities to traditional players such as TSPs (Telematics Service Providers) e.g., Airbiquity, Tier 1&2 automotive suppliers like Bosch, new players such as webscalers Google, Alibaba, and Apple, as well as traditional telcos. In fact telcos have a crucial role to play as this market evolves.
For instance, Bosch supplies infotainment systems to a majority of OEMs globally but these systems require cellular connections provided by telcos' 3G/4G networks. Bosch is also involved in pilot projects to test 5G technology for future systems for new innovative services and better connectivity. 
The Role of Telcos in Connected Cars
In this first part of the connected car series, we will focus on the role of telecom network operators (telcos) in a connected car ecosystem. Telcos act as the backbone of any connected car by providing the required communication network. 
Figure 2: Telcos play a central role in the connected car ecosystem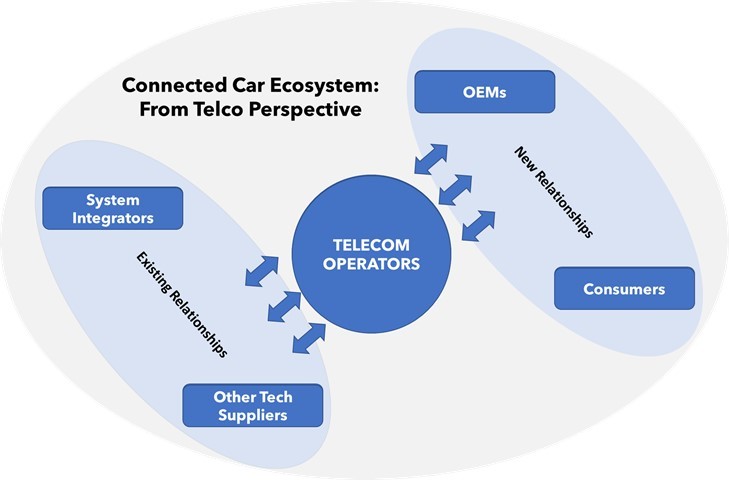 Source: MTN Consulting
Telecom operators have a competitive advantage when it comes to providing fast and reliable connectivity for connected cars. Further, the ever-evolving connected car ecosystem offers telcos some interesting new revenue opportunities. That is important as telcos are struggling to attain any top-line revenue growth in their current scope of operations. Even with 5G now emerging around the globe, most telcos continue to see flat to down service revenue trends. Developing new types of services and penetrating new vertical markets is essential for telcos to grow.
There are two basic types of services envisioned for telcos in the connected car space:
In(side)-car services: Infotainment (music, weather, social), and Navigation (location/traffic, landmarks, etc.)
Out(side)-car services: Telematics/M2M (insurance, repairs, parts, etc.), Remote (stolen vehicle, parking information, etc.).
Telcos are playing a significant role in both types of above services. For in(side)-car services, Telcos and OTTs (aka webscalers) are trying to build a niche in the infotainment/apps space. Apple and Google for example have already launched their connected car offerings – CarPlay and Android Auto respectively – while Telcos provide the SIM cards and Wi-Fi connectivity to access the services offered by OTTs.
However, the big opportunity for telcos in the connected car space, where they have an edge over other ecosystem players are – out(side)-car services. Telcos are uniquely positioned to provide Telematics/M2M and remote services by leveraging their core connectivity assets as well as strong cloud offerings. Depending upon the service provided, Telcos are working on both B2C and B2B business models. Telcos have grabbed this opportunity by launching dedicated connected car offerings and facilitating key partnerships with major OEMs and other ecosystem players.
A few examples of telcos making a huge difference in the connected car space are: 
AT&T considers the connected car business as one of the "key growth areas" and it serves over 30 million connected cars on its network. In the US, 31 different car brands are working with AT&T, where the carrier provides cellular connectivity to virtually the entire industry. LTE is the main connectivity technology but AT&T is exploring 5G for next-generation connectivity to future vehicles. 
Vodafone goes a step further by providing hardware and software to be fitted in connected cars, as well as the network to connect everything. Vodafone also provides managed services to car customers and is supplying telematics systems to major OEMs like Audi, BMW, Porsche etc. 
Orange has taken a slightly different approach by providing the connected car ecosystem with infrastructure services incorporating mobile and information technology. For example, Orange is supplying M2M SIM cards to all the Renault vehicles which are installed with an in-house developed connected tablet equipped with a R-Link system.
Future Development
Apart from the existing use cases for connected cars, telcos are actively involved in pilot projects to benefit from implementation of 5G technology. One of the most talked-about 5G-enabled wireless communication is called URLLC (Ultra-Reliable and Low-Latency Communication). URLLC is aimed at mission critical communications, and ideal for latency sensitive applications such as autonomous driving.  For instance, several URLLC use cases are under research like automated driving, road safety and intelligent navigation systems, to name a few.
Deutsche Telekom and BMW
Deutsche Telekom is an example of a telco that has embraced the connected car market and is actively developing a role in the ecosystem. Key to that role is a partnership with BMW.
Deutsche Telekom has been part of the BMW connected car journey since 2015. BMW ConnectedDrive is the name of the connected car service provided by BMW together with Deutsche Telekom and other ecosystem partners (see below figure). The Wi-Fi Hotspot within ConnectedDrive vehicles is provided by Deutsche Telekom. The BMW ConnectedDrive system now comes with an LTE eSIM which is permanently embedded into the vehicles.
By partnering with OEMs like BMW, Deutsche Telekom is playing a significant role in providing a seamless customer experience (CX) for car drivers and/or travellers. Together with Continental, a tier 1 automotive supplier, DT has developed a multi-media system to provide car drivers best in-car services: real-time navigation, automatic SOS (eCall) and online infotainment services. 
Figure 3: Case Study —  Deutsche Telekom and BMW ConnectedDrive
Sources: Deutsche Telekom, BMW, and MTN Consulting
The Deutsche Telekom Wi-Fi Hotspot makes it possible to connect 10 Wi-Fi enabled devices to high-speed internet all over Europe. Not only that, but Deutsche Telekom is also fitting BMW ConnectedDrive cars with LTE technology in the form of embedded eSIMs which can be updated via over-the-air (OTA) whenever required from outside.
Another service offering from Deutsche Telekom is the Smart Home app which can be used to control the devices at home via a mobile phone. The Smart Home app has been available for use in the BMW ConnectedDrive system since 2015. Working hand-in-hand with Deutsche Telekom, the system makes it possible, for example, to control the lighting or heating system at home. The remote home control system is plugged into BMW's vehicle operating system through a feature that allows users to integrate third-party apps via BMW ConnectedDrive.
In Conclusion 
Telcos have a competitive edge in the connected car ecosystem as they already have a proven track record of working together and partnering with related verticals for providing fast and reliable connectivity. The value a telco can bring to the connected car is not only limited to its core assets (networks) but also existing partnerships with system integrators (IBM, Accenture), technology vendors (Nokia, Ericsson) and other tier 1/2  automotive suppliers (Continental, Bosch).
Most of the major telecom players, such as AT&T, DT, Telefonica, Telia, and Vodafone, are ahead of the curve to benefit from this opportunity. Deutsche Telekom has a dedicated connected car division, and most of the telcos mentioned here offer innovative solutions and services to OEMs along with other ecosystem players.  
MTNC believes that moving forward, there are a plethora of opportunities in the connected car space for telcos, especially with the implementation and adoption of 5G technology. The future of mobility will be car-sharing, electric vehicles and autonomous driving, where 5G will be able to enhance the customer experience with innovation such as ultra-reliable low-latency communication (URLLC), putting telcos at the forefront of the connected car ecosystem.
Image source: Samsung Newsroom