5G positioning update: Intel and Nokia
Arun
Intel and Nokia 5G Update
Author: Arun Menon
MWC was held in person this week, for the first time since February 2019. With all the hype about MWC's re-emergence, it's easy to forget that vendors update the analyst community on products & strategy all the time, independent of trade shows and conferences. That's all the more true since COVID-19 virtually killed the trade show, and a nonstop stream of online events took over the analyst's schedule. Vendors still do pre-brief analysts in advance of important events like MWC, though. Intel and Nokia both did so in late June. Nokia addressed 5G core and hyperscale issues, while Intel provided an update on its overall 5G network and edge strategy.
Nokia: "The future of 5G Core"
Late last month Nokia held a session for analysts, "The future of 5G Core on hyperscalers and the journey to NaaS." With the growth of telco spending on 5G cores (including transmission) this year, and Nokia's repositioning towards more collaboration with the webscale (aka hyperscale) sector, this was an enlightening session.
As background, Nokia is ranked 3 in the global market for telco network infrastructure, and places second in the hardware & software segment of telco NI. The below figure illustrates Nokia's telco NI revenues over the last few quarters and its share in the overall market, as well as the services and hardware/software segments.

MTN Consulting's summary of the Nokia session follows.
With the advent of 5G, CSPs (telcos) face challenges brought by multi-layered networks that run complex operations

"Seven degrees of freedom" are key for CSPs to achieve the full business value of 5G and embark on a journey to a Network-as-a-Service (NaaS) future

The seven degrees of freedom represent seven key design principles that can be addressed by CSPs to achieve full freedom in creating value with 5G and transition to NaaS in the most flexible way. The chart below illustrates the seven degrees.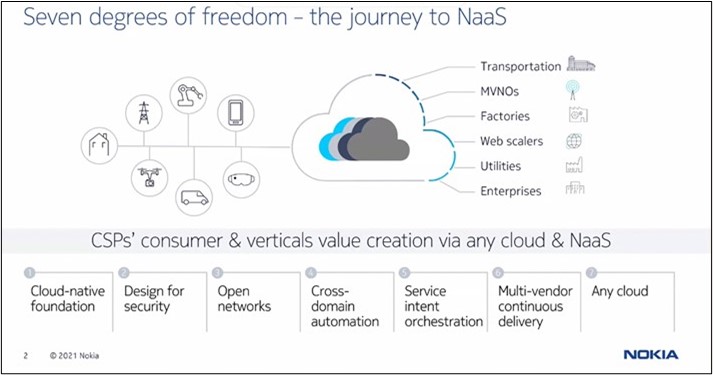 The seven principles presented by Nokia consist of the following:

Cloud-native foundation: Inconsistent or limited implementations of cloud-native real-time applications will restrict a CSP's ability to achieve a true 5G network that can take full advantage of the cloud's agility, scaling and efficiency. Software vendors must develop the right disciplines of cloud-native design across the full span of 5G applications, and consistent methodology is key for simplification.
Freedom of "any cloud" platform: CSPs gain flexibility by being able to use any platform for cloud and NaaS. The challenge is to ensure multiple vendors' telco applications can readily use cloud vendors' Containers-as-a-Service (CaaS) and Platform-as-a-Service (PaaS) capabilities.
Openness of networks and ecosystems: Service-oriented architectures (SOAs) have existed in the webscale world for 15+ years, yet telco applications struggle to fully embrace the SOA approach. It is essential for a CSP to build a norm of using open networks and ecosystems in their organization. Strong API design in secure and non-secure environments is the basis for uniform exposure that enables the creation of 5G services and simplified operations.
Cross-domain automation: Cloud-native designs increase complexity at the application and sub-domain levels. Also, when automation overlaps with a hybrid private/public cloud strategy, real-time application complexity and lifecycle management needs are enormous compared to a simple web application. There is a need for careful software design for highly complex lifecycle interdependencies.
Service intent orchestration: Service intent-driven network orchestration is vital for the design of 5G slicing and agile 5G vertical services. This requires service demand to be attached to a QoS and SLA metric across the network. Core, radio and routing must be tightly connected to deliver the required SLAs and QoS. The orchestration and assurance of these designs is complex.
Build a continuous delivery framework: CSPs work with multiple vendors that feed software into their extensive landscape of network and operations. Legacy process models cannot support a continuous feed of new software releases being introduced more often. The software delivery pipeline must be mature enough to handle multi-vendor environments, and it must be secure and consistent in both building and testing frameworks. All integration points must be automated and secure.
Design for security: Security is an ever-present and ever-growing challenge. Threat analysis, vulnerability management and software validation are essential considerations when designing and delivering applications. Applications must be built with a "design for security" practice, including a detailed security risk assessment. Security must be end-to-end and continuous across applications, endpoints, management access points and APIs. 
Nokia's lessons learned from deploying with hyperscalers

Aggregation required across ISVs as cloud providers have their own continuous integration (CI) / continuous delivery (CD) pipeline and lifecycle management tools

Alignment required between cloud provider's CI/CD pipeline and ISV's repository

VLAN-based network separation not possible in user-plane network functions 
Nokia's key "Any Cloud" achievements: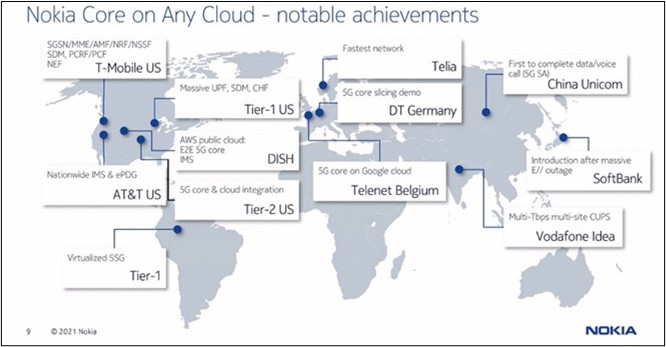 Intel: "Network and Edge Update"
Intel's role in telco network infrastructure is often overlooked. It sells to OEMs but over the last 3 years has developed a growing set of direct customer relationships with telcos. This session provided an update on Intel's "network and edge" offerings with a focus on 5G.
As background, Intel is ranked 9 in the global market for telco network infrastructure, with an annualized market share of just under 3%. That counts all Intel telco revenues as if they were direct to telco arrangements. The below figure illustrates Intel's telco NI revenues over the last few quarters and its share in the overall market, as well as the services and hardware/software segments. Intel doesn't record any services revenues in telco NI, hence its share of HW/SW is higher than overall.

MTN Consulting's summary of the Intel session follows.
Intel showcased new silicon and software platforms comprising processors, accelerators, Ethernet adaptors, memory, software toolkits – all aimed at the goal of strengthening its position in vRAN and 5G wireless network technologies at the edge.

According to Intel, operators of 5G networks want a more agile, flexible infrastructure to unleash the full possibilities of 5G and edge as they address increased network demands from more connected devices. At the same time, global digitalization is creating new opportunities to use the potential of 5G, edge, artificial intelligence (AI), and cloud to reshape industries ranging from manufacturing to retail, health care, education, and more.

According to Intel, experts expect 75% of data will be created outside of the datacenter by 2023 — at the edge in factories, hospitals, retail stores, and across cities.

Intel wants to target the market where various capabilities can be converged at the edge, such as AI, analytics, media, and networking.

A select list of the "Powered by Intel" network deployments, as presented in the session: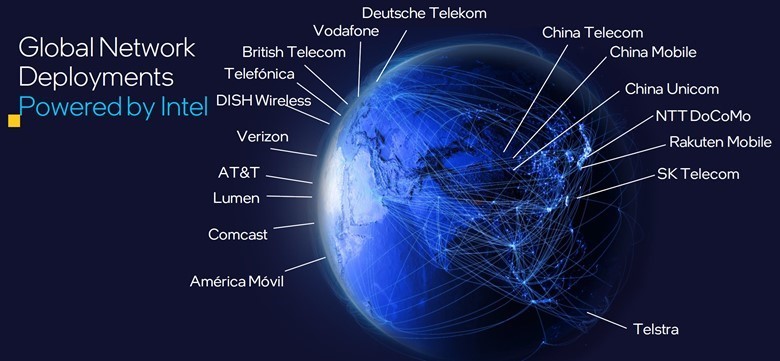 Reliance Jio, Deutsche Telekom, and Dish Wireless are transforming their networks on Intel's architecture. The vRAN promises cloud-like agility and automation capabilities that can help optimize RAN performance and ultimately improve the experience for users. The company claimed that "Nearly all commercial vRAN deployments are running on Intel technology"

Intel is expanding its family of Agilex FPGA by adding a new FPGA with integrated cryptography acceleration that can support MACSec in 5G applications. This adds another layer of security to vRAN at the fronthaul, midhaul, and backhaul levels.

The chipmaker also unveiled Intel Network Platform – a technology foundation that (Intel says) can reduce development complexity, accelerate time to market and help to ensure customers and partners can take advantage of the features in Intel hardware, from core to access to edge. INP incorporates building blocks, a reference architecture and experience kits, and can support a range of different network solutions including vRAN but also other (non-5G) applications like vCMTS.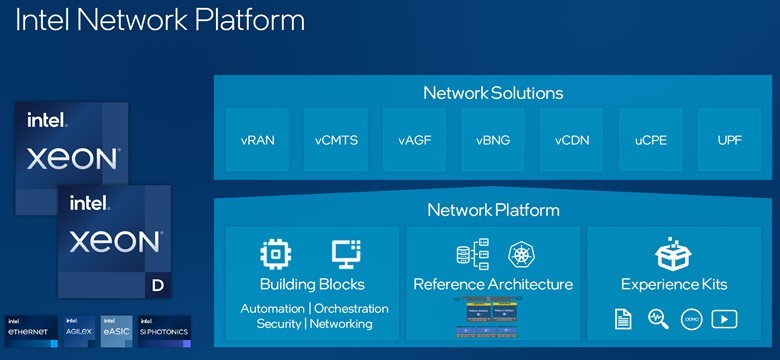 Intel also announced a new commercial software, Intel Smart Edge, focused on enterprise on-premise use cases, such as private networks and universal Customer Premise equipment.

Intel's Ethernet 800 Series family is expanding, with Intel's SyncE capable Ethernet Adapter that is designed for space-constrained systems on the edge. It is well-suited for both high-bandwidth 4G and 5G RAN as well as other time- and latency-sensitive applications in sectors such as industrial, financial and energy.