Vendor landscape continues to shift in telecom market as cloud and 5G scale
Matt Walker
Telco network spending has been on the rise over the last few quarters. Vendor sales of network infrastructure to the telco vertical ("Telco NI") totaled $55.5B in 1Q22, up 5.7% YoY. On an annualized basis, Telco NI revenues through 1Q22 were $234.8B, the highest total in our 1Q13-1Q22 database and 6.8% higher than the 1Q21 annualized figure. Telco capex has been strong the last few quarters, and vendors are benefiting. The growth is not dramatic, but any kind of growth at all in telecom is a plus, and often a surprise.
As telco spending has risen post-COVID, the top few vendors remain at the top. While share always varies a bit by quarter, the biggest five network equipment providers (NEPs; excludes China Comservice) have collectively accounted for about 50% of the Telco NI market over the last few years. Figure 1 shows annualized share evolution for these vendors, from 1Q19 through 1Q22.
Figure 1: Annualized market share of top 5 NEPs in the telco vertical, 1Q19-1Q22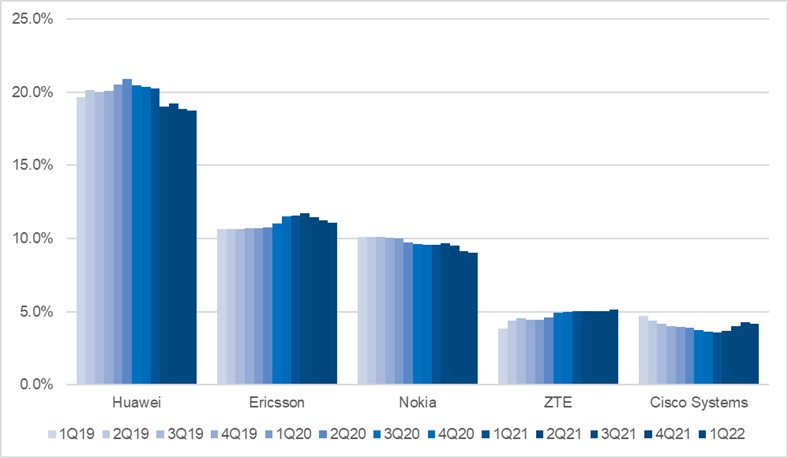 Source: MTN Consulting
While the top 5 remain the same and their aggregate share of wallet is stable, there are some significant shifts underway in the vendor landscape.
What drives these shifts? Some are driven by financial machinations or politics, but most are aimed at improving competitive positioning. More specifically, improving a vendor's ability to address key customer needs. In the telco vertical, these include: deploying telco cloud functions and architectures; monetizing new network capabilities, in particular 5G; lowering the cost of transport and routing; improving the energy efficiency of networks; automating networks; lowering the cost of customer acquisition and retention; and, developing revenue streams in new areas like mobile payments, digital advertising, home networking, connected cars and security. There are probably more shifts underway nowadays because 5G cores are beginning to be implemented in a big way, and Huawei's problems continue to open up new opportunities for smaller vendors.
Most of the shifts in the vendor landscape involve smaller players, outside the top 5. Ericsson's acquisition of Vonage is an exception; MTN Consulting published a blog post on this deal in May. Setting aside the top 5, ongoing changes in the vendor landscape fall into a few broad categories.
Growth of the cloud providers
Alphabet (GCP), Amazon (AWS), and Microsoft (Azure) together booked approximately $3 billion in revenues to the telco vertical for the 1Q22 annualized period, from less than half a billion USD in 2Q18-1Q19. They now partner with telcos on a range of areas, as MTN Consulting mapped out in the report "Telcos aim for the cloud by partnering with webscale cloud providers." Their aggregate share of Telco NI is now about 1.3%, around the same as Accenture and a bit more than IBM. They have a long way to go, but they are already making a dent in the market and continue to invest heavily in the telco vertical.
Most of the cloud providers' success in telecom stems from organic investment, but not all; Microsoft has completed three acquisitions that accelerated its push into telecom: Affirmed Networks, Metaswitch, and AT&T's Network Cloud.
Vendor partnerships with webscalers
As webscalers began to make a real dent in the telecom market in 2020, traditional telco-facing vendors realized they could benefit from some joint development and marketing ventures with the webscalers. That was especially apparent as telcos began to deploy 5G cores and needed cloud smarts from their suppliers. Over the last three years, most big telco-focused vendors have entered into partnerships with traditional telco-facing vendors like Ericsson, Nokia, NEC, Fujitsu, and Amdocs. Some of these are generic, some are customized for specific large telco accounts, e.g. Telecom Italia.
Restructuring and realignment 
Dell, including its majority holding in VMWare, saw its revenues in the telco vertical rise steadily in the 2019-21 period. The company's 2021 revenues in telecom amounted to just over $2.7B. VMWare is responsible for much of this, boosted by its Telco Cloud offerings. Late last year, Dell spun out its majority holding in VMWare. This was aimed partly at raising cash, but also at creating more value in VMWare, which has a different business model and profit margins than parent Dell. The two retain strong connections and partnerships, including in the telco space.
Since the Dell-VMWare spin-off in 4Q21, a bigger shift has occurred: in May 2022, Broadcom agreed to acquire VMWare, for $61 billion. Broadcom says the deal will combine its software portfolio with VMWare's multi-cloud offerings. Telco is only one of many reasons for this deal, not a central one. Prior to the deal, Broadcom alone did have some small position in Telco NI, due largely to previous acquisitions (Brocade, and CA Technologies). The synergies involved in this deal seem questionable, but importantly Broadcom claims it will allow VMWare to operate with a degree of independence.
In the same quarter as Dell's spinoff of VMWare, IBM separated its services group into a new company, Kyndryl. This deal was also driven by an interest in separating two companies with significantly different business models and profit margins. Both go after telco business though. Red Hat is at the core of IBM's efforts to improve its penetration of the telco sector, and it has had some success. Kyndryl inherits many relationships with telcos cultivated by IBM's services group over the years. That includes deals with Bharti in India, including a blockbuster $1.4B deal for IT operations outsourcing, way back in 2004. Interestingly, 5G monetization is front and center of Kyndryl's messaging for the telco vertical, which is a similar driver to what's behind Ericsson-Vonage.
Still pending: CommScope has been attempting to spin out its Home (CPE) division for several quarters, but there is no confirmed buyer. There's some chance that the company will just reintegrate the division, as options are limited. Acquisition by private equity is likely being considered, though.
Telcos investing directly in technology supply
There are a few cases of telcos either creating a vendor in-house or acquiring a large ownership stake in one which already exists:
Rakuten Symphony: Rakuten's creation of Symphony is most notable in recent years – the highest stakes, and probably the most expensive. Payoffs may be many years down the road, as more telcos consider open RAN for brownfield networks and Symphony develops more of a track record.
Tata Sons-Tejas Networks: Tejas Networks sold a controlling stake (43.4%) in July 2021 to Tata Sons group, which wants to help Tejas grow. The Tata group includes a telecom division, Tata Communications, with $2.3B in 2021 revenues, making it India's fourth largest private telco. Tejas is focused on optical networks.
Verizon-Casa: in April 2022, Verizon announced it would invest $40M in one of its smaller vendors, Casa Systems, at the same time as agreeing to a multi-year contract.
NTT-NEC: further back, in June 2020, NTT announced a $560M investment into key supplier NEC, for a 4.8% stake in the company. This aimed partly at helping NEC expand its 5G offerings and leverage an opening in the global market for wireless technology opened up when Huawei began to face supply chain and political constraints in 2019-20.
Vendor-vendor M&A deals
The vendor landscape also continues to be impacted by more traditional M&A deals, where a vendor acquires another technology supplier. Some of the recent transactions include: 
NEC: this Japanese vendor has committed to expand in the mobile technology space, with focus on open RAN. Earlier in July, NEC agreed to acquire Aspire Technology Unlimited, an Ireland-based systems integrator, to help with this pursuit.
ADVA-Adtran: these two small but profitable wireline vendors announced plans to merge in late 2021, and the deal just closed. The new company, ADTRAN Holdings, may have a leg up in pursuing the many transport network upgrades and broadband access buildouts underway worldwide right now. The new ADTRAN may also be better able to deal with supply chain constraints, which continue to be an issue for smaller NEPs.
Sterlite: this India-based optical supplier has been growing over the last few quarters, exploring overseas markets for fiber optics, launching a small range of wireless products, and acquiring a UK-based systems integrator, Clearcomm Group, in 2021.
Accenture: has spent heavily on a wide range of acquisitions in the last two years, across industry verticals. Deals impacting telecom include Arca, a Spanish engineering services company, in 2020; umlaut, a German network engineering, testing and analytics company, in 2021; and Advocate Networks, a technology consultancy and managed services provider, in 2022.
Aviat-Ceragon: most mergers are friendly, where both sides agree. As Elon Musk's attempted purchase of Twitter reminded the world, there are also less friendly forms of acquisition. This Aviat-Ceragon deal is basically a hostile takeover of Ceragon, proposed by Aviat. It's still pending and the two parties may not come to agreement. However, the motive is worth noting. Aviat's hope is that the deal would give the combined company more scale and better margins, and a stronger ability to compete with Huawei, Ericsson and Nokia in the wireless transport space as opportunities arise for 5G backhaul & fronthaul and support for private wireless networks.
Finally, one significant acquisition involves a large established telco-facing vendor acquiring telco assets. In September 2021, Ciena acquired AT&T's "Vyatta" virtual switching and routing technology.  As Ciena said at the time, the deal aims to address "the growing market opportunity to transform the edge, including 5G networks and cloud environments." Many shifts in the vendor landscape aim at this same opportunity.
*
Photo by Hans-Peter Gauster on Unsplash