Alibaba's revenue growth from cloud rises steeply, as it looks to outdo Amazon and Microsoft
Narola
Top US-based tech providers Amazon, Alphabet/Google and Microsoft dominate the cloud space but they are set to face stiff competition from China's leading cloud provider Alibaba.
MTN Consulting tracks these and similar operators of webscale (aka hyperscale) cloud networks as part of its "Webscale Network Operator" (WNO) market segment.
AliCloud launched nine years ago, now going global
Alibaba established its cloud computing division in 2009, three years after Amazon launched AWS, and went global by 2015. The Chinese company has set up data centers across the Middle East, Singapore, Japan and Europe through its cloud division (Alibaba Cloud, also known as AliCloud or AliYun). It has been ambitious from the start. In 2015, Simon Hu, President of Alibaba Cloud, predicted the company would surpass Amazon by 2019: "Our goal is to overtake Amazon in four years, whether that's in customers, technology, or worldwide scale."
Simon's goal may have sounded a bit far-fetched then, but with a whopping 118% YoY revenue growth from its cloud segment in 4Q17 (as shown in Figure 1), Alibaba is beginning to live up to its ambitions. While still small on an absolute basis, Alibaba has a history of rapid, aggressive expansion into new markets – it is a serious player in the cloud now.
Figure 1: Webscale network operators' 4Q17 cloud* revenues (in US$B) and YoY growth rate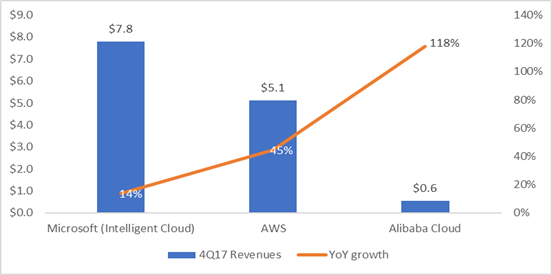 Key takeaways from 4Q17 results
Fourth quarter earnings for top WNOs revealed continued strong growth overall, along with some competitive & strategic shifts. Highlights for the top few providers:
Amazon's sales hit $60B in 4Q17, up 38% YoY, backed by strong sales in the holiday season, and its net profit was also up 148% in the same period. However, operating margins were low for Amazon's North America segment, which in FY2017 generated just $2.8B in operating profit on revenues of $106.1B. Amazon Web Services (AWS) is a different story. AWS is Amazon's cash cow business as it continues to generate profit for its group, despite incurring losses from its international segment. As shown in Figure 1, AWS segment's 4Q17 revenues were $5.1B (up 45% YoY). In the same period, AWS' operating profit was $1.35B (up 46% YoY) and was also a major contributor to the company's overall profitability.
On an annual basis, the AWS segment recorded revenues of $17.5B in 2017, (up 43% over FY2016) and now contributes to about 10% of the company's sales, from just 3% in 2011. AWS' operating profit for full-year 2017 was $4.3B (with a margin of 25%), much higher than the 3% margin recorded by Amazon's North America retail segment.
Figure 2: WNO 4Q17 cloud operating profit (US$M) and margin (profit as % of revenues)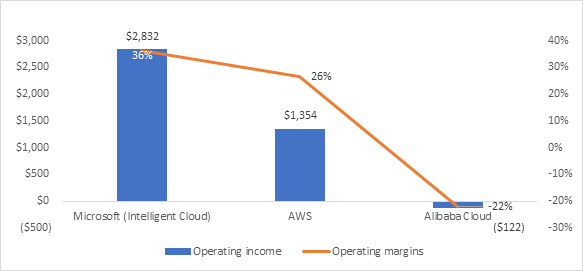 Microsoft's revenues from Intelligent Cloud* were $7.7B in 4Q17, up 14% YoY. The majority of Intelligent Cloud revenues come from Azure, which grew by 98% during the same period. Intelligent Cloud operating profit was $2.8B, up 18% YoY, giving the division an operating margin of 36% (Figure 2). A key differentiator for Microsoft is its hybrid cloud strategy, which aims to help enterprise users exploit their legacy IT investments. It hit the right note with its acquisition last month of storage vendor, Avere Systems. This acquisition will further enhance Azure's enterprise capabilities, as Microsoft can merge Avere's storage capabilities into its own Azure cloud services. That will enable large and complex high-performance workloads to run in Azure.
Alibaba's cloud computing segment recorded strong revenue growth in 4Q17 (up 118% YoY) but continued to incur losses from this division (Figure 2). In the same period, its cloud segment incurred an operating loss of RMB793M ($122M), and a negative operating margin of around 22%. Unlike Amazon and Microsoft, which generate a good chunk of profits from their cloud segments, Alibaba's continual losses from its cloud segment are a reminder that its focus is on growth and not profitability. With a free cash flow (operating cash flow – capex) of over $7B in Q4'17, Alibaba has enough cash to plow into its cloud business.
Alphabet's overall 4Q17 result was promising. Its 2017 corporate revenues crossed $100B for the first time, posting $32.3B in 4Q17 alone. This 24% YoY growth was mainly due to advertising and mobile search. For the first time, Google disclosed its cloud revenues, a little over $1Bn in 4Q17. That figure is lower than that of AWS and Microsoft Azure, but Google Cloud is relatively new. Alphabet has spent over $30B in capex in the last three calendar years, the bulk of which went to its data center and subsea cable network. Alphabet aims to leverage this investment far beyond search. It continues to connect new regions to its Google Cloud Platform, with data centers opening in the Netherlands & Montreal, Canada already this year. The GCP's network now has 15 regions, 44 zones, and over 100 points of presence.
Alibaba will retain an advantage in China, and is now eyeing global expansion
The cloud computing business in China has long been dominated by domestic players, as the US tech giants find it difficult to make inroads due to the strict laws around censorship and content regulation. The recent stringent law around cross border data transfer will only make life harder for foreign cloud companies, as they are required to store data locally. That will benefit Alibaba, as well as the smaller cloud operations of Baidu and Tencent.
Further, the government restricts foreign ownership of cloud services in China, as they can provide services only via a partnership arrangement with domestic cloud providers in China. For instance, AWS is currently operating in China by partnering with Beijing Sinnet Technology (Sinnet), as AWS is banned from operating under its own brand name in China. In Nov 2017, Amazon sold its hardware to Sinnet, as the law prohibits foreign companies from owning technologies for cloud services. Along similar lines, Apple and Microsoft are currently operating in China through Guizhou on the Cloud Big Data (GCBD) and 21Vianet Group. With US cloud companies forced to wade through tricky regulatory waters in China, Alibaba again benefits.
Alibaba has invested heavily in expanding its network of data centers, and is developing its own proprietary technologies for the AliCloud (Figure 3). As part of its global expansion, India is an initial focus. This will not be easy, as Amazon is clearly the leader in the Indian market. And with Amazon's failed attempt to flourish in China, the company has all the more reason to defend its turf in India. However, Alibaba has deep pockets and ambitions, too, as it launched a new data center in India in Dec 2017 and in Malaysia recently.
Figure 3: Self-developed infrastructure for the Alibaba Cloud
At the recently concluded Mobile World Congress (MWC) in Spain, Alibaba made clear its intentions to compete in European cloud markets. At the event, AliCloud introduced several new cloud offerings aimed at HPC (high performance computing) workloads, and AI and other data-intensive workloads. To establish a supporting technology ecosystem in Europe, AliCloud is partnering with Vodafone Germany, the Met Office UK and Station F (a France-based startup company). Alibaba hopes to make commercial progress with these new services, and showcase its capabilities in the fields of AI and big data. Ultimately it aims to leverage innovations in these fields across multiple industries. AliCloud's global expansion is off to a good start.
---
*Note: For this analysis, we have considered AWS revenue for Amazon and Google Cloud for Alphabet. For Microsoft, we considered total revenues for its Intelligent cloud segment, as the company does not report stand-alone revenues for Azure.