Telecom's top 3 vendors betting big on enterprise expansion; Huawei has early lead
Matt Walker
Telco NI's top 3
Telcos buy products & services from dozens of different vendors. Our research tracks 130. Some are relatively easy to classify into a segment, e.g. Corning, a "cabling & connectivity" vendor in our terminology. Most are much harder. Even those which may once have been called NEPs (network equipment providers), such as Ericsson, went beyond the implications of this term long ago. They also provide software and services, and most of their future development – measured by both R&D spend and acquisitions – is targeted towards software and the cloud.
Setting aside the vendor classifications, there is less dispute about who the overall top suppliers are in telecom. According to MTN Consulting's most recent vendor share report on this "telco network infrastructure" (telco NI) market, the top 3 are Huawei, Ericsson, and Nokia. Nobody else comes close. ZTE and Cisco round out the top 5, if you set aside the strange creature that is China Comservice, a services specialist which is majority-owned by China's telcos. Figure 1 illustrates recent trends in annualized telco NI revenues for these top 5.
Figure 1: Vendor revenues in telco vertical, annualized ($B)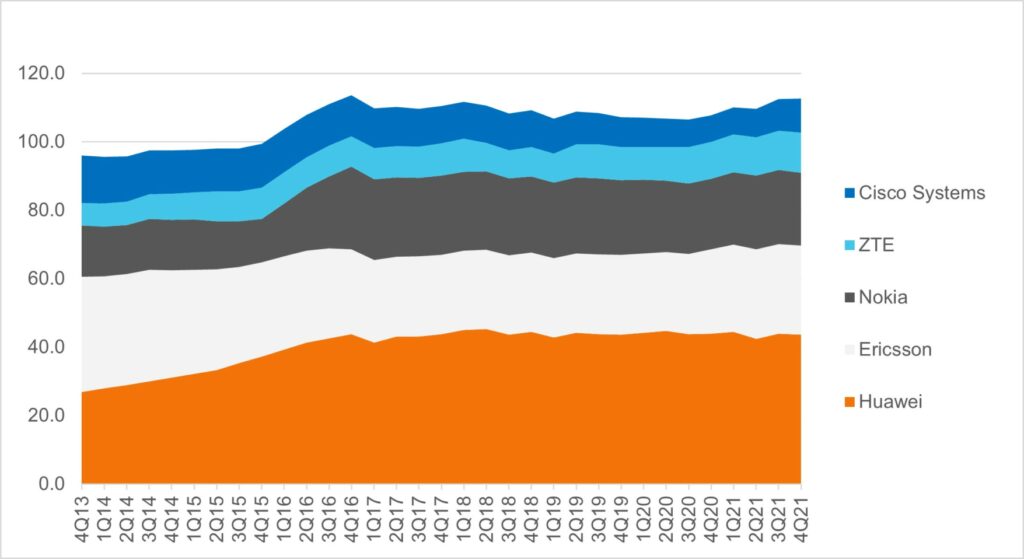 Source: MTN Consulting
Top 3 trying to expand beyond telecom
Focusing on the top 3, all face challenges related to addressable market. For Ericsson and Nokia, the common issue is that telco spending is relatively flat, even with the occasional growth spurt from a new generation of technology (e.g. 5G RAN). For Huawei, the problem is due to US-driven supply chain restrictions and boycotts by a number of countries that used to be important markets for the vendor.
Prior to Huawei's current issues, its diversification was impressive, as its huge consumer business helped offset some of the risk in focusing on one primary market, telcos. But Huawei's consumer business revenues have collapsed in the last 2 years: they ended 1Q22 at approximately 209.7B RMB (annualized), from 462.9B RMB  in the 1Q20 annualized period. Its carrier revenues have also fallen, as overseas telcos have been reticent to commit, but the drop is modest due to strong support from Chinese telcos and key overseas partners. Still, the writing is on the wall. Huawei recognized two years ago that it needed to reinvent itself, committing more to R&D and exploring new business opportunities beyond telco. One major focus is finding ways to expand its enterprise market. Its starting point in this expansion is a strong position in global optical and IP markets, and a solid offering for data centers. The company's April analyst event made clear that its datacom group would play a central role in attacking the enterprise (CloudCampus, SD-WAN, Wi-Fi 6 and 7, etc.), as would Huawei Cloud. 
Both Ericsson and Nokia also view enterprise as important. Ericsson is focused mainly on private wireless, and acquired Cradlepoint in large part to pursue this opportunity. Ericsson's microwave transport gear, security and software, and IoT solutions also have applications outside the telco. Nokia has a larger enterprise business to begin with. It's also pursuing private wireless, and trying to leverage its wireline gear (optical and IP) further into enterprise markets. It also has had success in the webscale market, including a data center switching at Microsoft recently.
Figure 2 illustrates the revenue breakdown for these three vendors into several major categories: telco, enterprise, consumer, IP licensing, and all other.
Figure 2: Annualized revenues by market, % total (2Q21-1Q22)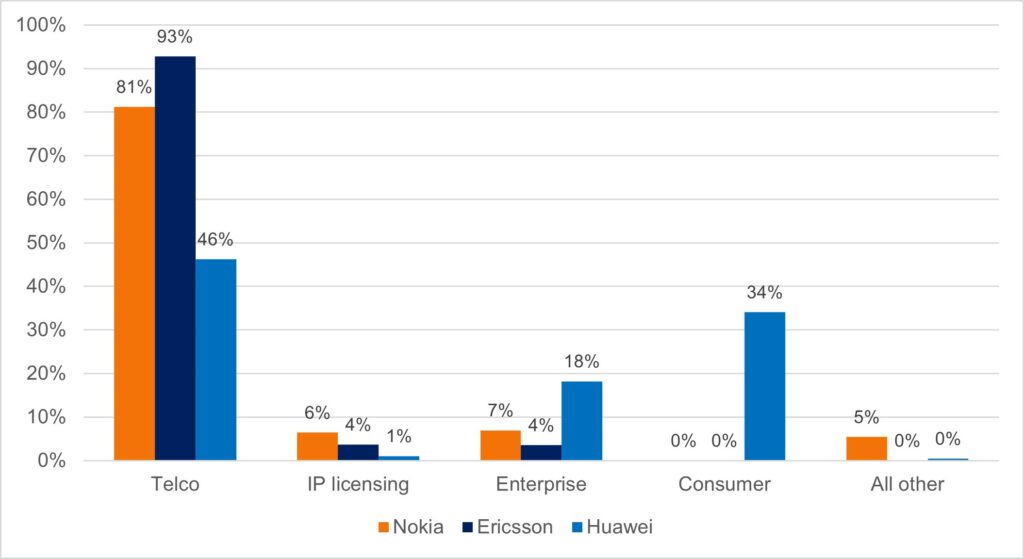 Source: MTN Consulting
 As shown above, Huawei gets less than half its corporate revenues from telcos, even after Consumer's decline. What may surprise some is how much of its revenue base comes from enterprise. For the 1Q22 annualized period, the enterprise market accounted for 18% of Huawei revenues. Nokia and Ericsson recorded 7% and 4%, respectively.
Moreover, enterprise as a percent of total revenues was about the same for Ericsson and Nokia two years ago, in the 1Q20 annualized period. For Huawei, though, enterprise has nearly doubled, from about 9.7% in 2Q19-1Q20 to 18.2% in the most recent four quarters. As Huawei has faced pressure in other markets, the enterprise has proved to be more resilient. And Huawei has plowed new resources into enterprise to grow it further.
The enterprise is not a hobby  
To date, Huawei's big enterprise wins are mostly in China. For the company overall, 65% of 2021 revenues were in China. It's likely that well over 80% of enterprise division revenues are in China. But this was true of Huawei's carrier group revenues in the early years. With any new product line or market, Huawei has usually penetrated Chinese accounts first while it has ramped up resources overseas to support an expansion. 
Clearly there is no guarantee that Huawei's enterprise group will thrive outside China. For larger enterprises subject to public pressure, some will still be concerned about the politics of picking Huawei. Even without concerns about appearances, Huawei's reputation has taken a hit over the last couple of years, which it is working to overcome. Another challenge is channels. Even for the large enterprise targets – such as big banks, government agencies, railways, and energy companies – Huawei will need to rely on channel partners. It can't develop its own internal team as it did with telco; there are too many enterprises, and the average size is too small. Huawei needs to identify the best country and vertical markets to attack, and develop a network of trusted, certified partners to both sell into this market and support it after the sale. Enterprise market leader Cisco has invested heavily in building and maintaining its network of channel partners for decades. Huawei also has to battle numerous vendors with established positions in specific enterprise verticals (e.g. energy) or product areas (e.g. Ethernet switching).
All this won't be easy, but don't count out Huawei. It has exceeded expectations many times in the past, and views the enterprise as crucial to growth. One indicator of the importance of the enterprise market to Huawei is its leadership. For most of the last half of the 2010s through 2020, Yan Li Da served as Enterprise group president. Yan was in charge of international marketing for Huawei's early 2000s push into overseas optical markets. That push was key to Huawei initially establishing its name in the global telecom market. Yan is now on Huawei's board of directors. 
*
Cover image: Marvin Meyer on Unsplash