UAE – The First 5G Market in MENA
Matt Walker
Unlike many other countries in the MENA (Middle East and North Africa) region, 5G services are already available in the United Arab Emirates (UAE). Etisalat and Du, UAE's only two operators, are both deploying 5G on the 3.5 GHz frequency band. In May 2019, Etisalat became the first operator in the MENA region to commercially launch 5G service.
Recommendations
For effective commercialization of 5G, operators should focus on device costs and finding ways to subsidize the cost if needed.
For their part, government administrators should consider the following
:
Provide a near term deadline to shutdown 3G services

Provide a longer-term deadline to shutdown 2G services

Put a strong emphasis on enabling vertical markets

Ease regulations for new entrants

UAE overview
The United Arab Emirates or UAE is at the southeast end of the Arabian Peninsula on the Persian Gulf, bordering Oman to the east and Saudi Arabia to the south and west. It also shares maritime borders with Qatar to the west and Iran to the north. UAE is a federation of seven emirates consisting of Abu Dhabi (the capital), Ajman, Dubai, Fujairah, Ras Al Khaimah, Sharjah and Umm Al Quwain (Figure 1). UAE has one of the world's highest percentage of immigrants: more than 70% of the overall population. At the end of 2018, the UAE's population was 10.4 million, up from just 3.0M in 2000 (per the IMF).
Figure 1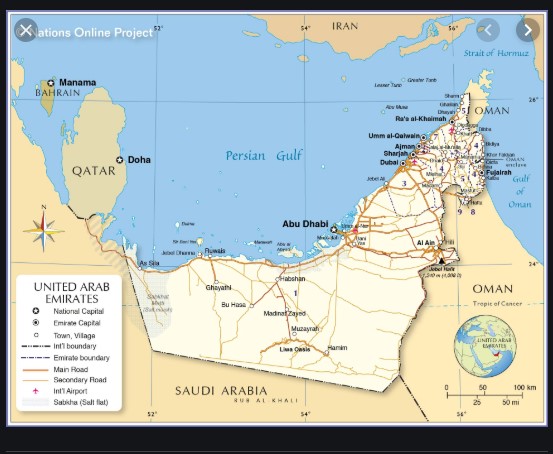 Telecom Market Overview
Government
The Telecommunications Regulatory Authority or TRA is the federal telecommunications regulatory agency of the UAE. It was established in 2003 to regulate the Information Communications and Telecommunications (ICT) sector. In 2013, its role was extended to include responsibility for the overall digital infrastructure in the country. TRA is also responsible for representing UAE in the international ICT forums.
Telecom Operators
Etisalat and du are the only two telecom network operators in the UAE. The UAE government owns large ownership stakes in both operators, and limits competition in the sector. The creation of du in 2007 added a second competitor to the mobile market, but fixed line competition only began in 2015. At the end of September 2019, Etisalat has 10.54 million while du has 7.736 million mobile subscribers. Thus, UAE has about 186% mobile penetration rate, one of the highest in the world. UAE has also the highest smartphone adoption rate in the MENA region, and second only to Singapore, with smartphones accounting for 85% of total connections in Q2 2018.
Figure 2 shows the growth of the UAE's population and mobile subscriber base from 2000-18.
Figure 2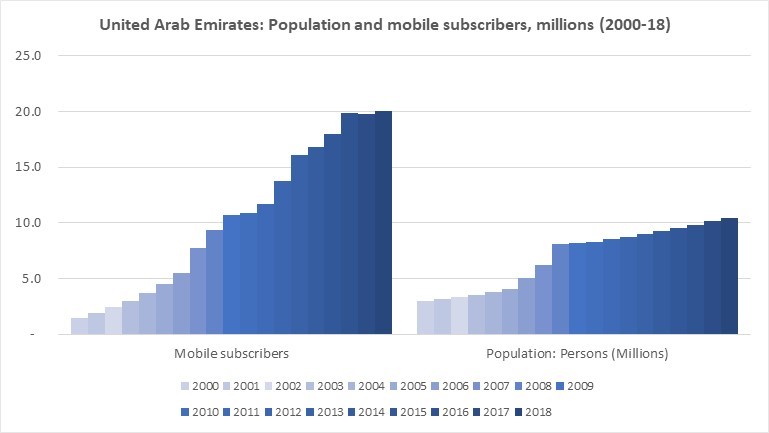 The MVNO phenomena was started in 2017 with the launch of Virgin Mobile by du, which was immediately followed by Etisalat's Swyp. These Mobile Virtual Network Operators are targeting the younger tech-savvy generation. The packages offered by these MVNOs are tailored more towards mobile data rather than phone calls and SMS services.
Etisalat and du have extensively deployed optical fiber throughout the country. FTTH (fiber to the home) service is also widely available in UAE. Based on September 2018 stats from the FTTH Council MENA, the UAE ranked number one (globally) with a 95.7% FTTH penetration rate. A small geography and a high average income both facilitate this. While competition in fixed line is only a few years old, du has built up a noticeable market share.
Figure 3 below illustrates revenues for the two companies by type, in 3Q19.
Figure 3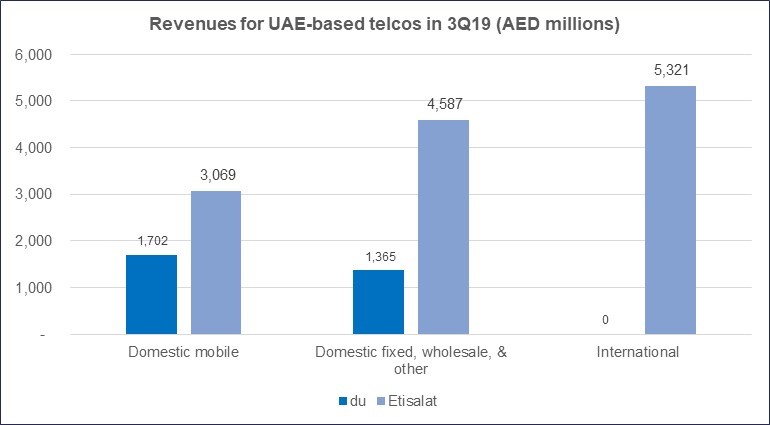 5G
Etisalat awarded contracts to both Huawei and Ericsson for the rollout of its 5G mobile network in February 2019. It plans to deploy 900 5G-enabled base station sites during 2019-20. Etisalat's rival du plans to deploy 700 5G base stations during the same time frame. Huawei and Nokia are du's 5G network suppliers. ZTE's Axon 10 Pro 5G is one of the first 5G handsets (if not the first) that was launched by both operators in the UAE.
Connectivity
The UAE has two key landing stations for connectivity with international submarine cables. The Fiber-Optic Link Around the Globe (FLAG), South East Asia-Middle-East-Western Europe 3 (SEA ME WE 3), SEA-ME-WE 4 and Asia-Africa-Europe-1 (AAE-1) lands at the port of Fujairah, whereas SEA-ME-WE 5 lands at Kalba.
UAE also uses satellite earth stations such as 3 Intelsat (1 Atlantic Ocean and 2 Indian Ocean), 1 Arabsat, etc., for connectivity.
Spectrum
In November 2018, the regulator TRA issued 100 MHz to each of the two incumbent operators in the 3.3 to 3.8 GHz frequency range to offer 5G services. This free issuance of spectrum is hugely beneficial for operators' financial health and network rollout.
In addition to this C-band assignment, the regulator is also looking at the 1427 MHz-1518 MHz, 24.25 GHz – 27.5 GHz and bands above 40 GHz for 5G. Both Etisalat and du also have spectrum assignments in 800, 900, 1800 and 2100 MHz bands to offer 2G, 3G and 4G services. Etisalat additionally uses the 2600 MHz band to provide 4G LTE service.
Key Challenges
The UAE's key challenge is the commercialization aspect of 5G in conjunction with the heavy baggage of 2G, 3G and 4G networks.
UAE is one of the richest countries of the world with a GDP per capita of over $40K. The IMF expects the UAE economy to grow at 1.6% in 2019 and 2.5% per year through 2025. In the telecom sector, the duopoly and state-controlled structure has landed the operators in a reasonable financial state. With little possibility of a third player, the two operators as compared to many other markets have few things to worry about, at least in the near term.
Recommendations
To further streamline the process of effective and meaningful commercialization of 5G, the following steps may be considered:
3G Shutdown: TRA and operators may come up with a near term deadline to close down the 3G networks. The slower and less spectrally efficient 3G is definitely not required when better 4G and 5G networks are available. The 2100 MHz band which is used to operate 3G is not primarily used for 4G and 5G worldwide and thus keeping it for future use may not be worthwhile. Eventually, it will free up capacity, reduce the number of network elements and further improve their networks' quality of service and overall financial health. Transition issues such as QoS degradation and vendor contract renegotiation are manageable.
2G Shutdown: The operators also have a huge customer base of low ARPU, price sensitive customers. The vast majority of these customers are expats (immigrants) and a large number of them have come from a poor and less educated background. With high tendency to save money for families in their home countries, cheaper 2G/3G phones are preferred over more tech-savvy and high-end devices. Regulators and operators should jointly consider developing a detailed roadmap for the discontinuation of 2G services. The roadmap may look into such issues as: the availability of low cost 4G and 5G phones, as most of the available low-end phones are not capable of operating on 4G/5G networks; reengineering of the required section of the networks including disposal of unnecessary elements; and, creation of awareness programs. Furthermore, 2G primarily operates in the 900 MHz band which has not been recommended for 4G and 5G.
5G Device Cost: Operators may further increase their due diligence with the device suppliers to lower the cost of 5G devices to attract masses. The current cost of a 5G device in UAE hovers around USD 800-1,200 as compared to $10-$30 for 2G/3G phones.
Vertical Markets: It will be difficult to have a good return on 5G investments without its enablement in vertical industries. An effective roadmap is needed to strengthen 5G in IoT (Internet of Things), AI (Artificial Intelligence), V2X (vehicle to everything – connected cars), etc., markets. The list of stakeholders is long and with perhaps many open as well as clandestine political agendas, it won't be easy to come up with such a roadmap. The seven emirates and ministries / regulators along with the corresponding industries (education, finance, health, maritime, telecommunication, tourism, transportation, etc.) will eventually face an uphill battle.
New Entrants: With 5G and its enormous possibilities in vertical industries, the regulator (TRA) may conduct another round of due diligence on the viability of new entrants in the telecom space.
-Photo by Robert Bock (Unsplash).