Telco-OTT Battle Is Looming In India As Net Neutrality Policy Is Reviewed
Narola
Globally, operators are experiencing a rough patch, with sliding core revenues combined with an ongoing need to invest and maintain their networks. The wide usage of apps and services provided by OTTs, purchased easily from a smartphone or other device (e.g. Apple TV, Roku player), are drawing attention & dollars away from the more-expensive traditional telco platforms. With the success of OTT services, telecom operators globally are re-strategizing their traditional offerings. That's true in India as well; recent service innovations include Vodafone India's app Vodafone Play, and Jio and Airtel's partnership with Hotstar and SonyLiv, respectively.
India's telco-OTT tensions and net neutrality
Like their counterparts in the US, Indian telcos have found multiple ways to complicate life for OTTs and their users.
Telecom network operators (TNOs, or telcos) in the past have either blocked OTTs or throttled internet speed for selective apps on their networks. Notably, in 2014 Airtel introduced differential pricing for VoIP services, such as Skype and Viber. The mobile operator then launched Airtel Zero in mid-2015, which gave preferential treatment to a few select OTTs. Airtel is India's largest mobile operator, so these were controversial moves – and they helped to spur the current debate on net neutrality in India.
Just recently, in November 2017 the Indian regulator TRAI announced a net neutrality recommendation, concluding that telcos cannot unfairly prioritize content. This was a win for OTTs. India's telecom regulators are now pursuing more open, pro-consumer policies than the US FCC, which today voted to end America's version of net neutrality. However, the TRAI's recommendation still needs to be formally adopted by the government, and India's telcos are lobbying hard for relief. In fairness, this comes at a tough time for them, as they're facing high debt and weak revenues, made worse recently by the rapid growth of new entrant Jio. The figure below shows how stark the revenue declines have been for many in recent quarters.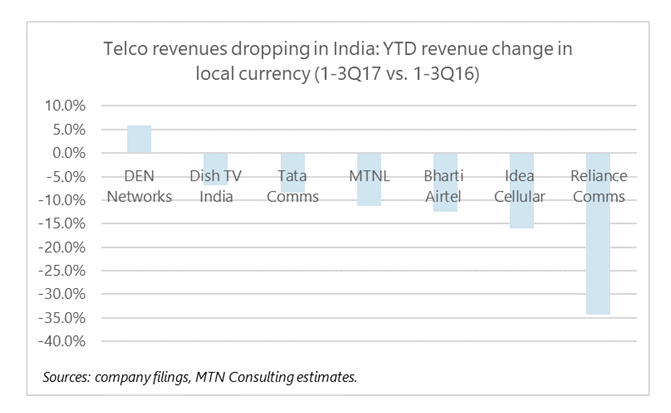 Smartphones are the platform of choice for OTTs in India
While India's fixed broadband networks are underdeveloped, it has an enormous base of smartphones. As shown below, by 2023, Ericsson expects India to have 970 million smartphone users, after growing at a 17% CAGR from 2017 . That's the same as the entire region of Europe.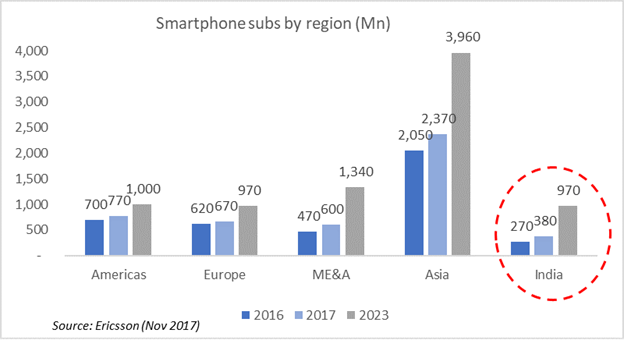 Given India's smartphone-centric broadband market, smartphones play a huge role in launching new OTT services and partnerships. For new revenues, telcos are looking at apps and content. A common approach is to bundle traditional offerings with OTT services such as media/cloud storage/video/music, to drive data usage and help migrate users to higher-priced plans.
For instance, video-streaming. Vodafone India has won deals with Eros Now, HOOQ, and Amazon's Prime Video. Vodafone has also partnered with Netflix in a deal which includes carrier-billing, and free Netflix service for a year under a few of the post-paid plans. Netflix plans to strike similar deals with India's Airtel DTH and Videocon d2h. Starting from scratch, Jio is carving out a niche for itself with app-based services such as JioPlay, Jio Beats, Jio VoD and Jio Security.
As a result of India's rising smartphone penetration and OTT service adoption, data traffic is booming. Ericsson expects data traffic per smartphone in India to reach 18 GB/month by 2023, from the current 3.9 GB/month. Telcos, of course, claim to worry they'll be stuck carrying all this traffic, while OTT providers function as free riders of telco network assets. So far, that argument hasn't held up with regulators.
(Photo credit: Mpho Mojapelo)