Telco capex in 3Q17 up 4% YoY (preliminary); what's in store for 2018?
Narola
Not all telcos have reported, but a large sample (of 60 companies) has spent US$50.2B on capex in 3Q17. That's up 4% year-over-year (YoY), after adjustments for acquisitions.
A 4% growth rate for telco capex is relatively high by recent standards (Fig. 1). LTE spending declines have plagued YoY capex comparisons since 2015. In this same time frame, the Webscale sector – led by Alphabet (Google), Amazon, Apple, Facebook, & Microsoft – has increased capex by double digit percentages in most quarters.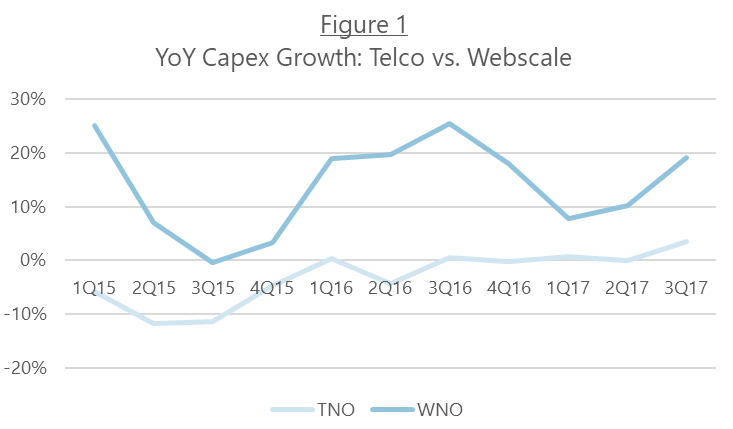 Looking forward, Webscale sector capex will continue to grow much faster than telcos, by 5-15% per year. The outlook for telco capex remains challenged, however.
Weak top-line growth not just a short-term problem
In 3Q17, telco revenues grew just 0.8% for the sum of the 60 companies we've captured to date. That pushed down the annualized growth rate to under 1% (Fig. 2).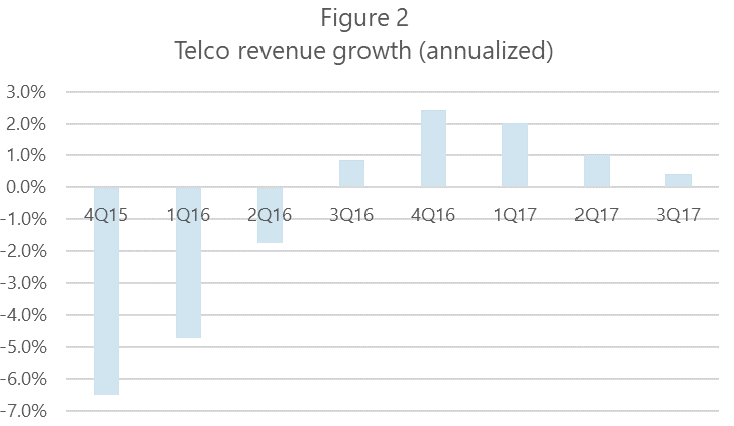 Telecom operator revenues have been challenged for several years, and it's not a regional problem, or one that will go away soon. Many telcos are facing margin squeeze as subscriptions decline in key areas (e.g. consumer broadband), & mobile churn remains too high. Telcos like KDDI and (many) others are investing in new service areas based, for instance, on IoT. Seeing a return from these investments has been slow, though.
3Q17 results & operator plans
Capex for our group of 60 was $50.2B in 3Q17, up 3.6% YoY. That pushed annualized capital intensity for the group to 15.3% in 3Q17, up slightly from 15.2% a year ago. (Note that the sample of 60 excludes China).
As telcos move to more software-based networks, most aim to keep a lid on network spending – at least, the capex component of network spend. That was clear from 3Q17 earnings calls, for instance:
Telefonica says its "radical network virtualization" helps to optimize capex, enable faster deployments, and incorporate big data into network planning. Its capex has been in the 16-17% of revenue range steadily since 2014, though, without a noticeable decline. Looking ahead, Telefonica suggests a "distinctive declining capex trend" will be needed to drive growth in free cash flow and reductions in net debt
NTT projects capex of 1,700 Billion Yen for the fiscal year ended March 2018. That's flat year-over-year. But the last 6 months of the year (4Q17-1Q18) will fall YoY, from 1,034B Yen to 942B Yen.
Deutsche Telekom's 9.24B Euros in capex so far this year is up nicely (+12%), but the company projects capex in its core market of Germany to be flat through 2021 at around 4.3B/year; only regulatory relief would bring any upside.
Comcast's capital intensity was 15.6% in 3Q17, but will average 15.0% for the full year. The company is under pressure from rising content costs (despite ownership of NBCUniversal; AT&T, take note!).
Orange is spending €7.2 billion on capex this year, from 7.0B in 2016, with a practical focus on raising 4G & FTTx coverage. Fiber investments helped Orange grow its base of "very high-speed broadband" customers to 24.6M households in September, up 46% YoY.
Not all bad news for vendors
The telco shift to more virtualized, software-driven, open sourced networks is real, and it will bring many benefits, but it doesn't guarantee lower capex. That's in part because it's a very gradual shift for most. Big telcos with millions of subscribers & thousands of employees do not change processes that quickly. Many big operators are raising capex, or at least keeping levels flat despite revenue declines. At the global level, though, a 5-10% drop in telco capex is likely next year. The changes by technology area & region will be more extreme; more on this topic soon.
A side note on this week's news: AT&T-Time Warner and net neutrality
Two major events took place in the US this week: the US Department of Justice (DoJ) announced it would file suit to block AT&T's purchase of Time Warner, and the FCC made clear it would soon be gutting net neutrality provisions. What's the impact on capex?
The AT&T situation is too complex & politicized to assess yet. I was never a big believer in the merger, in part because of Comcast's troubles, within an (already) integrated content-cable group. It seemed a big gamble, given AT&T's lack of history in content, and limited experience with large cross-sector acquisitions. It also would clearly distract the company during a time of industry upheaval. So, if the merger falls apart, it wouldn't be the worst thing for AT&T. In the meantime, I would not be surprised if it targeted a bit more of its total capex overseas, in Latin America, pending more certainty.
Regarding net neutrality, my two cents: the FCC's new rules will have approximately zero impact on US telecom capex. They may change the distribution by company slightly, and you can be sure Verizon, AT&T and others advertise loudly any investment that can be positioned as "new," and incented by the FCC rule change. But that's marketing, not reality.
(Photo credit: Jason Blackeye)