Is the cloud Apple's next big bet?
Arun
As the four-way tussle unfolds among the top tech giants – Apple, Amazon, Google, and Microsoft – for the "world's most valuable company" tag, Apple could be covertly prepping its entry into the fast-growing cloud computing space.
Ironically, a big operational chunk of Apple's services (Siri, iTunes, Apple Music, etc.), rely on third-party cloud providers. For instance, Apple apparently shells out US$30 million per month for Amazon's cloud services and also employs Google's cloud services. It has also reportedly used Microsoft's Azure platform.
Despite spending massively on renting cloud resources, the iPhone-maker has been plagued by network outage troubles, along with privacy breach concerns in the past. These issues have compelled Apple to beef up its own data center infrastructure to wean itself from reliance on rival cloud providers. Up until now, Apple's cloud presence is limited to iCloud, which is essentially a SaaS-based content storage offering for consumer markets – much different from what big cloud rivals offer.
Due to recent expansion efforts, Apple currently owns a total of nine data center sites worldwide, out of which two are under construction (see footprint map below). These data centers meet Apple device users' demand for services such as iTunes, iCloud, and Apple Music.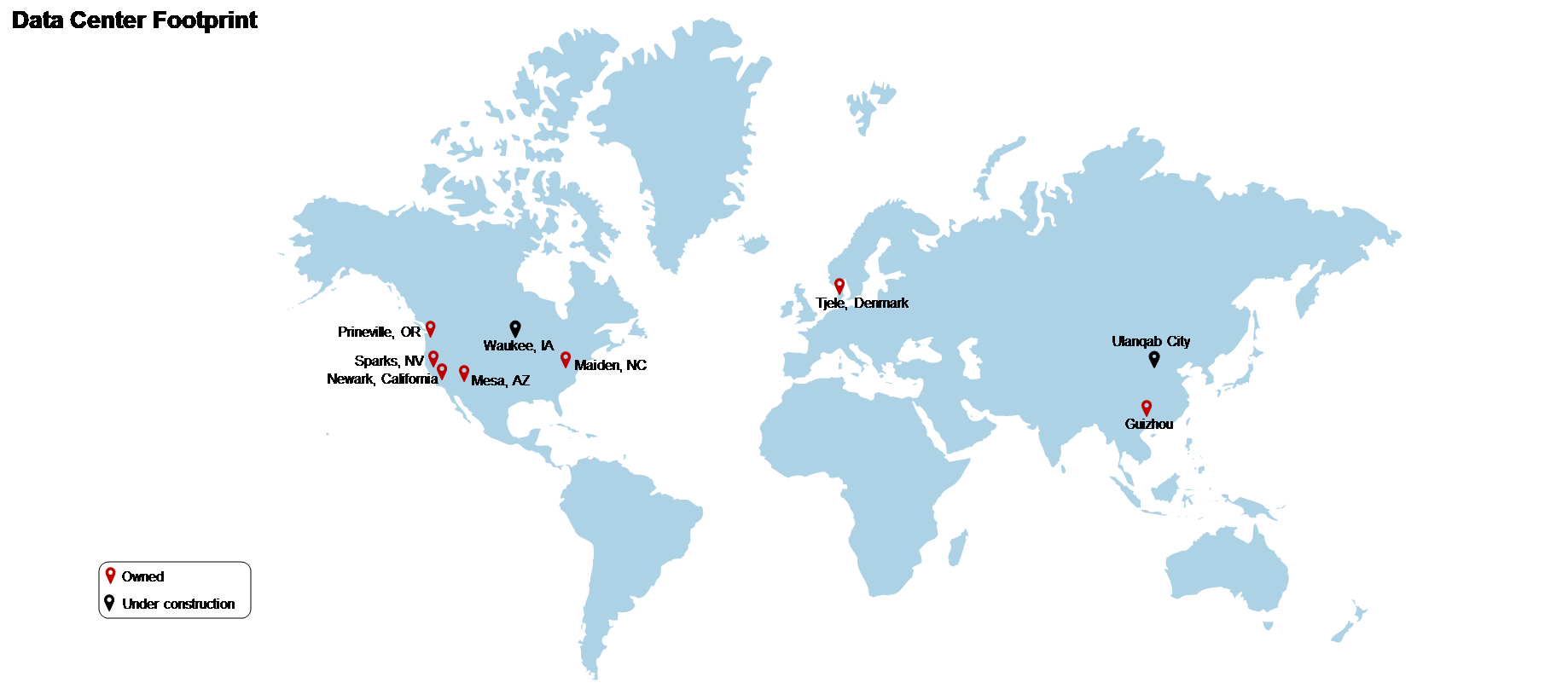 These nine data centers are also a nice starting point for a cloud business. Apple needs far more infrastructure of its own, but we believe that Apple will look to target the enterprise market with its own cloud computing solutions. Below are a few rationales to suggest that Apple is on its way to make this long-term goal a reality.
#1. Exploring revenue diversity to cut business dependence on iPhone sales
Apple's flagship product and cash cow, iPhone, continues to drag the overall top line. Annualized sales revenues from iPhone declined by 14% YoY in 3Q19. As a result, total company annualized revenues declined by 2% YoY during the same period.

The iPhone accounts for more than half (54.7%) of Apple's total annualized revenues in 3Q19. However, it battles declining loyalty among customers who feel less motivated to buy/upgrade due to less-valued features. Customers are being obliged to pay Apple's premium mostly for improved camera capabilities in newer models as they are still functionally identical to the iPhone X launched in 2017. To offset its impact partly, Apple is now focusing on non-flagship businesses in "Services" and "Wearable, Home and Accessories".

The Services business, Apple's second biggest segment, along with the Wearables unit will be key in the near term as sales of iPhone are likely to remain sluggish. The Services unit doubled its contribution to Apple's total topline since 2015 from 9% to 18% in 2019, implying the growing clout of the segment.

But there is a downside – Services and Wearable units are mostly dependent on iPhone sales because they largely operate on handset devices. This is where Apple's own cloud offerings turn into a desirable plan as it would remain relatively immune to such business inter-dependencies.
#2. Existing efforts to revamp infrastructure (Pie and McQueen) support a cloud push
Apple's cloud quest commenced around 2016 with an infrastructure restructuring program for merging its services (including Siri, iTunes, Apple Music and Apple News) onto a single proprietary cloud platform called "Pie".

Apple is physically relocating its employees in cloud services and related departments scattered across various locations at one place under this project. The aim is to have more control on the infrastructure and resources for improved user experience.

Apple also kicked off a self-sufficient cloud infrastructure project called "McQueen" a few years back, in a bid to reduce dependence on other leading cloud vendors such as Amazon and Google.
In line with this, Apple announced investments of US$10B late last year to build new and expand existing data centers across the US over a five-year period. Out of this, ~US$4.5B has been likely spent so far.
Apple is also expected to open its first data center on the Chinese mainland (Guizhou province) by 2020, construction of which has picked up speed this year. A second data center in the country is also coming up in Ulanqab City. Both these data centers will primarily host iCloud data of Chinese users.
Currently, most of iCloud's data is hosted on Amazon's AWS or Google's GCP, according to the iOS Security Guide published by Apple. The current expansion drive will reduce Apple's reliance on third-party cloud vendors.

Once the objectives of both these projects are achieved, Apple could look to venture into the public cloud market – exactly how Amazon started out, i.e. by meeting its own cloud needs first and then renting out excess cloud capacity to the enterprises.
#3. Rising cloud demand driving rivals' business growth
Amazon, considered to be the cloud pioneer, continues to achieve glory and robust business growth in the cloud market through new business models despite being in existence for over a decade. Its cloud computing unit (AWS), which started off as a storage service for its core e-commerce business, has emerged as the most lucrative business and a profit machine – AWS has consistently accounted for >50% of Amazon's overall operating income per quarter this year.

Microsoft is slowly catching up with Amazon in the cloud race, as its cloud business is growing from strength to strength and driving the company's overall business. In 2Q19, Microsoft's cloud segment, which includes Azure cloud, emerged as the biggest business unit.
Google's cloud offering might be a distant third behind AWS and Azure but is making modest advances with aggressive pricing strategy in the cloud arena. The Google Cloud segment, which includes its public cloud offering Google Cloud Platform (GCP) along with G Suite tools (Gmail, Hangouts, Calendar, Google+ and Docs), now generates US$8B in annual revenues.
With strong earnings and growth still being reported by the "Big Three" cloud providers, Apple could be motivated to replicate the success of its rivals. Out of the top 5 webscale network operators (WNOs), only Apple and Facebook lack cloud offerings (see chart below).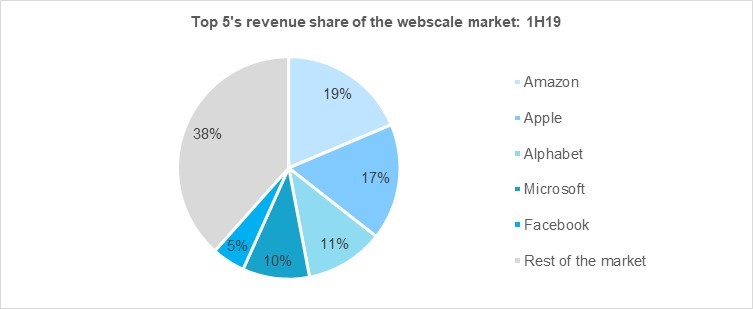 #4. Strong M&A appetite to enter new focus areas
Apple's recent billion-dollar acquisition deal involving Intel's smartphone modem business reveals the company's strong desire for M&A to pursue new priorities. The deal ensured Apple's entry into the 5G-enabled handsets race, albeit a bit late.

With a strong kitty of cash and short-term investments worth US$100.5B at the end of September 2019, Apple could go for a similar deal within the cloud space. But instead of acquiring a cloud player, the iPhone-maker may have other plans.

Since Apple already has expertise in building cloud infrastructure somewhat with its own data centers, it could instead look to buy a chip company (or assets) that would develop customized chips to power its data centers – a ploy already in practice by cloud rivals. Interestingly, Apple is building in-house custom ARM-based chips for its future Mac lineup.

Like 5G, Apple's potential entry in the public cloud market would again be relatively a late one. To counter established cloud rivals, it would have to compete on network security and reliability, making a chip company acquisition more sensible for Apple.
Potential target market could be much beyond developers
Apple's initial aim would be to catch the low-hanging fruit – the iOS developers' market – to sell its cloud offerings. Apple is known to create solutions and platforms that are purposely built for its own ecosystem, and its potential cloud offerings would not be any different. This is one of the aspects developers would lean towards, especially for the development of iOS-based applications, as they could access interfaces and platforms in tune with Apple's ecosystem for OS development.
Privacy and security are Apple's priorities with its current portfolio of devices and services. These attributes would help Apple target high-value cloud clients. Government cloud deals, which are always sensitive, are a potential target for Apple. The recent US$10B cloud deal between Microsoft and the Department of Defense is an example.
For small-and-medium enterprises and users with limited IT expertise, current offerings from Amazon and other cloud providers are complex to use. This is where Apple could tap the "bottom of pyramid" with an intuitive and easy-to-use cloud platform.
Despite expansive efforts, Apple may still fall short of becoming a formidable cloud force
The cloud trio of Amazon, Microsoft, and Google would undoubtedly be impacted by Apple's potential entry to the cloud scene – they would lose a customer (or potential one) and gain a competitor. But Apple is known to focus on high-end markets with priority to profits over market share. Apple may not offer mass-market cloud solutions as its rivals do – just as its iPhones are targeted at a premium consumer base. Apple's purpose would be to offer reliable cloud computing solutions that operate in its own ecosystem and provide a quality user experience. All this could also end up being a futile endeavor for Apple due to its inexperience relative to cloud rivals. High profile acquisitions or hires will help, though, and Apple has plenty of cash for both. Apple taking the "cloud" path could prove to be a game-changer in the fortunes of the company that is desperately seeking for a life beyond iPhone.