Indian telco sector faces potential bankruptcies and steep capex cutbacks to cope with October court decision
Matt Walker
The Indian telecom sector is left in tatters following the Supreme Court's verdict that supported the Department of Telecommunications (DoT) in a dispute with the telcos over how levies are calculated. Already ridden with massive revenue declines (Figure 1) and a collective debt of almost INR7,800B (US$110 billion), Indian telcos have little cash left for future investments including the upcoming 5G spectrum auctions.
Figure 1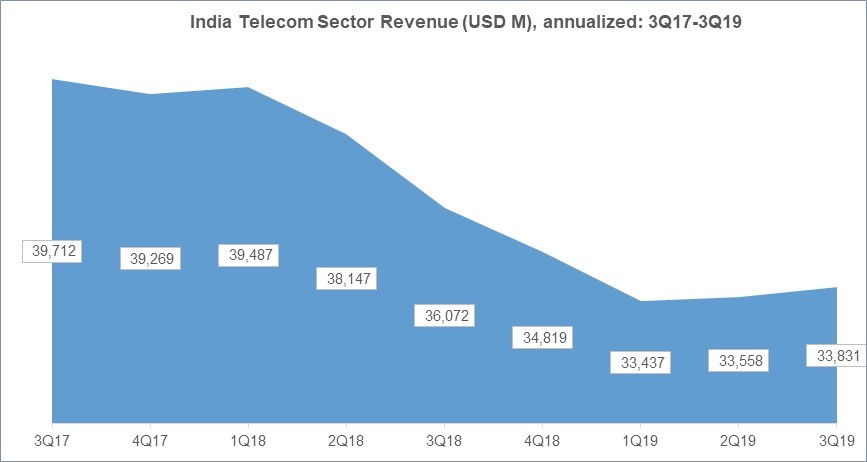 Source: MTN Consulting
Airtel and Vodafone-Idea are under severe financial stress, with the latter on the verge of bankruptcy
The court's verdict on adjusted gross revenue (AGR) had significant financial implications on Airtel and Vodafone Idea Limited (VIL). In 3Q19, these two telcos reported combined losses of about $10.5B (Figure 2) as they set aside funds towards AGR dues.
The debate over AGR definition between the DoT and the operators goes back to 2005. The AGR definition is crucial as it has massive financial repercussions for both operators and the government. For instance, the telcos are required to pay 3-5% of the AGR towards spectrum usage charges, and nearly 8% of AGR as license fees.
DoT considers revenues from core and non-core business as AGR, while operators argue that AGR should include revenue only from core business and exclude revenues from dividend, interest income or gains on the sale of assets. Now with the Supreme Court verdict favoring the government's stance, Airtel and VIL are liable to pay INR216B ($3B) and INR283B ($3.9B), respectively, towards AGR dues. For context, Airtel's 2Q19 revenues amounted to $2.98B while VIL recorded $1.62B; AGR is significant for both.
Figure 2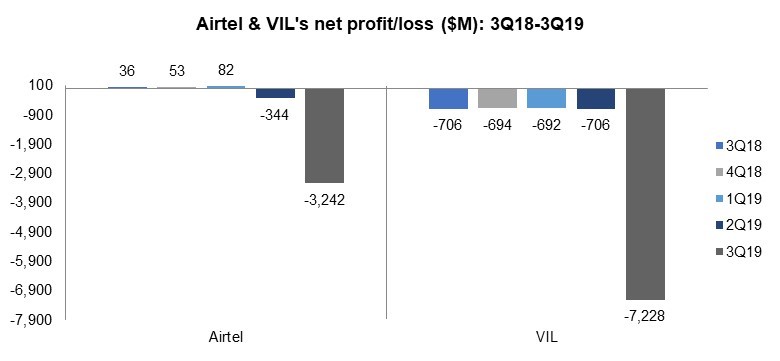 Source: MTN Consulting
The liabilities incurred by the operators are huge mainly due to the interest and fines levied since 2005. With both operators already reeling under financial stress amidst the rapid growth of rival Jio, the operators' strategy to hike prepaid tariffs does not come as a surprise. In the first week of December, Airtel, VIL, and Jio all hiked rates on prepaid plans by more than 40% and are in talks with TRAI to set up a floor price, a minimum tariff for mobile voice and data services. Jio's decision to join the bandwagon of hiking prices could be the first sign of stability in the sector that has been battered for almost three years.
While both Airtel and VIL are in trouble, Airtel has more options. It plans to raise $3 billion to pay the government, which could involve the sale of its stake in its tower arm Bharti Infratel. VIL has not made clear its plan. It is precariously placed with piled up debt and huge subscriber losses. VIL's debt to equity ratio increased from 181% in 3Q18 to 487% in 3Q19 (Figure 3). Further, VIL's subscriber base declined to 311M subscribers in 3Q19 compared to 422M a year back. VIL's parent entities Aditya Birla and Vodafone are also shying away from making additional investments in the merged entity. With mounting losses and no backing from the parent groups, chances of revival for VIL are low. An urgent sale to a rival operator is possible.
Jio is getting stronger amid Airtel's and VIL's financial crisis
Reliance Jio (Jio)'s entry into the telecom sector in 2016 has come down hard on established players like Airtel and VIL. Post Jio's entry, the industry witnessed intense price competition setting off a sector wide consolidation resulting in just three private operators. Unlike Airtel and VIL, Jio has not been impacted much by the recent court decision on AGR. Jio's total fine amounts to just $1.8M, given that it started operations in India only three years ago. Moreover, Jio's parent company (RIL) is forming a new subsidiary that will hold its digital and mobility businesses, including Jio, and transfer all of Jio's pending liabilities to other divisions within RIL. Post this restructuring process, Jio will be net debt-free with just spectrum related dues to pay. All of this helps Jio manage its cash flows better and will place Jio in a strong position with enough cash to fund for the upcoming spectrum auctions.
So, what lies ahead for the sector?
The next few quarters will be a testing phase for Airtel and VIL, as they seek relief measures from the government to stay afloat. Amid the AGR issue, the government decided to defer spectrum auction installments due from the telcos in FY21 and FY22 by 2 years. This is just a temporary relief, though, and it relates to older spectrum purchases – these operators need fresh spectrum for 5G.
The AGR ruling will be a major hindrance in the telcos' ability to take part in 5G auctions. For instance, the current suggested base price for 5G is marked at INR4,920M ($69M) per Mhz, with a minimum sale of 20 MHz blocks. This would mean investing around INR100B ($1.4B) for 20 Mhz. The recommended price for the same band in countries like Korea, Spain, the UK and Italy is up to 6 times cheaper. For India's telcos, spectrum cost constitutes a significant portion of total capex. Considering their financial woes, Airtel and VIL might not even bid for the upcoming 5G auctions at the current price.
Unavailability of adequate spectrum is a related concern. The Indian regulator had put up 300 Mhz of spectrum in the 3.3-3.5 Ghz bands, however with 125Mhz set aside for defense and space organizations, the telcos are left with just 175Mhz spectrum to bid for. Scarce resources get expensive quickly. To help address this, a minimum 100 Mhz block should be assigned per operator for better 5G enablement and deployment, but freeing up this much spectrum will be a challenge.
To justify future investments in 5G, both in spectrum and network infrastructure, telcos will also have to command significant pricing power in new 5G services, which currently seems unlikely.