Cisco, Samsung, and ZTE benefit most from Huawei bans in 2021 telco NI market
Matt Walker
2021 results for the 100+ vendors selling into the telco market are just about finalized. Contrasting 2021 "telco network infrastructure" (Telco NI) share with 2020, Cisco clearly came out on top, gaining 0.7% share in a market worth $231.4 billion (B). Cisco was helped both by a telco shift in 5G spending towards core networks, and Huawei's entity list troubles. Samsung's share growth of 0.3% was due to a big win with Verizon and a growing telco interest in seeking RAN alternatives beyond Ericsson and Nokia. ZTE, which has escaped the US entity list to date, also picked up some unexpected 5G wins but its growth is more broad-based due to optical, fixed broadband, and emerging market 4G business.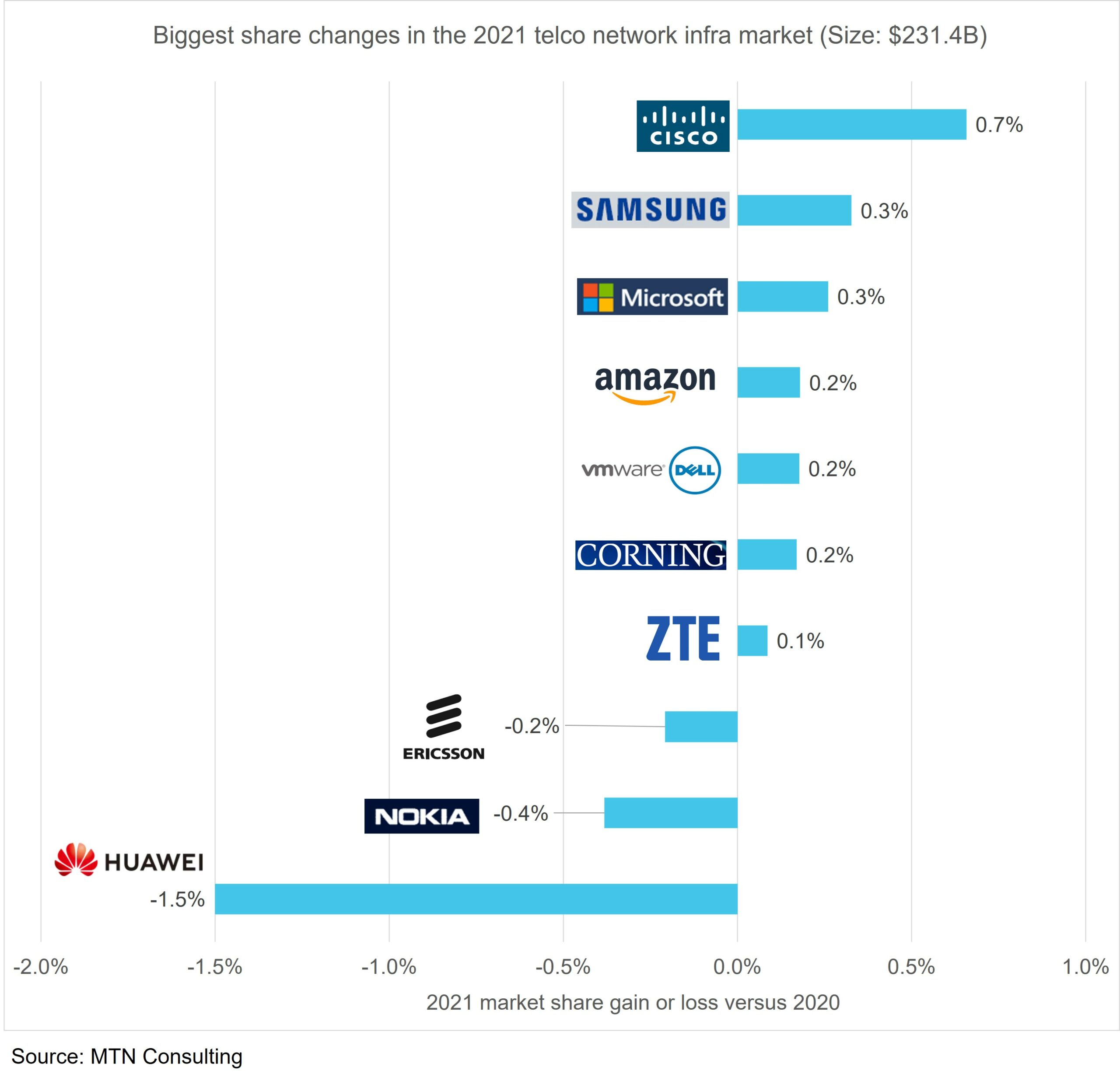 Dell (including VMWare), Microsoft, and Amazon also picked up share as telcos have begun investing in 5G core and cloud technologies. Their growth has little to do with Huawei, and more due to telcos' ongoing changes to network architecture and service deployment patterns. Corning was an unexpected winner in 2021, gaining 0.2% share on the back of fiber-rich wireless deployments and government support for rural fiber builds.
On the flip side, both Nokia and Ericsson lost share in the overall telco NI market in 2021. Their RAN revenues benefited from Huawei's troubles in 2020 but telco spending has since shifted towards product areas with more non-Huawei competition. Both vendors are attempting to diversify beyond the telco market, with Nokia so far having more success; its non-telco revenues grew 12% in 2021.
Huawei's share of telco NI declined to 18.9% in 2021, down from a bit over 20% in both 2019 and 2020. The US Commerce Department's entity list restrictions were issued in May 2019 but hit the hardest in late 2020 and 2021, after Huawei's inventory stockpiles began running out.
Huawei's messaging on its recent fall is muddled. During its annual report webcast yesterday, it cited three factors behind its 2021 revenue decline: supply continuity challenges, a drop in Chinese 5G construction, and COVID. In MTN Consulting's opinion, supply continuity was the main factor. A related factor were the many government-imposed restrictions on using Huawei gear around the world, especially in Europe where 5G spending was strong in 2021. The other two factors cited by Huawei's CFO, however, are misleading. Chinese telco network spending, overall, was relatively strong in 2021: total capex for the big three telcos was $52.8B, up 8% from 2020. Without this rise, Huawei's 2021 results would have been worse. As for COVID, few other vendors cite the pandemic as a factor restraining 2021 telco spend. More vendors cite the opposite: 2021 spending was strong in part because telcos were forced to delay many projects during COVID's early spread.   
To date, Huawei's troubles have impacted RAN markets the most, but in 2022 and 2023 will begin spreading more clearly to IP infrastructure, optical, microwave, fixed broadband, and other areas. A number of vendors are eager to pursue new opportunities as this happens, including Adtran/ADVA, Ciena, Cisco, CommScope, DZS, and Infinera. The CEO of Infinera, in fact, said on its 4Q21 earnings call that "it was a nice taste, a nice appetizer in 2021, but…we said all along that we would see the design wins and RFPs really scaling and we thought that we'd see revenues from that really beginning to take hold as we got into 2023."
To date, Huawei has been unable to fully adapt to the supply chain restrictions put in place in 2019. It remains the global #1 in telco NI, however, due to dominance in China and a huge installed base across the globe. The company is investing heavily in carrier services & software, Huawei Cloud and new product areas. One certainty is that it won't simply fade away, despite the current decline.