5G to follow a politicized path in developing markets – telcos beware
Matt Walker
Huawei has dominated telecom news since the arrest last December of the Chinese vendor's CFO in Vancouver. Since then, the US Commerce Department has restricted Huawei's access to US-built tech components, including Google's Android ecosystem. Huawei needs these components, so the heat is on. What happens next?
Let the Huawei chaos begin
Those waiting for a grand resolution to US-China disputes surrounding Huawei will be disappointed – the company's problems did not arise with the Trump administration's trade battles. Concerns about Huawei's private company origins and independence from the Chinese state are fairly bipartisan in the US, at least two decades old, and shared by many European and Asian governments.
Yet Huawei certainly isn't going anywhere; it has the broadest portfolio of products in the industry, and its 22% market share in network infrastructure sales to telcos ("Telco NI") is nearly as much as Nokia and Ericsson combined (figure, below). Since Meng's arrest, the vendor has hardly backed away from its ambitions – and the Chinese government has made clear its support for Huawei's long term growth.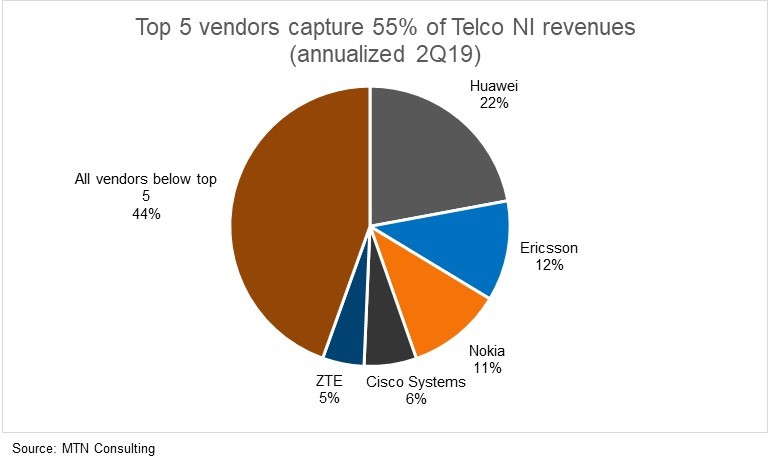 In the developing world, Huawei's network infra share is over 30%, and its share in most developing markets is rising, due in part to "China Inc". Huawei – and its customers – continue to benefit from cut-rate financing available from Chinese banks, among other incentives. This activity has picked up as Belt and Road Initiative (BRI)-related projects have got underway. Egypt's new capital is an example – Huawei is supplying nearly all of the new telecom network infrastructure for an entirely new city intended to house 6.5 million.
Given Huawei's position as a powerhouse in the developing world, it's impossible to discuss 5G without addressing Huawei's prospects.
5G not a rush in low ARPU markets
In developing regions such as CIS, Latin America (LA), and Sub-Saharan Africa, 3G remains the primary mobile connection technology. While 4G will overtake 3G soon even in these low ARPU markets, 5G will take years to emerge. According to stats from the GSMA, these regions will respectively see 5G account for 12%, 8%, and 3% of their total connections by 2025.
These are cellular connections and don't factor in IoT – a big caveat given 5G's promise for device to device connections. However, the point remains that 5G will be a slow evolution – telcos like to stretch the life of technologies whenever possible.
That's especially true for telcos with high debt levels – and there are a lot of these. The net debt (debt minus cash) of the global telco sector was roughly half of revenues in 2018, having been in the 30-40% range of revenues at the cusp of the LTE buildout cycle. Few telcos have room in their budgets for a 5G capex splurge. Even if there are 5G trials underway across the developed world, the developing world will need 10 years or more for widespread migrations to complete.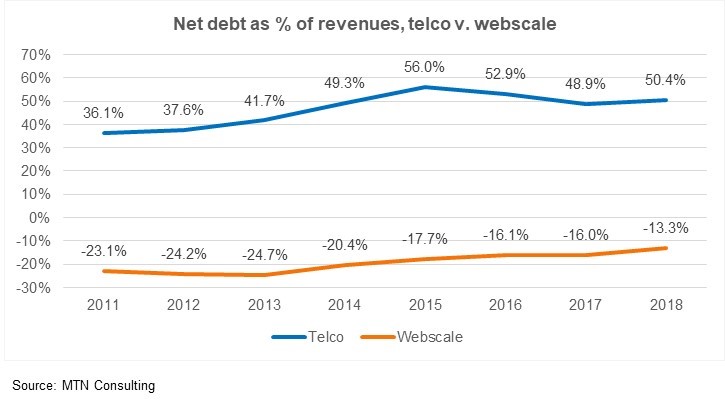 Individual operators reflect this different pace. Etisalat for example is already advertising ZTE-provided 5G in its home market of the UAE ($41K GDP per capita); however, in the west African country of Togo ($617 GDP per capita), its local unit Moov Togo only launched 4G in mid-2018. There is little need or incentive for Etisalat to push 5G anytime soon in Togo.
The natural conservatism of telcos is heightened when lots of things are changing on the supply side. Right now, Huawei-related uncertainty is slowing down procurement. Even if a product is on the shelf, a telco needs to know it can be supported after the sale. Given that some countries are considering restrictions on Huawei, it's only natural for telcos to take a breath.
Supply side push likely from Huawei
Any good vendor sales rep talks to customers frequently about new products, in search of interest and/or commitments. Huawei has been especially proactive about stirring up business in small markets like Togo, and successful in turning single-country projects into much larger ones. If Huawei can keep its supply chains running – although this is not certain – it will likely launch an aggressive supply side push for 5G in its strongest developing markets (e.g. Thailand). We can expect more low-cost financing, joint R&D facilities, university partnerships, tie-ins with Huawei's device and cloud business, and lobbying. Huawei wants to seize the moment.
This could all end up being good for operators if they play it smartly. A better pitch from Huawei should provoke its rivals into doing the same, ultimately benefiting telco customers. The complication is on the financing end and the use of China's state-owned banks – primarily CDB and Ex-Im. Politics are by definition part of the decision-making process of these banks, and telcos may not want to embroil themselves in that process.
This is now a political issue, as concerns about foreign debt levels grow. Just last month the Kiel Institute for the World Economy issued a report on "China's Overseas Lending", noting that for the 50 main recipients of Chinese direct lending, "the average stock of debt owed to China has increased from less than 1% of GDP in 2005 to more than 15% of debtor country GDP in 2017." The study also found that "about one half of China's overseas loans to the developing world are 'hidden'".
Telcos forced to do more with less as webscale operators splurge
Telcos' network department headcounts and R&D budgets have been declining for many years. This has made telcos more reliant on vendors for knowledge and technical support, and even rudimentary design. In effect telcos have outsourced much of their R&D to their suppliers. This tends to benefit incumbent vendors.
Network operators in the webscale world – Amazon, Facebook, Microsoft etc – are by contrast splurging on staff. They spend heavily on R&D, an average of 10.3% of revenues in 2018 (vs. 1.3% for telcos; figure). Webscale R&D projects are all over the map, in line with the range of the companies' business interests. Most important, all of the big WNOs spend heavily on network R&D, designing equipment to suit their high-capacity, high-growth needs precisely. They typically use original design manufacturers (ODMs) to build and then ship the gear to sites worldwide.
These webscale companies have pushed open networking and open source efforts for years, starting in a big way with Facebook's founding of the Open Compute Project (OCP) in 2014. Much of the webscale network equipment deployed in their cloud is either compliant with or derived from these open source-oriented bodies.
Change comes slower to the telco world, but AT&T giving open networking a push
However, telco adoption of open networking/open source has been slow due to weak OSS/BSS system support and telcos' slow buying cycle: they do not introduce change into the network quickly. There are signs that this is changing; for instance with AT&T's Dec. 2018 commitment to deploy "white box routers" at up to 60,000 5G cell towers over the next few years. AT&T first laid out its virtualization plan in 2013, which included using its own developed platform ONAP (Open Networking Automation Platform) and SDN to virtualize its network functions.
With AT&T's white box commitment, open source hardware in the 5G RAN has become more attractive – even if just for routers. However, AT&T's open source commitment comes at a cost. The company does have a significant R&D budget, totaling $1.4B in 2018 (or 0.9% of revenues). In the case of the cell site routers, AT&T is not just buying something off the shelf. The "UfiSpace" white box is powered by a network operating system called Vyatta. This OS required both internal development (i.e. R&D) and an acquisition (of Brocade's Vyatta division) to develop. On the flip side, AT&T has managed to keep its capex outlays to just 12.2% of revenues (2018), among the lowest of all big telcos worldwide.
Not all carriers in the developing world can develop their own network operating system, clearly. Most need to allocate more funding to R&D, though, with the explicit goal of capex reduction – and increased leverage over their suppliers. That's all the more important to do now as supply chains are in upheaval. Telcos with country operations in the developing world should be more involved in key bodies like ONF, OCP, O-RAN Alliance, and the Telecom Infrastructure Project (TIP).
There is a benefit to being an early mover, and that's especially true now – lots of small players are eager to sign deals that give them bragging rights. Accton's Edgecore Networks, for instance, is working on white box cell site gateways with large carriers Vodafone, Telefonica, TIM Brasil, BT, and Orange – all but BT have significant operations in developing markets where deployment is possible. Locally owned competitors would have strong incentives to follow.
New vendor opportunities emerging amidst the Huawei chaos
As 5G becomes a reality and Huawei still has issues, vendors elsewhere in Asia are looking to exploit uncertainty. That doesn't just mean other RAN suppliers; it involves fiber, transmission, router/switch, and other product areas, and software/IT services. It also involves many countries: India, Korea, Taiwan, and Japan all host competitive players in the telecom network infrastructure space. None approach the scope of even a mini-Huawei but telcos are more willing to buy a la carte nowadays.
India is interesting because its latest Telecom Policy (2018) explicitly called for the development of its telecom equipment sector. Well before the Huawei crisis, India's Telecom Secretary, Aruna Sundararajan, argued that India should embrace 5G aggressively, not just for services but to help develop India's export sector. India is a big enough market that the big global RAN vendors are making local investments in R&D and manufacturing, and partnering locally. Ultimately this could expand prospects (and product lines) for companies in other segments like Sterlite and Tejas. It could also help open networking specialist Radisys, now owned by India's largest telco Jio.
India becomes more interesting in terms of network infrastructure when you consider Taiwan. Its local tech trade association, TAITRA, is pushing hard on India for both export and partnership opportunities. India's traditional strength (workforce-wise) has been in software (e.g. Wipro, Tech Mahindra), while Taiwan is strong in electronics manufacturing, chips, displays, and sensors. There are some partnership opportunities that look attractive on paper. Already Taiwan's Foxconn is moving some iPhone production to India, for instance. But politics are a factor in the India-Taiwan avenue. And if politics is what motivates a deal, then a new political environment could make the deal unstable, so things are likely to go slowly here.
What's an operator to do?
Mobile operators face an unsettled vendor landscape and tight capex budgets. Planning 5G in this climate is not easy. If I led a developing market mobile telco – Axiata, say, or America Movil – I would use this time to:
Study my current network equipment inventory (including software elements) to gauge security and regulatory risks – for all vendors;

Push regulators to guarantee no future unfunded mandates to rip & replace;

Adopt network design and procurement practices from webscale players when workable, but avoid adopting their lax security and privacy practices;

Increase R&D budget by at least 0.1% of revenues. This modest increase could potentially fund hundreds of new R&D hires for a company like America Movil; and,

Use the new hires to fully evaluate cost saving opportunities related to open networking, and infrastructure spinoffs to the carrier neutral sector of network operators.
Finally, I would make sure I was getting objective advice on prospects for 5G business use cases, and the right investment strategy to pursue them. More capex isn't always the answer.
-end-
Source of cover image: My Edmonds News