5G Challenges and Opportunities in Pakistan – A Perspective
Matt Walker
5G is moving full steam ahead in many developed economies. Recent announcements from both vendors and operators confirm this notion with news of 5G network rollouts and availability of 5G-enabled devices.
Many developing nations on the other hand are lagging behind, including Pakistan. Impediments in Pakistan include a slow return-on-investment, a shortage of disposable income, and lack of urgency towards innovation. (National spending on R&D, for instance, is just 0.3% for Pakistan, versus 0.8% for India and 2.0% for China.) These and other obstacles make the enablement of 5G both more challenging and interesting.
Very briefly, the aim of this blog to look at the outlook for 5G in Pakistan, including some of the challenges and the opportunities the technology could bring to this nation of 217 million.
Background
Pakistan has more than 161 million cellular subscribers including 69 million 3G/4G-LTE users divided among four cellular operators. Jazz is the mobile leader with around 60 million users while Telenor Pakistan stands at number two with approximately 44 million users (figure).
An interesting element of the cellular market is that the parent companies of all the operators reside outside Pakistan. Jazz is part of VEON, Telenor Pakistan is 100% owned by Norway based Telenor Group, Zong is a subsidiary of China Mobile and Ufone belongs to Etisalat.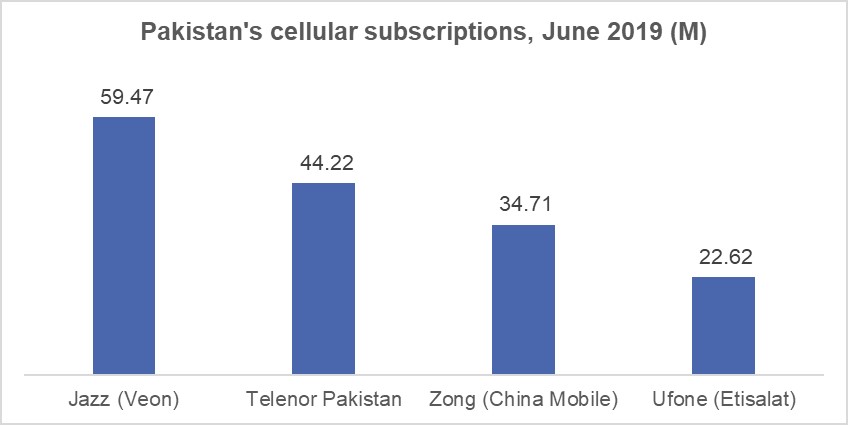 The supplier's market is primarily in the hands of Chinese vendors. Huawei and ZTE are the incumbents in the radio access network (RAN). However, things started to change in the fall of 2018. One reason is the restrictions put on these two vendors by the Trump administration, which have allowed Nokia to reenter the market. Telenor Pakistan is in the process of swapping all its radio sites from ZTE to Nokia while Jazz is planning for the same, over fewer sites. Ericsson is a non-player in the RAN market, but did win an optimization project at Jazz in Feb 2018.
Even with regulatory & supply chain risk related to Chinese vendors, the transmission network (including backhaul) is not likely to be swapped. Transmission networks in Pakistan rely almost entirely on China. Ericsson can hardly be seen in the market. It has a very small footprint in the transmission network while NEC supports backhaul (via microwave radio hops) in Telenor's network.  Core networks are usually supplied by the radio access vendor. Within the RAN, Huawei has up to 60% market share of the installed base, with ZTE capturing virtually all the remainder (prior to the recent swaps).
According to the Pakistan Telecommunication Authority, telco capex has averaged to well over US$1B per year since 2004 (figure, below). Variations tend to be driven by new licenses, technology upgrade cycles, and macroeconomic factors.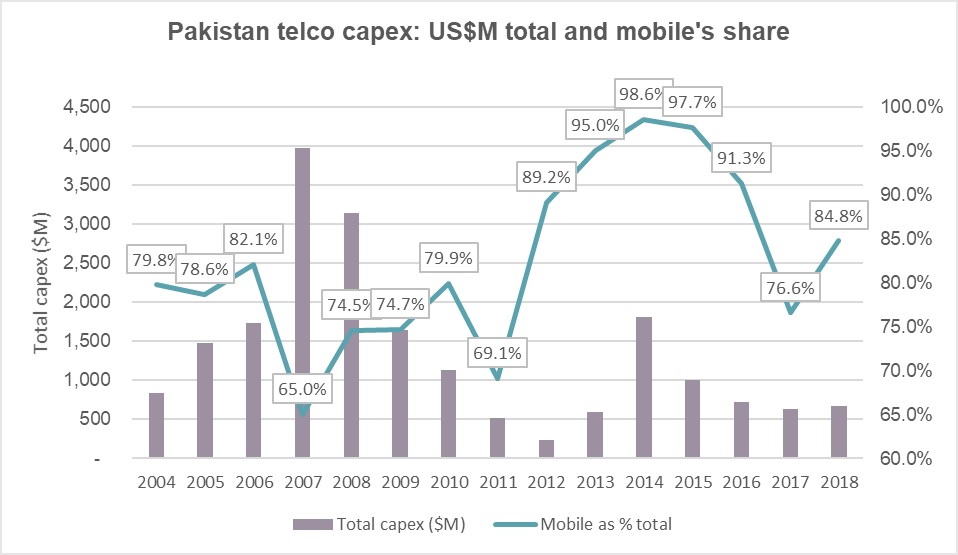 Over the 2004-18 15-year period, mobile cellular operators accounted for just under 80% of industry capex. With 5G buildouts approaching, total capex should soon see a bump, and mobile's contribution may rise above 90% again.
Challenges
The telecom sector of the country faces many common and a few unique challenges. One of the key obstacles to progress comes from the non-implementation of Telecom Policy 2015.
The Ministry of IT and Telecommunication issued the National Telecommunication Policy in 2015. This policy secured Pakistan's government a "Government Leadership" award from the GSMA in 2017. However, actual implementation of this policy has been lacking to date. This failure will curtail the development of 5G and Pakistan's overall telecommunication sector.
There are many other challenges, some common to developing nations and some unique to Pakistan.
Common Challenges:
Lack of a frequency spectrum roadmap
Wireless communications cannot take place without the air waves (frequency spectrum), which are under the control of national governments. Governments often consider spectrum as a cash cow, particularly when it comes to mobile communications. The mobile telco industry on the other hand desires effective auctions and nominal license fees, and some level of certainty about the future. Hence, it is important that governments / regulators provide a mid to long term spectrum roadmap, update it on a regular basis, and ensure that operators use the same effectively.
According to the Telecom Policy 2015, the Ministry was required to provide a 3-year rolling Spectrum Strategy where it will lay out the future plans for this scarce resource. However, more than three years have been passed and the industry still hasn't received the strategy. According to Saad Asif, a telecom consultant who has worked at both Jazz and Telenor Pakistan, "there is an urgent need for a Spectrum Outlook which will help service providers to make informed investment decisions."
Costly / Bureaucratic Right-of-Way (RoW) granting process
Leasing RoW assets can be a lucrative way of making additional income, particularly in countries which lack either an investment-friendly national RoW policy, its implementation, or both. The situation is not different in Pakistan as noted recently by Rizwan Mir, CEO of Universal Service Fund, "Pakistan lacks effective tariff and policy controls on Right of Ways for laying fiber".
5G will require deployment of a huge number of small cells as well as optical fiber. Tens of thousands of cell sites are currently accommodating traffic through microwave radios and down the road a good majority of those have to be switched to fiber. This requires an effective mechanism for expeditious treatment of right-of-way. This mechanism doesn't yet exist, despite the telecom policy's mandate.
Unique Challenges (in recent times):
Pending License Renewal
In 2004, the government issued 900 and 800 MHz licenses to Jazz, Telenor and Paktel (now Zong) for a period of fifteen years. These licenses were issued on the principle of technology neutrality i.e. they can be used for GSM, 3G, 4G, etc. In practice these are mainly used for providing 2G GSM services. The licenses were awarded at the price of US$291 million for a total of 13.6 MHz. The bandwidth includes a portion of spectrum in both 900 and 1800 MHz.
The renewal process for these licenses was started a couple of years ago, but hasn't been concluded due to difference of opinions on the license cost. Service providers are demanding to buy at the same cost of $291 million, which turns out to be $7.31 million per MHz. However, the government has established a per-MHz cost based on frequency auctions conducted in 2016 and 2017, and asked the regulator (Pakistan Telecommunication Authority) and spectrum manager (Frequency Allocation Board) to implement the same.
The price per MHz cost from these auctions in 2016-17 turns out to be $39.5 million for 900 MHz and $29.5 million for 1800 MHz, which is quite high. The newer cost, if implemented, will be approximately 60% higher than 2004. Mobile operators are contesting these prices, and the matter is currently under judicial consideration before the Islamabad High Court.
Currency (PKR) Devaluation
The currency has been devalued by more than 40% to its value of January 2018. During January 2018 the exchange rate was USD 1 to PKR 110 and now in August 2019 it is hovering around PKR 160.
This is impacting the overall country and the telecom sector is not immune. The impact is three pronged at least – reduction in profit margins, decrease in available CAPEX for new investments (as nearly all equipment is imported) and increase in OPEX. Consultant Saad Asif adds that "this devaluation is resulting in a substantial increase in OPEX due to rising energy costs".
Opportunities
Currently, 3G and 4G/LTE data services are often not up to par in Pakistan, even in major cities. The fault lies not only in the network but also the heavy penetration of low-grade smart phones. The performance benchmarks placed by the regulator for the rollout of 3G and 4G services are rather low.
The following are some of the opportunities emerging with 5G in Pakistan:
Improvement in current data service with better performance benchmarks
Telecom network engineers have to make trade-offs between coverage and capacity. These two parameters have a direct impact on KPIs (key performance indicators) such as voice quality, data rates, throughputs, etc.
Two reasons for poor network performance in Pakistan:
(1) the thresholds and benchmarks set by the regulator in the 3G/4G licenses of operators were kept quite low. Operators only have to maintain data rates of 256 kbps and 2 Mbps for 3G and 4G users respectively.
(2) most users care more about price than quality of service. Pakistan's low ARPU illustrates this: Telenor's Pakistan branch recorded an ARPU of just 12 NOK in 2Q19, less than half of Telenor Myanmar's 25 NOK/month.
As any improvement in the QoS requires investment in the network, operators are frequently unwilling to take this approach since it may negatively impact their ROI (return on investment).
The PTA needs need to address this disincentive to build robust, resilient networks. That can come either as part of the current license renewal exercise (if operator(s) decide to use it for 3G /LTE services), or at the time of future 5G auctions. Waiting until 2029 for the next renewal of 3G/4G licenses is not an attractive fallback plan.
Internet of Things (IoT)
IoT is agnostic to mobile technology i.e. it can be operated using any generation of cellular technology. IoT is in the early stages of growth in the country and according to Cisco by 2030, 500 billion devices will be using Internet across the globe.
IoT can benefit multiple industries in Pakistan, particularly the public utilities to reduce mismanagement and corruption. For example: use of smart meters for electric and gas connections can substantially reduce the visits of utilities' personnel to homes / facilities. Another use could be the procurement of water tankers to address the shortage of water through a connectivity among IoT modules, cellular networks and water supplier systems.
mHealth
A large segment of Pakistan's population lacks access to basic health service. Initiatives have been taken both by public and private organizations but so far have had disappointing results.
The lack of education and information sharing is harmful to the promotion of mHealth, particularly in rural areas. Illiteracy rates are high in villages and remote areas, where mHealth is needed the most. The concerned ministries and regulators in partnership with private businesses need to strengthen the existing setups and establish new programs for the promotion of mHealth to build trust, and provide training to healthcare professionals and society at large.
As Pakistan's 4G networks mature and operators evolve to 5G, remote diagnostics and eventually surgery have potential. Society needs to have systems in place to benefit from these new technologies, though, so the government needs to get to work.
–
Source of cover image: Huawei.