Commentary: ZTE's fixed broadband win at Rostelecom
Narola
What happened
Rostelecom recently awarded ZTE 70% of a large access network modernization project. ZTE will provide its C350M/C300M MSAN product for the first stage, using VDSL, and move to G.vectoring and G.fast in the second stage. Rostelecom is currently testing the proposed second stage solutions.
What we think
ZTE is one of the world's largest network infrastructure vendors, and one of just a few with a full set of fixed broadband products. It's a top supplier domestically, and has a large number of overseas broadband deployments. Many of ZTE's international accounts are on the small side, though.
Rostelecom is Russia's largest fixed operator, including in pay TV where it has over 10M customers. The company spent about US$1B on capex in the 12 months ended Sept. 2017. Capital intensity has fallen to about 20% (figure), but that's still high by global standards.
This is a nice win for ZTE, helping it validate its fixed broadband credibility with a major account. Russia has faced political & macroeconomic turmoil recently, but it is a large market, and ZTE is one of only a few competitive vendors. Given the recent slowing of China's infrastructure market, having a potential growth account like Rostelecom could come in handy for ZTE.
Reference graphic
The figure below illustrates Rostelecom's annualized (12 month) capital expenditures (capex) and capex/revenue ratio (capital intensity) since 2014.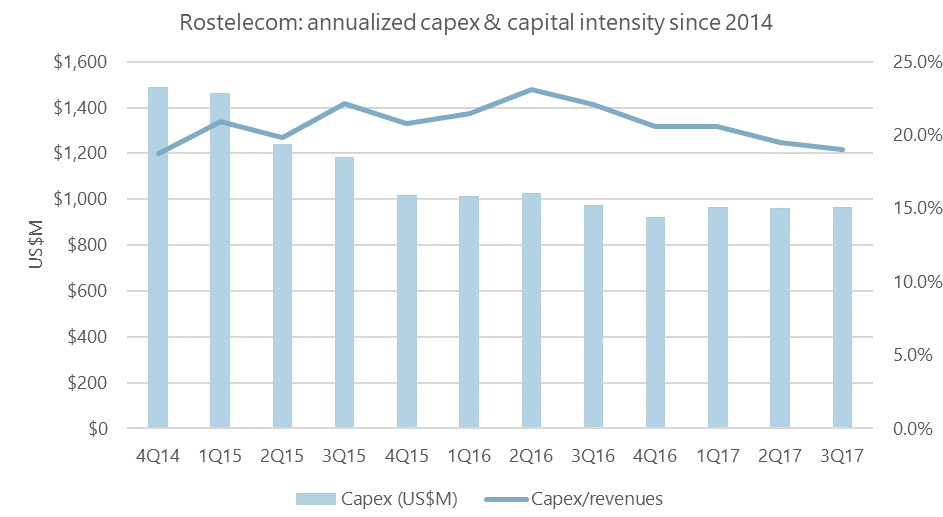 Also see First few 3Q17 telecom vendor reports: YTD revenues down 3.4%, or this article from the Financial Times: Apple found guilty of price-fixing in Russia over iPhone prices