With the arrival of a new year, MTN Consulting has a number of enhancements planned to its research operations and outreach to professionals in the network infrastructure market. One big change is a decision to publish a regular weekly newsletter. This is our first of 2021. We expect each newsletter to provide a brief review of recent news related to a major topic impacting the NI industry; this edition looks at telco-webscale collaboration. We will also provide a brief recap of MTN Consulting news, including a glimpse into recent and upcoming publications.


Feel free to forward this to colleagues. If you have received this as a forward, you can sign up directly here.


As always, we welcome any feedback.


Best regards,
Matt Walker
Chief Analyst
_____________________________________________________________________

Hot Topic: Telco-Webscale Collaboration
In our recently published capex forecast, we discussed how essential collaboration will be for the future of telecommunications network operators (telcos). In particular, collaboration with the webscale sector.


Many of the largest webscale network operators (WNOs) operate cloud services, serving a wide range of vertical markets. Over the last 3 years, the telco sector has become an increasingly important vertical market for webscale services. This telco-webscale collaboration activity picked up in 2020. WNOs help telcos with service and application development, shifting of workloads, and development and marketing of cloud services. Managing costs is a central purpose of telcos' willingness to partner with webscale providers. Also, with the emergence of 5G, webscale operators are developing a range of edge compute services aimed at facilitating 5G rollouts and service deployment. Collaborations can involve delivery of a portfolio of 5G edge computing solutions that leverage the telco's 5G network and the webscale operator's global cloud coverage, as well as its expertise in areas like Kubernetes, AI/ML, and data analytics.


While many observers – including more than a few telco execs – look at the webscale sector with trepidation, the smart ones are now pursuing collaboration. A wave of promising partnerships between telcos and webscale providers has emerged over the last 12-18 months. We expect this activity to accelerate in 2021 as telcos search for cost savings and webscale operators reap the benefits of their cash stockpiles and an unexpectedly strong 2020. As a reference point, here is a chart depicting the top webscale providers as of 3Q20 based upon annualized Network/IT/Software capex: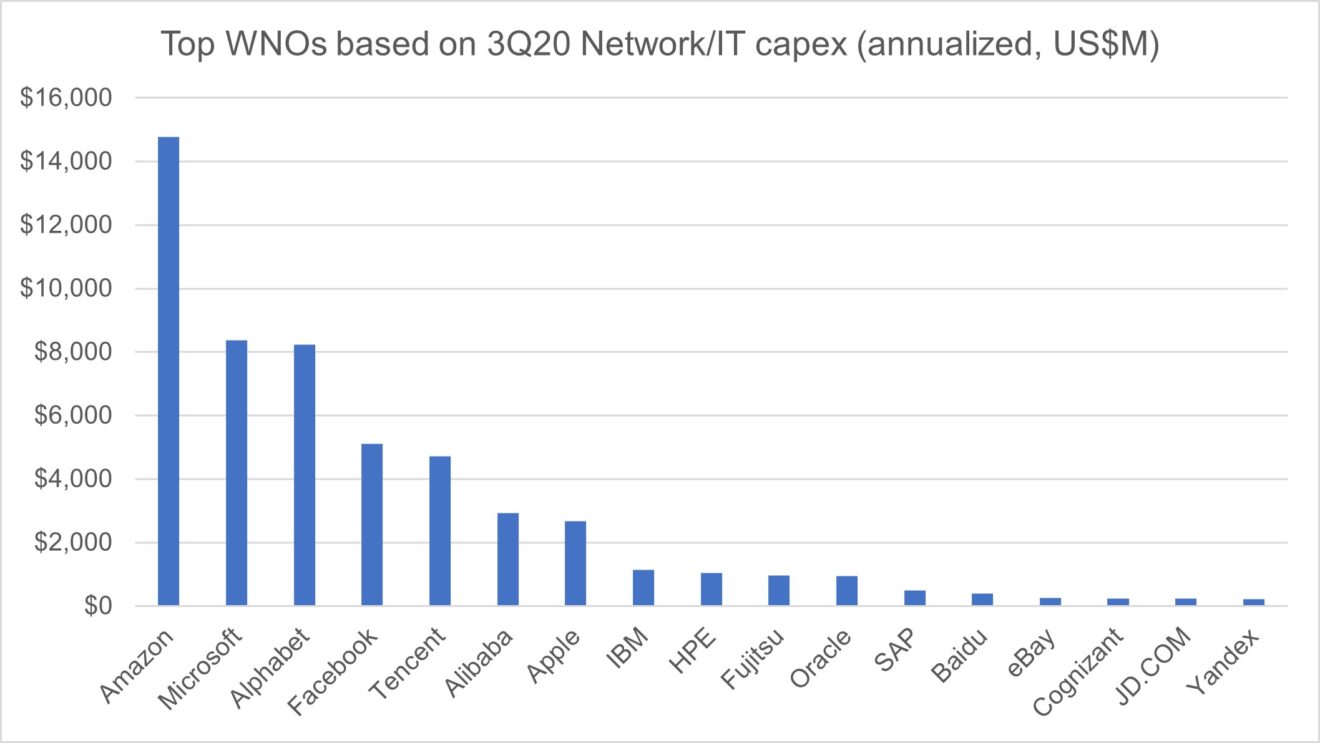 Below, we discuss some recent developments of note.


Alibaba knocked back by Chinese regulators, cloud aspirations may take a hit
Alibaba is regularly ranked as the top domestic provider of cloud services in China, and has invested heavily in a network of data centers to support this (Figure 1). Alibaba's corporate capex amounted to $6.2 billion in the four quarters ended 3Q20. Its aspirations have grown rapidly in the last two years with a series of acquisitions and search for growth beyond ecommerce, and aim for cloud growth beyond China's borders.


Figure 1: Alibaba Data Center Footprint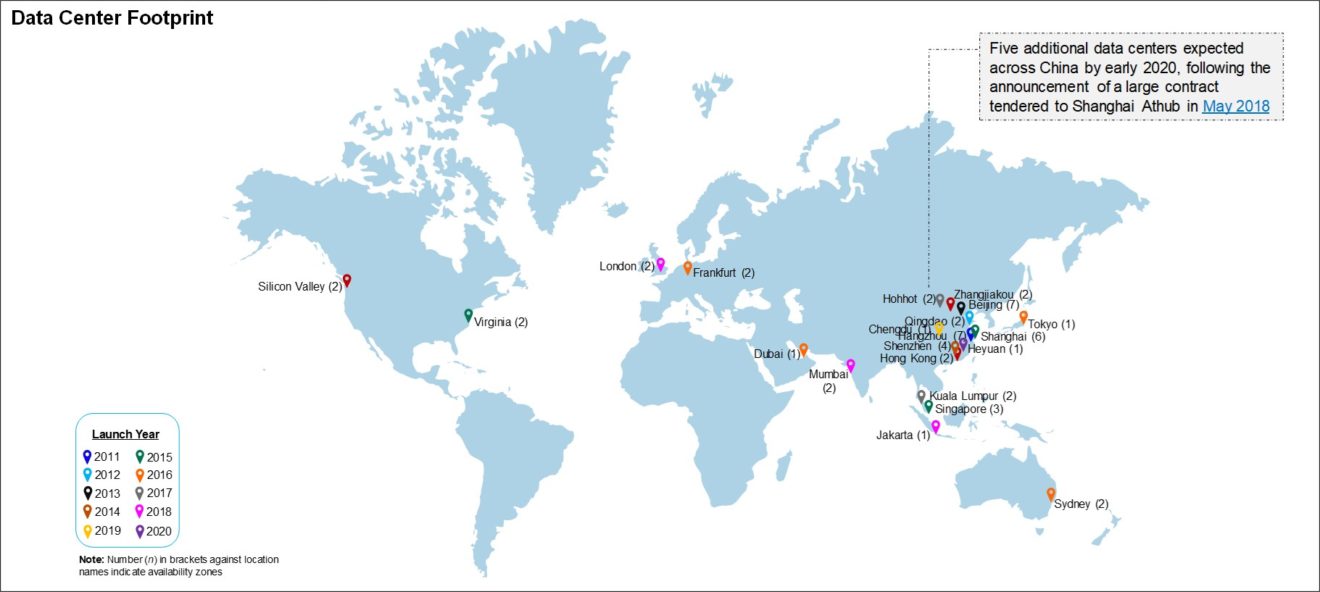 They say the tall trees get cut down first, though, and that appears to be happening. Alibaba's effort to launch an IPO of its fintech division Ant - possibly the largest ever IPO, anywhere - was pulled in November after company founder Jack Ma went a little too far in criticism of the Chinese government. Then China's State Administration of Market Regulation (SAMR) announced an antitrust probe of Alibaba on December 24, focused on Alibaba's alleged monopolistic business practices.

Now Ma hasn't been seen in public for a couple months, as he reportedly "lays low" - whether that's his own choice or not is an open question.




Adding to the pressure on Alibaba, US President Trump - on his way out, possibly sooner than expected - issued an executive order on January 6 banning transactions between US companies and individuals with eight Chinese apps, including Alipay, Alibaba's payment app. This ban takes effect in mid-February, so could be reversed by the Biden administration, but that seems unlikely.
One reason it's unlikely is the news from mid-December, when a report found that the company "openly offers Uyghur/'ethnic minority' recognition as [a] service [on Alibaba Cloud], allowing customers to be alerted any time Alibaba detects a Uyghur." This blatantly racist affront to human rights and dignity is not going over well.
The only significant overseas cloud win with a telco announced by Alibaba recently was in Saudi Arabia, interestingly enough, a land where money talks a bit more loudly than human rights concerns. stc announced in December that it would invest $500 million in a cloud services partnership with venture fund eWTP Arabia Capital and Alibaba Cloud. Through this project, stc aims "to reinforce digital infrastructure and to leverage the proven cloud-based technologies and services of Alibaba Cloud to accelerate the growth of local technology ecosystem."


Alibaba also retains a cloud partnership agreement with China Telecom, and in fact held a press event for the venture in mid-December. China Telecom faces its own restrictions in a number of overseas markets, though, particularly in the US where it has been the subject of claims of hijacking Internet traffic. Alibaba's challenges outside its home market open up new opportunities for Microsoft Azure, GCP, and AWS, including in the telco vertical.




Huawei aiming for cloud expansion to offset lagging equipment business
Huawei's carrier networks division had a good 2020 but due almost entirely to China's rush to deploy 5G. Elsewhere, the company faces severe restrictions in its ability to bid on 5G network contracts and continues to cope with supply chain restrictions limiting its access to core semiconductor technologies with US origin.
One way Huawei has coped with these challenges is to lean more heavily on services and software contracts, where supply chain constraints are less of a concern. Another way is to push ahead in deploying its own network of data centers - built on Huawei technology, largely - and offering its own cloud services through the Huawei Cloud unit.
This strategy became all the more clear recently with a leaked internal speech from company founder & CEO, Ren Zhengfei. The speech expressed some disappointment with Huawei Cloud's progress to date, suggesting the company needs to narrow its focus: "Huawei can't take the same path as Alibaba and Amazon, since we don't have 'endless money' from the US stock market like them."
One clear point was the need for Huawei to build an application ecosystem similar to Amazon AWS. But t
he speech reads more aimed to foster discussion than one with clear marching orders.
Ren stated,

"Alibaba Cloud, Tencent Cloud, and Amazon's AWS have introduced more and more hardware-software fusion devices. Huawei's advantage lies in hardware. We must strengthen the software and application ecosystem and should not give up the advantages that hardware brings to Huawei Cloud."


Huawei is not the first traditional vendor to build a cloud division. IBM, HPE, Oracle, and others from the IT services vendor world are all tracked as webscale operators by MTN Consulting due to their large network of owned data centers. But Huawei remains the number 1 vendor based on sales to telcos, worldwide. And it's not even close; Huawei's annualized sales to telcos through 3Q20 were approximately $46.2 billion, more than the sum of second and third ranked Ericsson and Nokia. As such, Huawei's plans for its Cloud unit could have a big impact on the shape of telco-webscale collaboration to come, in parts of the world.
Whether it makes sense to call Huawei Cloud a webscale operator or not is not a crucial question at this point. What is more important is to what degree Huawei can leverage its huge installed base of customer relationships in the telco world to help grow its position in the cloud. In this regard, Huawei and Alibaba are going after some of the same business: telcos in MEA, CALA and emerging Asia who are more concerned about price and less concerned about technology origins.
Mavenir SVP predicts webscalers will play big role in telecom going forward
SDxCentral published a fascinating interview on January 6 with John Baker, the SVP of business development for open RAN proponent Mavenir. He predicted that the webscale operators (which Baker calls "hyperscalers") are going to "become the new telecom providers going forward." That's due to the rising importance of cloud computing in network infrastructure. Baker stated: "Apart from the physical radio that goes on a tower, everything we're doing now follows the data center model, and these guys know how to manage data centers, software, and applications...If you look at open RAN essentially as being a collection of applications that run on a server, then it really is falling into their camp."


This prediction might imply that telcos have much to fear from webscale operators simply taking over their business. It's not that simple, though. More likely is that the telcos will rely more and more on webscale infrastructure for incremental network functionality and capacity (and service development) over time. Telcos will aim to stick to their core business of managing and marketing services to the customers they have had a lock over for decades, and retaining control over a large portion of their network infrastructure. Importantly, change in the access portion of telco networks is measured by decades, not months or years, so there is some time to work out this transition.


SKT launches edge cloud in collaboration with AWS
In early January, SK Telecom announced the launch of an edge cloud service with AWS known as 'SKT 5GX Edge'. This leverages AWS Wavelength to enable SKT customers to build mobile applications requiring the ultra-low latency 5G is supposed to deliver. The rollout will start in Daejeon and move to other areas including Seoul later in 021.


AWS has no plans (or ability) to take over SKT's operations or its interaction with its customers. This is about using the familiar AWS services, API, and tools to develop new services on SKT's 5G network. It sounds like a win-win. SKT is not the average telco, though, as it's an early adopter of new technologies with a healthy R&D budget of its own, and strong ties to a range of domestic manufacturers and software developers. What will be interesting to see is whether AWS Wavelength deals with telcos in less sophisticated markets than Korea will be structured in the same way.


Deutsche Telekom extends its reliance on the Microsoft Azure network
In mid-December, DT announced it would shift the majority of its internal IT workloads to the public cloud by 2025, with Azure central to that plan. DT has been working with Azure for several years, but this 7-year deal is a significant expansion. DT will also offer its customers access to Azure's cloud and AI services, including ExpressRoute.
____________________________________________________________________
MTN Consulting: Company news
Annual forecast published
Revenue growth for telco, webscale and carrier-neutral sector will average 1, 10, and 7% through 2025:

Telecom network operator (TNO, or telco) revenues are on track for a significant decline in 2020, with the industry hit by COVID-19 even as webscale operators (WNOs) experienced yet another growth surge as much of the world was forced to work and study from home. For 2020, telco, webscale, and carrier-neutral revenues are likely to reach $1.75 trillion (T), $1.63T, and $71 billion (B), amounting to YoY growth of -3.7%, +12.2%, and 5.0%, respectively. Telcos will recover and webscale will slow down, but this range of growth rates will persist for several years. By 2025, the webscale sector will dominate with revenues of approximately $2.51 trillion, followed by $1.88 trillion for the telco sector and $108 billion for carrier-neutral operators (CNNOs).
Network operator capex will grow to $520B by 2025:

In 2019, telco, webscale and carrier-neutral capex totaled $420 billion, a total which is set to grow to $520 billion by 2025. The composition will change starkly though: telcos will account for 53% of industry capex by 2025, from 9% in 2019; webscale operators will grow from 25% to 39% in the same timeframe; and, carrier-neutral providers will add 8% of total capex in 2025 from their 2019 level of 6%.
By 2025, the webscale sector will employ more than the telecom industry: As telcos deploy automation more widely and cast off parts of their network to the carrier-neutral sector, their employee base should decline from 5.1 million in 2019 to 4.5 million in 2025. The cost of the average telco employee will rise significantly in the same timeframe, as they will require many of the same software and IT skills currently prevalent in the webscale workforce. For their part, webscale operators have already grown from 1.3 million staff in 2011 to 2.8 million in 2019, but continued rapid growth in the sector (especially its ecommerce arms) will spur further growth in employment to reach roughly 4.8 million by 2025. The carrier-neutral sector's headcount will grow far more modestly, rising from 90 million in 2019 to about 119 million in 2025. Managing physical assets like towers tends to involve a far lighter human touch than managing network equipment and software.
Industry Voices—Menon: Satellite mega-constellations are connectivity's new frontier post-5G revolution
Fierce Telecom published an "Industry Voice" column from MTN Consulting analyst Arun Menon on January 5. The column looked at recent developments in the satellite sector and what to expect in 2021. A brief excerpt:


"2021 is poised to be the year for witnessing the start of a new satellite revolution, although bringing about a transformational change is still a few years away. Conventional telcos are unlikely to be disrupted as their core users would continue to prefer more affordable connectivity solutions offered by them compared to the satellite operators. Telcos and the satellite players are likely to work together at least in the short to medium run to improve backhaul services for mobile connectivity.

All this would still not be easy for satellite operators who are faced with many operational and technical hurdles that span battling for spectrum rights, delivering promised speeds consistently, and managing orbital junk.

Navigating the regulatory hurdle will be the biggest headache for satellite companies operating in different countries. Despite these considerable challenges, the space rush will continue with more new players entering the market, including from the developing markets of India and China that have many LEO satellite launch projects in pipeline."
Network security, user privacy, and disinformation: what to expect under Biden
On December 28, MTN Consulting Contributing Writer Melvin Bankhead III published a compelling blog post on recent network security incidents and threats to consumer privacy, including those related to facial recognition, and mapped out a series of recommendations for the incoming Biden administration to consider implementing. Within a week or so, Bankhead will publish a follow-up piece focused on online disinformation and how to cope with it. I can't imagine a more timely topic.


MTN Consulting's planned reports for January 2021 release include the following:

Telecom's biggest vendors: 3Q20 edition
Telecommunications Network Operators: 3Q20 Market Review
Network Spending Profile: Axiata
Predictions: Global Network Infrastructure in a Biden World
Emerging satellite platforms for broadband connectivity
To see our most recently published reports,

click here
For information on subscribing to our research services, click here


You are receiving this because you are signed up to receive MTN Consulting's latest blogs and research alerts. We hope you enjoy our content, but you can unsubscribe at any time with the link at the bottom of this email - or by replying with "unsubscribe".