Telco network spending bounces back with strong 4Q20 vendor results
Preliminary Telco NI revenues up 5.6% YoY, powered by Japan and US
Chinese vendors haven't reported yet, but the 60% of the market that has reported makes clear that network infrastructure spending by telcos (ex-China) bounced back firmly in the fourth quarter of 2020.


Setting aside China-based vendors, the market for telco network infrastructure products & services ("telco NI") has been weak for the last two years. For the total market excluding Huawei and ZTE, telco NI revenues declined for each of the four quarters of 2019, and full-year results declined by 2.4% on a year-over-year (YoY) basis. This streak worsened in 2020 as COVID-19 hit, and telco NI revenues for the first 9 months of the year were down 4.2% YoY (again, excluding Huawei & ZTE). A survey of 62 non-Chinese vendors reporting 4Q20 results, however, estimates growth for the quarter as +5.6% YoY. Strong 5G spending in a number of countries, including Japan and the US, were clear drivers. A possible tailing off of the COVID-19 crisis also helped telcos to justify committing to major projects.


The 62 vendors in the preliminary results include virtually all significant non-Chinese players in the telco NI market. They supply a wide range of products and services, with a handful providing nearly everything needed to build and run a network, to many more focused on a narrow product or geographic niche. The largest of the 62 is Ericsson ($7.88B in telco NI sales for 4Q20), while the smallest one is Tejas Networks ($16.5M).


The 62 vendors do not include any vendor based in China, simply because of reporting schedules. However, there are benefits to excluding China, if the point is to gauge global demand: China has always been a unique market with demand driven more by government policy than market imperatives. That was all the more true in 2020 when telcos were enticed to rush ahead with an extremely rapid 5G buildout. This rush served both to support China's industrial policy goal to lead in 5G and to give Huawei and ZTE a revenue cushion as overseas opportunities faded.


The figure below illustrates YoY revenue growth (and decline) for the group of 62 vendors included in the preliminary analysis.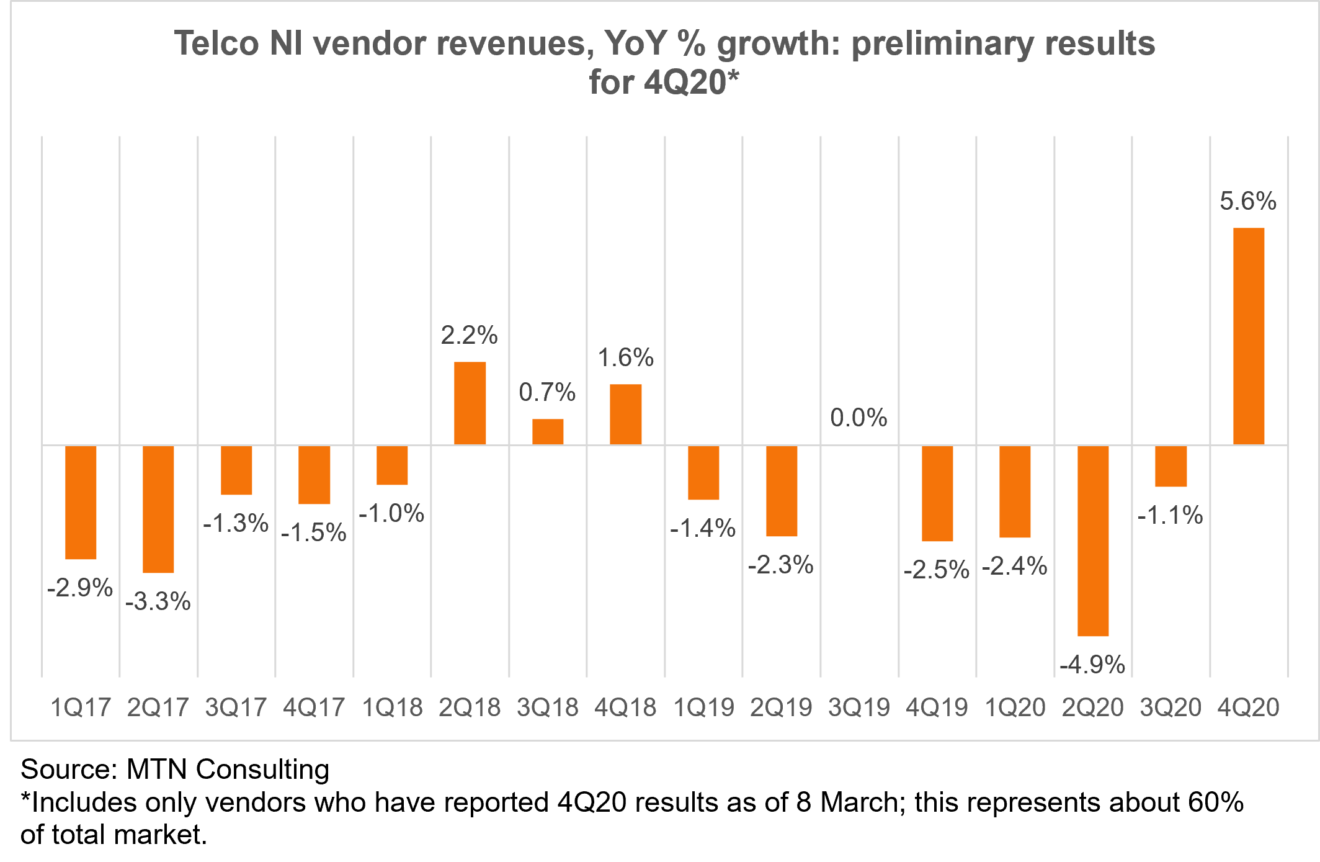 With Chinese vendors excluded from this analysis, the two largest vendors in the sample are Ericsson and Nokia. Both reported good results in North America, with total revenues in NA up 11% YoY in 4Q20 for Nokia and +10.0% for Ericsson. A good portion of the improvement in NA likely came after positive news on the vaccine front in early November, which made a year-end budget flush by telcos a bit easier to justify. Also, Deutsche Telekom's US unit continues to ramp spending, after closing its acquisition of Sprint in April of 2020. T-Mobile's US capex was 3.3 billion Euros in 4Q20, triple the pre-merger figure of 1.1B in 4Q19.


Japan was also clearly important in 4Q20, with telcos improving 5G coverage and expanding the market with sales promotions. That can be seen in the capex stats: NTT's group capex in 4Q20 increased by 4.5% YoY (in Japanese Yen), KDDI's capex increased 11.5% YoY, while Rakuten surged 41.6% YoY. It's also clearly visible in results for NEC and Fujitsu.


Ericsson beats all with $1.2B YoY revenue growth in 4Q20
Digging into results for individual companies, Ericsson was the clear winner in 4Q20, growing revenues by nearly $1.2 billion versus 4Q19. Despite the hype about Ericsson's China push, the vendor's revenues there were 8% of the company's total in 4Q20, the same as 4Q19. The US went from 27 to 29%, however, while Japan grew from 6 to 9%. These two markets accounted for much of Ericsson's YoY growth. Improvements in 2021 will have to be driven by a broader set of markets and customers, especially given the pickup in open RAN interest across the globe.


On the opposite end of the spectrum, CommScope continued to struggle in 4Q20, and among the 62 company sample saw the biggest YoY sales decline (-$159M). The company's broadband and outdoor wireless divisions did well in 4Q20, up 17% and 1% YoY respectively. But a steep drop-off in its video CPE business caused home networks division revenues to fall 31% YoY; CommScope points to "continuing OTT trends." These trends won't reverse in 2021, but CommScope has some valuable relationships with telcos, especially cable TV players like Comcast, and remains one of three major players in the fiber connectivity market outside China. Corning and Prysmian are the other two.


The figure below presents the most significant revenue gains and declines in 4Q20, on a US$ basis.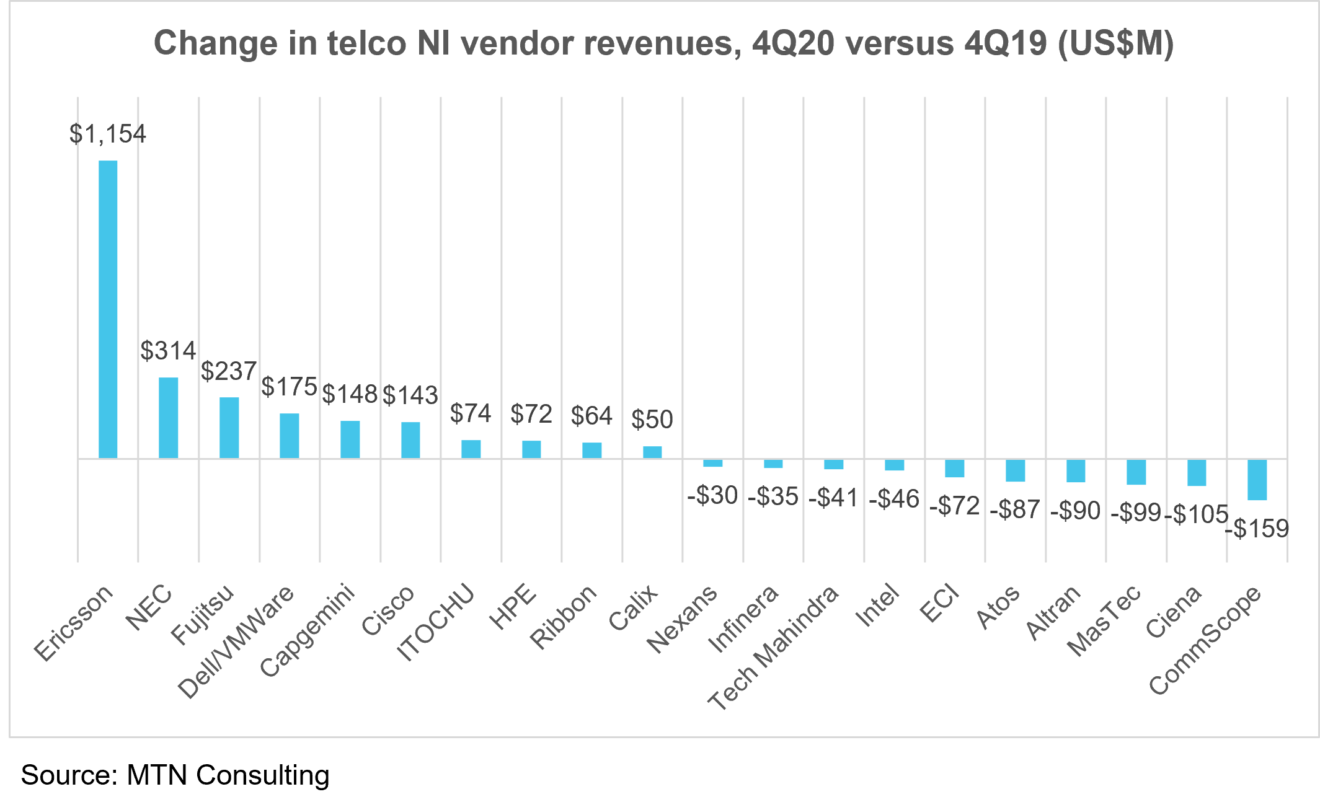 Fujitsu, Calix and Dell/VMWare outperformed in 4Q20 on percentage basis
On a percentage growth basis, trends were slightly different in 4Q20. The figure below considers which vendors had the biggest YoY percentage swings in telco NI revenues in 4Q20. The chart is focused on companies with over US$500M in 2020 telco NI sales, and excludes companies focused on engineering services & construction (e.g. Mastec and Dycom) or fiber cable (e.g. Corning and Fujikura). It also excludes a handful of companies whose revenue figures are impacted by recent large acquisitions, such as Capgemini (Altran) and Ribbon (ECI).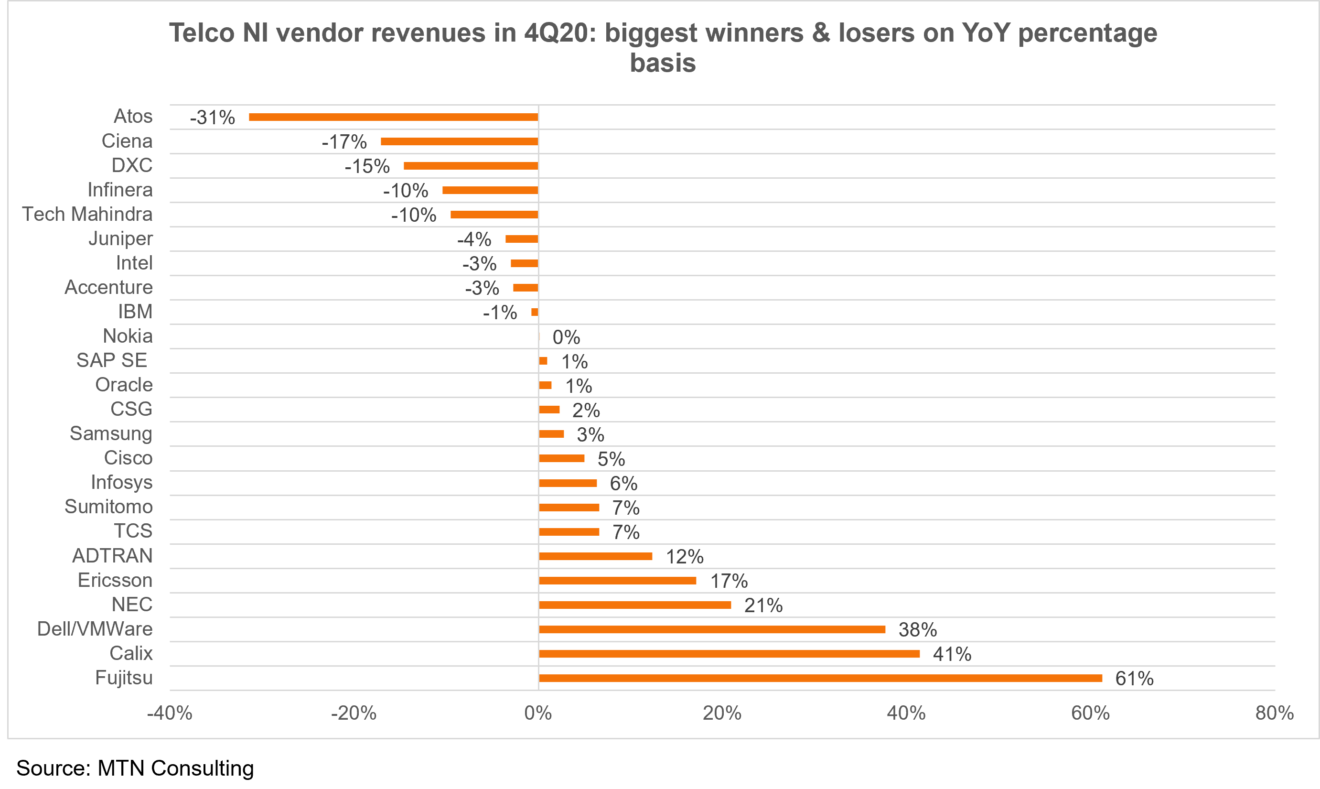 As shown above, three significant Japanese vendors had sizable YoY improvements in 4Q20: Fujitsu, NEC, and Sumitomo. Fujitsu's gain was the largest of all. However, the company notes that, while is is "now generating some profits from 5G base stations...almost all of the profit is from Japan" and it is "constantly thinking about what kind of structure—not limited to Fujitsu on its own—would enable us to expand our business globally." Fujitsu is now supplying radios to Dish's US 5G buildout, which is a start.


Calix and VMWare were also standouts in 4Q20, for very different reasons.


Calix saw a surge in broadband spending in its core US market, especially among smaller customers. Surprisingly, telcos with fewer than 250K subscribers were 85% of 4Q20 revenues, from 71% a year earlier. This is due both to some new small customers and to existing clients scaling up their contracts. Demand was high for new platforms, including Calix Cloud. Calix expects YoY revenue growth of 5-10% for 1Q21.


Dell Technologies-controlled VMWare, meanwhile, continues to be one of the industry's success stories. VMWare has invested heavily to bring its vision to the telco market, pitching a range of "Telco Cloud" solutions focused on the network (RAN, edge, cable), enterprise services (SD-WAN, digital workspace), and IT modernization. Rogers, DoCoMo, DT, and SK Telecom are among its telco clients. VMWare is also providing the cloud platform for DISH's new 5G rollout in the US.


On the downside, Atos Origin, Ciena, and DXC all recorded significant (>10%) YoY declines in telco NI revenues in 4Q20.


Ciena's drop is in part due to market-wide trends, as several rivals also fell. For instance Nokia's terrestrial optical business revenues were down 9% YoY in 4Q20, while telco NI revenues for Infinera and Juniper dropped 10% and 4%, respectively. It's possible that telcos' recent emphasis on 5G is having a short-term crowding out effect on transmission and IP budgets. Ciena has maintained its guidance for revenue growth of 0 to 3% for the fiscal year ended October 2021.


For Atos and DXC, intensified competition in the IT services segment of telco NI is a factor, with Accenture, Capgemini, India-based companies and others increasing investments in the telco sector; note the revenue gains by TCS and Infosys in the above figure. Heavy exposure to the European market was also a factor for Atos, at least for 4Q20.


Chinese vendors yet to report: what to expect?
Over the next few weeks, earnings will be released by Huawei, ZTE, Hengtong, China Comservice, Fiberhome, AsiaInfo and others. Many will report good revenue growth for the year in the telco segment due to China's 5G push. The group's outlook for 2021 is weaker, though: domestic spending will ease up and international reluctance to rely heavily on Chinese technology in core networks will remain high. There will be exceptions, naturally; Airtel just signed a big deal with Huawei in India, as did KPN in the Netherlands. Without outright government bans, many telcos will continue to give Huawei a chance. On net, though, national security concerns and supply chain constraints will hobble many Chinese players in 2021 and force strategy shifts. Several non-Chinese vendors explicitly point to Huawei's troubles as opening up new doors to them. Infinera put this bluntly in its earnings call: "the geopolitical dynamics that are constraining Huawei's ability to grow have opened up a longer-term incremental $500 million to $1 billion annual market opportunity for us to pursue."
____________________________________________________________________
MTN Consulting: Company news
LEO satellite boom: Will the 'second coming' endure?
On March 8, MTN Consulting released an assessment of the satellite communications sector. This report delves into the drivers behind the sudden rush for LEO satellite constellations, network architecture trends, the LEO satellite broadband market landscape, the potential leaders and laggards, likely applications for LEO satellites, and challenges.

Below are a few highlights from the report:




| | | |
| --- | --- | --- |
| | | LEO satellite networks are becoming ever more important due to their ability to provide global connectivity with reduced latency and costs. The unprecedented push for LEO constellations will see a growth explosion of 20x the current active satellites by the end of this decade – that's more than 50,000 LEO satellites encircling the planet by 2030 |
| | | |
| --- | --- | --- |
| | | New-generation LEO satellite constellations are moving away from the traditional "bent pipe" network architecture to follow 'Intersatellite Links' (ISL), under which the system becomes a switching network, and data is transferred from satellite to satellite without having to come down to earth, as required under 'bent pipe' |
| | | |
| --- | --- | --- |
| | | The established frontrunners for LEO satellite broadband are Starlink (SpaceX) and OneWeb, but many others aim to make similar systems that include the likes of Kuiper (Amazon), IridiumNext, and Lightspeed (Telesat). China is the latest entrant to the space rush wherein many new space operators such as GW, Hongyan, Hongyun, and Galaxy Space are prepping to deploy more than 14,000 LEO satellites in total in the coming years |
| | | |
| --- | --- | --- |
| | | Not all the satellite constellations will prosper. For a constellation to succeed, two major factors are crucial: constant capital flow, and building a services ecosystem through cross-selling. The fulfillment of these two aspects will decide the future leaders in the pack |
| | | |
| --- | --- | --- |
| | | 5G and IoT markets are poised to transform further as LEO satellite constellations will likely broaden the reach of both the wireless network technologies. Specifically, LEO networks will provide backhaul support to terrestrial infrastructure operators in remote terrains |
| | | |
| --- | --- | --- |
| | | LEO constellations also have their own share of hurdles as large number of small satellites orbiting Earth pose space junk and debris risks. In addition, pricing of broadband service offerings appears to be expensive for direct-to-consumer markets, as evidenced by Starlink's beta offering. Regulatory ambiguity related to multi-country operations/coverage of LEO constellations also create a headache for satellite operators |
| | | |
| --- | --- | --- |
| | | Telcos, webscalers, and the satellite players are likely to scale up their collaboration during the 2021-25 timeframe, as evidenced by the recent multi-year partnerships among these players to improve backhaul services for mobile and cloud connectivity. READ MORE |
MTN Consulting's planned reports for March include the following:

Network Spending Profile: China Mobile
Telco capex in 4Q20: trends and outlook
Webscale Network Operators: 4Q20 Market Review
To see our most recently published reports,

click here
For information on subscribing to our research services, click here


You are receiving this because you are signed up to receive MTN Consulting's latest blogs and research alerts. We hope you enjoy our content, but you can unsubscribe at any time with the link at the bottom of this email - or by replying with "unsubscribe".