This is MTN Consulting's second regular newsletter to subscribers. This edition recaps 2Q19 market results for telcos & webscale operators, and a recent vendor win in India.* Also, fo
r those who missed it last week, we
are again offering a complimentary summary of our 2Q19 Telco NI vendor market share report.
We welcome your feedback.
*

Future newsletters will provide commentary on a wider range of countries and vendors.
_____________________________________________________________________
Telecommunications Network Operators: 2Q19 Market Review
The global telecom industry continues to be constrained at the top line. Annualized revenues declined YoY by 1.6% in 2Q19, to $1,821B. Revenue decline moderated slightly in 2Q19 as single quarter revenues fell -0.4% YoY to $453B. Second quarter capex was strong, recording 5% growth from 2Q18 to $72B. Annualized capex thereby increased slightly to $303B in 2Q19, from $299B in 1Q19 or $302B in 2Q18. The capex uptick was due mainly to China. Telco spending on employees, or labor costs, amounted to $290B in 2Q19 on an annualized basis, roughly flat YoY.


Telcos are beginning to deploy 5G and invest in the media business, but most are doing so cautiously as recession warnings are growing. On October 14, the IMF downgraded expectations for 2019 and said the macroeconomic outlook remains "precarious." Recessions tend to hit telco revenues hard. A slowdown in telco revenues result in both additional layoffs and a slower growth rate in 5G spending. Few telcos have room in their budgets for a 5G capex splurge. Telco profit margins remain tight, nothing new for the telecom industry. Operators are getting more concerned about debt, though, and more interested in open networking, cloud partnerships, asset spinoffs, and other tactics to reduce capex requirements.


Key findings of our 2Q19 telecom "Market Review" include:


The long-term revenue growth rate of the telecom sector is in the 0% to 2% range, after adjusting for currency translation. In 2Q19, single-quarter revenue dropped by 0.4% YoY on a fixed exchange rate basis. Actual revenue growth in 2Q19 was lower, down 0.5% YoY to $453B. Both figures are slightly below the sector's long term growth range.
Even the modest growth currently achieved by the telecom sector requires high levels of capital investment in networks. The industry's long-term capex to revenue ratio (capital intensity) is in the 16-17% range, on average (16.6% in 2Q19). Telcos also use M&A to expand into adjacent markets; AT&T-Time Warner is just one example. The debt from such deals can drive up the operator's interest payments and make it harder to fund capex, however. Such deals also inevitably come with layoffs.
On a revenue per employee (RPE) basis, the telco sector has been stagnant since 2011: the annualized figure was $362K that year, and the average figure for the last four quarters was $353K. Labor costs per employee, on an annualized basis declined YoY by -0.2% in 2Q19 to $55.8K. Over the last 12 months, the fastest growing operators on an RPE basis include Omantel, Zain, Reliance Communications, Shaw, and Telenor.
Telcos employed 5.2 million people in 2Q19, in line with 2Q18. We expect employee totals to begin declining in the next 1-2 years. India alone may cut up to 100K employees in that timeframe, due to Jio's consolidation & BSNL reforms.
Annualized capex for 2Q19 alone was 16.6% of revenues, a little higher than 1Q19. That was due to a strong second quarter. Single quarter capex grew 5% YoY in 2Q19 to $72B, after two consecutive single-quarter declines. The market's average capital intensity will exceed 17% by the end of this year.
The M&A climate remains strong for the sector in 2019. Many telcos see their core markets declining, and are buying their way into other markets while also streamlining their asset base. Noteworthy recent deals include the merger of T-Mobile and Sprint, Comcast's acquisition of Sky, the merger of Vodafone India and Idea Cellular; and Vodafone's $18B acquisition of Liberty Global's Germany and Eastern Europe cable and broadband assets. However, after the M&A deal paperwork is signed, integrating operations and actually achieving synergies continues to be a challenge for telcos. Managing the debt from these acquisitions is just as hard, as AT&T and others are experiencing.
Telco industry operating margins have been very stable for the last 11 quarters, hovering at around 13.7%, on an annualized basis. Net margins vary substantially, impacted by depreciation costs, taxes, debt payments, workforce restructuring, and a whole host of other factors. In order to grow margins, many operators plan layoffs or similar workforce restructuring (e.g. voluntary retirement). At the same time, telcos are hiring in new technical areas (e.g. SDN) and are always hiring salespeople. On a per-employee basis, the global average for labor costs (on an annualized basis) in 2Q19 was $56k, down 0.2% compared to the year earlier. As 5G approaches, telcos will see their sales & marketing costs grow. They will continue to look for ways to reduce the labor cost component of customer acquisition & retention costs (CAC and CRC), through both technology investments & business partnerships.
For more info on this report, click here.
_____________________________________________________________________
Webscale Network Operators: 2Q19 Market Review
Webscale capex in distress with an 11% YoY drop but R&D investments continue to soar
After surpassing $100B in annualized capex for the first time in 2Q18, the companies in this webscale network operator (WNO) sector invested $105.0B in the twelve-month ending 2Q19, up by a meagre 5% relative to high double-digit growth rate in the previous year. The stall in capex spend meant the sector's cash & short-term investments increase by 12.7% YoY during the same period. Free cash flow margins also witnessed a strong uptick in 2Q19 compared to the previous quarter, on an annualized basis.


A sub-group of important WNOs, the "Top 8", continues to be important for tracking the sector. This group includes Alibaba, Alphabet, Amazon, Apple, Baidu, Facebook, Microsoft, and Tencent. Four of these accounted for at least 10% of total WNO capex in 1H19, and they are all based in the US: Alphabet, Amazon, Facebook, and Microsoft.


Alphabet alone spent more than a quarter of the annualized total WNO sector capex in 2Q19 at $23.1B – mainly driven by its cloud infrastructure and undersea cable route expansion efforts. However, this came down from a fifth in 1Q19, in line with its CFO's conservative spend guidance provided for the full year 2019. Facebook was at second place with 14.4% share of annualized total WNO capex in 2Q19 at $15.1B. Microsoft and Amazon were tied for third with 13.3% each of annualized WNO capex.


Some WNOs such as Facebook and Alphabet have annualized capital intensities in the 16-25% range, similar to the biggest telecommunications network operators (TNOs). This level of spending will continue at Facebook as they look to continue scaling their network infrastructure and address privacy/security concerns, although it could moderate for Alphabet (Google). While we will see a capex pause in the coming quarters, over the 2-5 year timeframe the outlook remains good for continued investment growth in this sector, focused on data centers and international connectivity.


As has been the trend historically, webscale operators continued spending more on R&D than capex; annualized R&D/revenues were 10.5% in 2Q19, ahead of the capex/revenues ratio of 7.8%. Webscale operators are plowing R&D funds into a broad range of tech projects, in both predictable areas like artificial intelligence and IoT, and less obvious areas like healthcare (Amazon and Google), food delivery (Alibaba), and connected cars/self-driving (Baidu). Many webscale operators are designing their own chips now, in potential competition with current suppliers; our "Webscale Playbook" series details these efforts.


Webscale operators continue to branch into new markets, including hardware, both through R&D and acquisitions. M&A activity in the sector was vigorous in 2018, with Alphabet, Amazon, Microsoft, Oracle, and Salesforce each recording sizable related costs. The M&A climate remains strong for the sector given its high cash reserves, even though 2019 has seen few big deals. Total debt for the sector is manageable overall, at $449.6B in June 2019 (cash & cash equivalents: $663.2B). Some individual companies could face debt issues in an economic downturn, however, or due to regulatory pressure. Facebook is clearly one of these, as it faces both high regulatory risk and gets almost all of its revenues from advertising.


Webscale Network Operators (WNOs) are web-centric companies who own and operate large multi-country communications networks based upon hyperscale data centers and submarine cables. Webscale operators may also own access networks, typically using fixed satellite or fiber. WNOs own network assets in order to support their core businesses, which comprise digital advertising, online retail, cloud, digital media and content services, and other digital-based services. The webscale segment excludes companies with digital business models who rely primarily on rented cloud capacity or collocation space. For instance, we do not consider Twitter a webscale operator, as its core network relies on a mix of rented space in carrier-neutral data centers and rented cloud resources from Google.


For more info on this report, click here.
_____________________________________________________________________
Vodafone Idea to work with Red Hat on distributed cloud platform
On October 21, Red Hat announced that it would help Vodafone Idea "transform its distributed network data centers to open standards, open interfaces based 'Universal Cloud.'" Vodafone Idea (VI) will deploy several Red Hat platforms: the

OpenStack Platform, Ceph Storage, Ansible Automation Platform and Enterprise Linux.




Marshal Correia, VP/GM of Red Hat India says the company will setup and extend a distributed cloud platform for VI's customers, and help the operator

adopt a "more agile, DevOps-centered workflow based on Red Hat's open hybrid cloud technologies."




Red Hat is a unit of IBM, which has supported Vodafone Idea in previous projects. In May, VI signed a five-year agreement with IBM to modernize and consolidate its IT infrastructure. IBM stated at the time that the operator would use IBM's "hybrid cloud and multicloud services, plus analytics and artificial intelligence (AI) security capabilities, to better engage with customers." IBM did not disclose the deal value, but press rumors put the value in the hundreds of millions of US dollars. Prior to this deal, IBM had separate data center outsourcing arrangements in place with Vodafone and Idea.
Vodafone & Idea completed their merger in August 2018. The merger left a telecom market with three big private players: Vodafone Idea, Jio, and Bharti Airtel. It also left Vodafone Idea with a huge integration task, while India's telco market continues to recover from the Jio effect. Indian telcos have been laying off employees, selling assets, and - for everyone but Jio - spending capex cautiously (see figure, below). Further, Jio is not just a threat in mobile markets. It signed a sweeping cloud deal with Microsoft this summer.


Vodafone Idea began its life with some data center assets, but almost entirely consisting of rented space in other providers' facilities. IBM is the main partner but another is CtrlS, announced in May. Given the need to save capex for 5G, VI seems likely to continue relying on infrastructure partners for its data center and cloud assets.


These assets are not just needed for cloud and enterprise services. They're needed to efficiently support network operations and deliver a wide range of services. VI hopes to use Red Hat solutions to improve user experience and reduce latency on its networks. This is important for two reasons. First, VI has been shedding mobile subscribers, per the latest TRAI report. Second, the newly merged Vodafone Idea has begun to focus more on Business Services unit for growth. It claims to have over 40% market share locally in enterprise mobility and IoT, for instance. Keeping market share at that level in the face of Jio's ongoing expansion will be almost impossible. VI hopes its work with IBM/Red Hat, Cisco, Optiva and other suppliers will help.


Vodafone Idea is India's largest mobile operator per the TRAI, with 32% market share as of end August 2019, and corporate revenues of $6.6B over the last 12 months (3Q18-2Q19, i.e. annualized). MTN Consulting figures indicate Vodafone Idea captured 34% of India's total telecom revenues in 2Q19, with Jio and Airtel lagging with 20% and 18%, respectively. Jio spends over half the market's capex, for now, as shown in the figure below.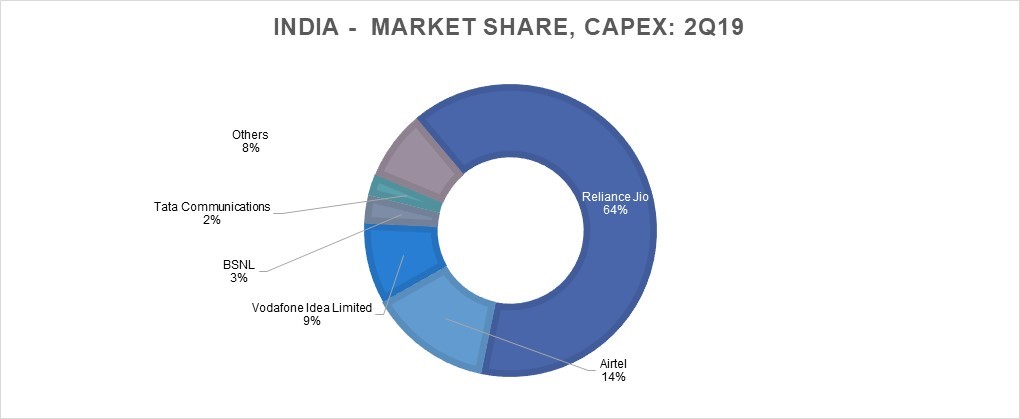 ____________________________________________________________________
"Telecom's biggest vendors: 2Q19" - Summary version available
Vendors have started to report 3Q19 financial results. Ericsson and Nokia both released detailed earnings reports in the last week; Huawei has posted a high-level press release. As more companies report in the coming weeks, we will start to understand more about the impact of the China-US trade war, who is benefiting from early 5G deployments, and the prospects for a recession.


To get up to speed on the market for network infrastructure sales to telecom operators ("Telco NI"), we are offering newsletter subscribers a complimentary report. This short report is based upon our full interactive Excel model, Telecom's biggest vendors: 2Q19. To download the free version, click below:
To see our most recently published reports,

click here
For information on subscribing to our research services, click here


You are receiving this because you are signed up to receive MTN Consulting's latest blogs and research alerts. We hope you enjoy our content, but you can unsubscribe at any time with the link at the bottom of this email - or by replying with "unsubscribe".