Telcos choose M&A to cope with weak revenues and new capex needs: surprise?
Rogers to buy Shaw, leaving Canada with 3 big telco groups
Earlier this week, Canadians woke up to a shock: Rogers Communications agreed to buy Shaw Communications, for US$21 billion (including assumed debt).
Rogers is Canada's second largest telco, with a mix of wireless (61%), cable (28%), and media (11%) revenues. Among its media holdings is the Toronto Blue Jays, a baseball team. Shaw is Canada's fourth largest telco, with just 22% of revenues coming from wireless (largely through the 2016 acquisition of Freedom Mobile), 68% in wireline consumer, and 10% wireline business. Shaw's "wireline" revenues are delivered primarily over a cable TV network, complemented by satellite.
Rogers-Shaw would be a big deal in any market, but adjusted for Canada's relatively small market, it is immense.
A deal of similar magnitude in the US market, 8.3 times the size of Canada (based on 2019 telco revenues), would be $174 billion. For context, three of the largest recent US telco mergers were far smaller: AT&T-Time Warner in 2016 ($85.4B, 2016); AT&T-DirecTV in 2014 ($67B); and, T-Mobile-Sprint in 2020 ($26.5B).
The figure below shows 2019 revenues for Canada's top telco groups, per MTN Consulting stats.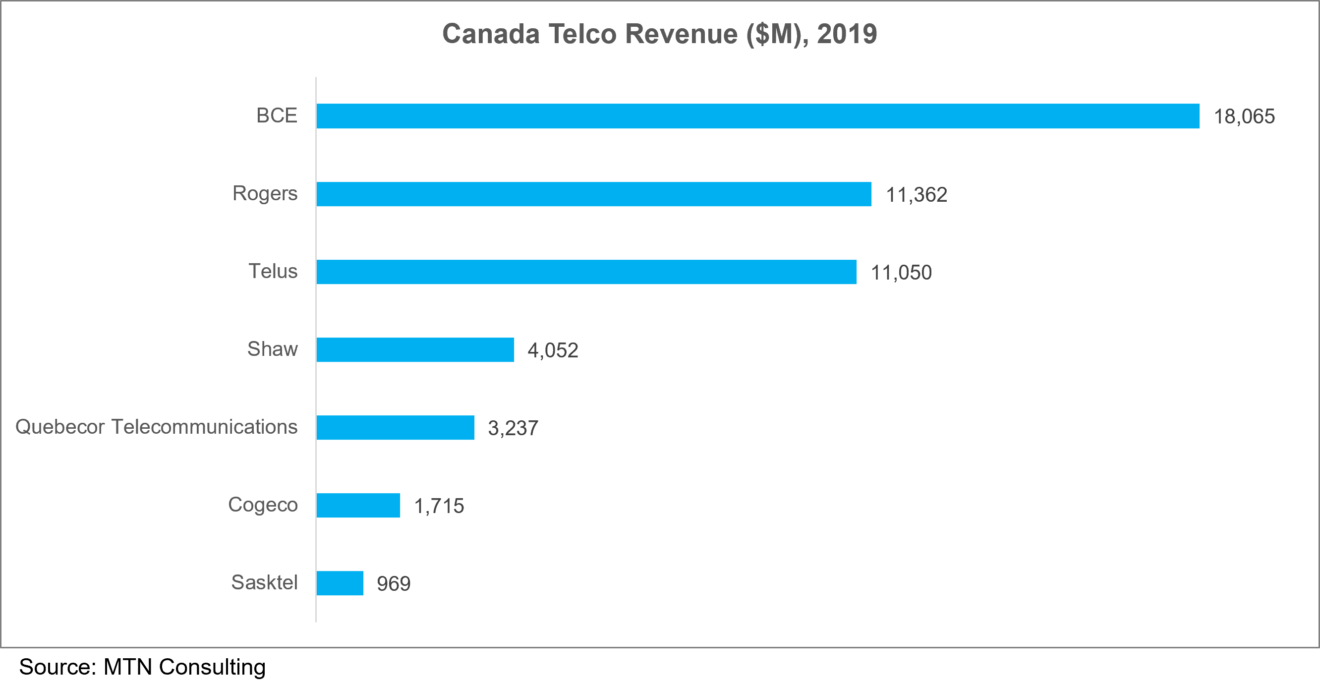 While many analysts are shocked at the deal, it's almost a surprise that it took so long to happen. Many markets larger than Canada have consolidated around three large national telco groups. For countries like the US and Canada, with a viable cable TV sector, that consolidation has taken longer. But assuming that all three are national competitors across wireline and wireless, the number three doesn't appear unreasonable on its face. That's especially true as telcos struggle with both flat revenues and growing competition from the cloud/webscale sector.


What's worth looking at it is, why is such a deal taking place now?


One obvious answer is the turmoil caused by COVID-19. Like telcos elsewhere, those in Canada saw revenue declines in 2020. Annualized telco revenues began falling for the Canadian telco market in 2Q19, however, and the declines seen in 2020 were in the same ballpark.


Margins aren't an obvious issue, either. For Rogers, margins have held steady, with EBITDA margin improving in 2020 vs 2019 for both its wireless and cable units (media dropped slightly). Shaw's most recent quarter, ended November 2020, saw company EBITDA margins up to 44.3% from 42.5% in the quarter ended November 2019.


The more likely answer is the need to ramp up 5G networks and roll out services. And that is exactly what Rogers' CEO argued in the analyst conference:


| | | |
| --- | --- | --- |
| | | "Without question, the deal will accelerate deployment of 5G around the country and will assure competition and capital continue to be prioritized and reinvested in new technologies at home here in Canada and especially in Western Canada...Today, both companies invest $3.7 billion annually in CapEx. And the underlying investment in 5G inherent in this total will only go up as 5G technologies continue to roll out across the country. This is a big task for both companies. And when combined, both companies are up for the challenge." |
This statement came along with a specific commitment to invest C$2.5B "

to build 5G networks in Western Canada," and C$1B for the creation of a "Rural and Indigenous Connectivity Fund."




Rogers says it expects up to C$1B in cost synergies, a mix of opex and capex, but says that most of the capex savings will be put back into the network: "
more fiber, more connectivity, more rural connectivity and a few other programs related to the network," per the CFO. The opex part is significant. New service platforms can require huge investments in expense categories like sales & marketing, among others, something which a combined Rogers-Shaw may be better able to cope with.
MTN Consulting expects global telco capex to rise slightly this year, from approximately $280 billion in 2020 to $292B in 2021. This modest growth is consistent across regions, as shown in the figure below from our latest capex forecast.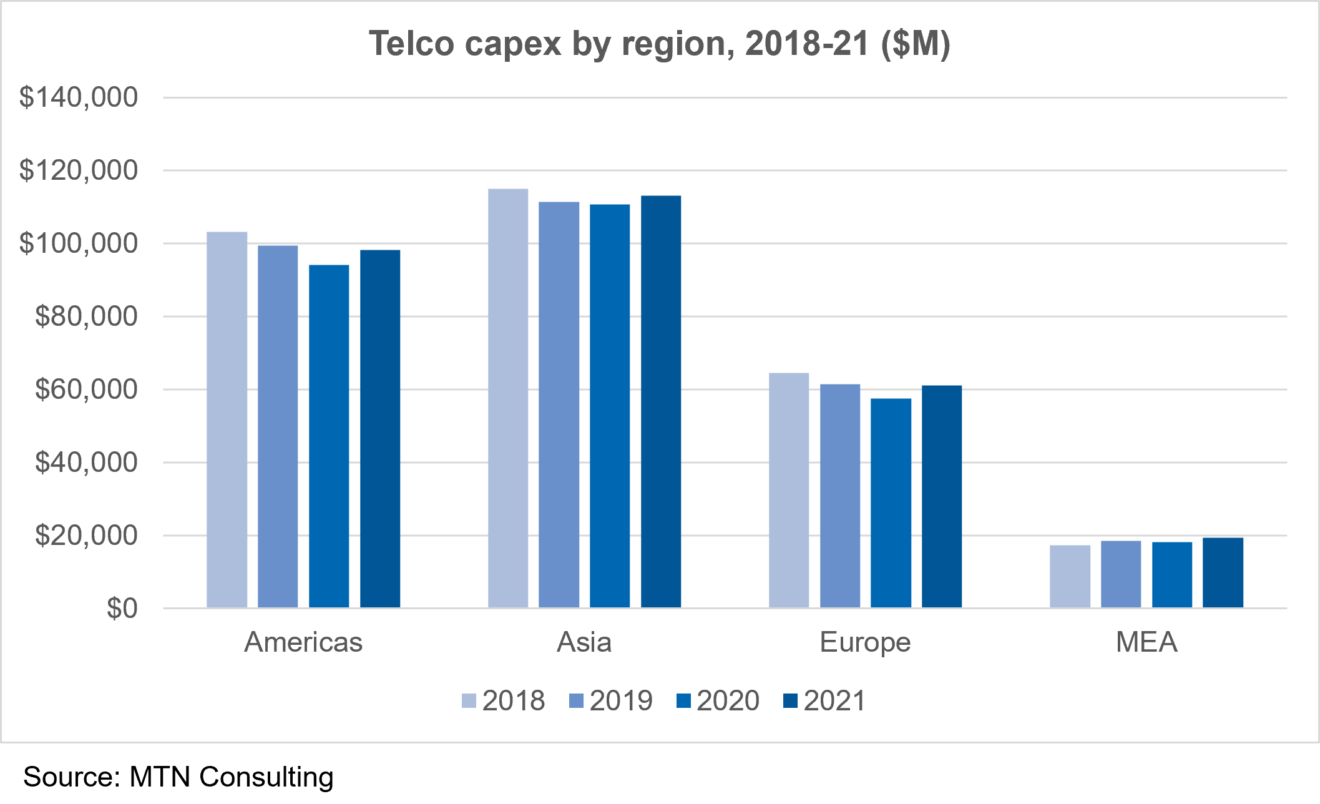 In Canada, capex has been on the decline, from US$13.9B in 2018 to $13.8B in 2019 to $12.6B for the 12 months ended September 2020. Canadian telcos, however, are just beginning to deploy 5G - the bulk of the work is in the future, with many key vendor awards just concluded in mid-2020. Like the global market, Canada can expect a capex uptick in the next couple of years, albeit a modest one. Market leader BCE, for instance, has

pledged to spend an extra C$1B to C$1.2B in 2021-22, with most (C$700M) in 2021; roughly 2/3 of the spending increase is for wireline, 1/3 for wireless. The second largest player, Telus, has projected 2021 capex to be flat with 2020; whether Telus is forced to increase in response to a faster rollout by others, though, is a real possibility.




What about other markets? What do 4Q20 earnings reports from key telcos suggest is on the way in 2021 and 2022 with regards to capex? Below are a few highlights:

America Movil: 2021 capex in line with 2020 at around US$8B
Charter: 2021 capex to be consistent as a percentage of revenue with 2020
China Telecom: 87B RMB in capex, from 85B in 2020, much lower spend on 4G, higher spend on "industrial digitization"
China Unicom: 2021 capex of 70B RMB flat with 2020, 5G still roughly half of total in both years.
Comcast: "we are confident in our ability to increase profitability, expand margins and improve [i.e. reduce] CapEx intensity both in 2021 and thereafter"
DT: cash capex excluding spectrum is "expected to amount to around EUR 18.4 billion in 2021 and to remain stable in 2022. We want to continue investing heavily in building out our network infrastructure in Germany, the United States, and Europe in order to safeguard our technology leadership in the long term."
Etisalat: capital intensity in 2021 of 16-18%, from 13.7% in 2020 due largely to 5G spend.
KPN: forecasts 1.2B Euros in capex for 2021, up from 1.1B, as it expects "another step-up in fiber CapEx to roll out or ramp up further to approximately 500,000 households."
KT: 2021 capex likely flat but a much different mix, with more digital, AI and cloud focus.
STC: "expecting a slight decline" in capex for 2021 despite investing heavily in 5G expansion
Swisscom: "CapEx outlook is at around CHF 2.3 billion for the group, of which Switzerland a bit more than CHF 1.6 billion. We expect the CapEx slightly higher because of the FTTH rollout, and Fastweb steady at EUR 0.6 billion."
Tele2: 2020 capex of 2.7B SEK was up from 2.4B in 2019; capex will grow to 2.8-3.3B range in 2021 due to 5G rollout. But company says "expect capex to be at low levels compared to peers even during the roll-out of 5G and Remote-PHY"
Telefonica: after capex declines in 2020, "CapEx to sales will trend back to normalized pre-COVID level, up to 15% of sales"
Turkcell: "We will continue to invest our infrastructure at around 20% of sales, driven mainly by capacity and software investment upgrades as well as expansion of fiber infrastructure."
Veon: increased capex from $1.74B in 2019 to $1.9B in 2020 and expects a similar level for 2021 and 2022.
Verizon: capex of $17.5-18.5B in 2021, from $18.2B in 2020; focus on "further expansion of our 5G Ultra-Wideband network in new and existing markets"
As shown above, most telcos suggest capex in 2021 will be roughly flat, either on an absolute basis or capex/revenue basis. Nowadays few telcos want to boast of high spending to shareholders. However, quite a few telcos do expect capex growth over the next year or two. Not exactly a surge of spending, but on net consistent with MTN Consulting's forecast of a slight uptick in the market.


On the supply side there will be significant change underway over the next two years, with Huawei taking more of a backseat. Some telcos worry that this may leave them paying too much for their network infrastructure, due to weaker supply side competition. Telcos will hedge their bets by ramping up collaboration with webscalers when possible, and continuing to explore open networking and network disaggregation.
____________________________________________________________________
MTN Consulting: Company news
LEO satellite boom: Will the 'second coming' endure?
On March 8, MTN Consulting released an assessment of the satellite communications sector. This report delves into the drivers behind the sudden rush for LEO satellite constellations, network architecture trends, the LEO satellite broadband market landscape, the potential leaders and laggards, likely applications for LEO satellites, and challenges.

Below are a few highlights from the report:




| | | |
| --- | --- | --- |
| | | LEO satellite networks are becoming ever more important due to their ability to provide global connectivity with reduced latency and costs. The unprecedented push for LEO constellations will see a growth explosion of 20x the current active satellites by the end of this decade – that's more than 50,000 LEO satellites encircling the planet by 2030 |
| | | |
| --- | --- | --- |
| | | New-generation LEO satellite constellations are moving away from the traditional "bent pipe" network architecture to follow 'Intersatellite Links' (ISL), under which the system becomes a switching network, and data is transferred from satellite to satellite without having to come down to earth, as required under 'bent pipe' |
| | | |
| --- | --- | --- |
| | | The established frontrunners for LEO satellite broadband are Starlink (SpaceX) and OneWeb, but many others aim to make similar systems that include the likes of Kuiper (Amazon), IridiumNext, and Lightspeed (Telesat). China is the latest entrant to the space rush wherein many new space operators such as GW, Hongyan, Hongyun, and Galaxy Space are prepping to deploy more than 14,000 LEO satellites in total in the coming years |
| | | |
| --- | --- | --- |
| | | Not all the satellite constellations will prosper. For a constellation to succeed, two major factors are crucial: constant capital flow, and building a services ecosystem through cross-selling. The fulfillment of these two aspects will decide the future leaders in the pack |
| | | |
| --- | --- | --- |
| | | 5G and IoT markets are poised to transform further as LEO satellite constellations will likely broaden the reach of both the wireless network technologies. Specifically, LEO networks will provide backhaul support to terrestrial infrastructure operators in remote terrains |
| | | |
| --- | --- | --- |
| | | LEO constellations also have their own share of hurdles as large number of small satellites orbiting Earth pose space junk and debris risks. In addition, pricing of broadband service offerings appears to be expensive for direct-to-consumer markets, as evidenced by Starlink's beta offering. Regulatory ambiguity related to multi-country operations/coverage of LEO constellations also create a headache for satellite operators |
| | | |
| --- | --- | --- |
| | | Telcos, webscalers, and the satellite players are likely to scale up their collaboration during the 2021-25 timeframe, as evidenced by the recent multi-year partnerships among these players to improve backhaul services for mobile and cloud connectivity. READ MORE |
MTN Consulting's planned reports for March include the following:

Network Spending Profile: China Mobile
Telco capex in 4Q20: trends and outlook
Webscale Network Operators: 4Q20 Market Review
To see our most recently published reports,

click here
For information on subscribing to our research services, click here


You are receiving this because you are signed up to receive MTN Consulting's latest blogs and research alerts. We hope you enjoy our content, but you can unsubscribe at any time with the link at the bottom of this email - or by replying with "unsubscribe".