Device revenues are driving a growth uptick for telcos in 1Q21
As of April 28, 13 of the 138 telecom operators (telcos) we cover in our quarterly tracker have reported 1Q21 earnings. Revenues for the early reporters have been surprisingly strong: all but 2 of the 13 have reported YoY revenue growth rates greater than the 4Q20 vs. 4Q19 result. This comes with a big caveat, however. Nearly all of the 13 owe their relative success to growth in equipment or device revenues, not to their core operations/services. For instance, 1Q21 device revenues climbed by 218% and 45% for China Telecom and AT&T, respectively. Not surprisingly, revenues for key handset suppliers are surging: Apple's iPhone product revenues grew by 17.1% YoY in 1Q21 to $65.6B, while Samsung mobile device revenues were up 13.0% YoY in 1Q21 to 25.82 trillion Won (~$23.2B). Huawei is down but that is a company-specific situation, and early signs are that other Chinese handset suppliers (e.g. Oppo, Vivo, Xiaomi) did quite well in 1Q21.


On the network investment side, only 10 of the 13 reported capex for 1Q21, as the three Chinese companies in the group report capex only every 6 months. MTN Consulting expects telco capex to grow roughly 4% in 2021, but there is no obvious pattern of growth yet based on these 10 telcos' reports. Du and Tele2 reported 52%, and 36% YoY growth, respectively, but most of the larger telcos in the group of 10 reported YoY capex declines. Orange was an exception, as it reported 3.1% YoY growth in capex for the first quarter, due both to fiber builds in rural France and international markets as to 5G.


As the figure below illustrates, total revenues increased on a YoY basis in 1Q21 for 8 of the 13 companies reporting to date. That's promising given that 2020 revenues for the global telecom market declined by about 1%. Further, there were a number of significant improvements in growth between 4Q20 and 1Q21, for instance China Unicom's acceleration from 6.9% YoY growth to 11.4%. Growth flipped from negative to positive for Verizon, AT&T and Rogers. One factor is a pickup in economic activity in many global markets as COVID-19 vaccines started their rollout and government stimulus programs took effect. The more important factor is the 4G to 5G transition.
Most of the telcos reporting above operate in markets where that transition has already started: China, USA, Finland, Canada, France, Sweden, and the UAE. America Movil is an exception, as 5G is still emerging in most of its markets. Altice USA is the other exception as its mobile business is tiny and based on an MVNO with T-Mobile.

For all others, though, device/equipment revenues related to 5G were the primary driver behind the YoY improvement in 1Q21 revenues:



China Telecom: Device revenues up 218% YoY

China Unicom: Device revenues up 51%

China Mobile: Device/other sales up 67%

Verizon: Wireless equipment revenues up 24%

Elisa: Devices up by 11%, and "Digital services" (including content/media) up a bit faster, +12%

AT&T: Mobility division's equipment revenues up 45%

Rogers: Wireless equipment revenues up 27%

Orange: Equipment sales up 10% YoY

Tele2 AB: Equipment revenues up by 12% YoY, services declined by 1%

Telia: Equipment up 13% YoY

Du: equipment lumped into an "others" segment but company said that "Strong demand for the iPhone 12 fuel handset sales"

In their earnings, not all telcos addressed how much of their growth was attributable to one-time handset purchases that are mostly flow-through revenues. China Mobile was more direct, saying its 67% revenue growth in the sales of "products and others" was due to the the "buoyant growth of handset sales as 5G handsets were available with more varieties and at more affordable prices in the terminal market."


Capex a mixed bag: 5 up, 5 down
Ten of the 13 telcos reporting have published capex figures for 1Q21. As the figure below shows, half reported YoY growth, half showed declines.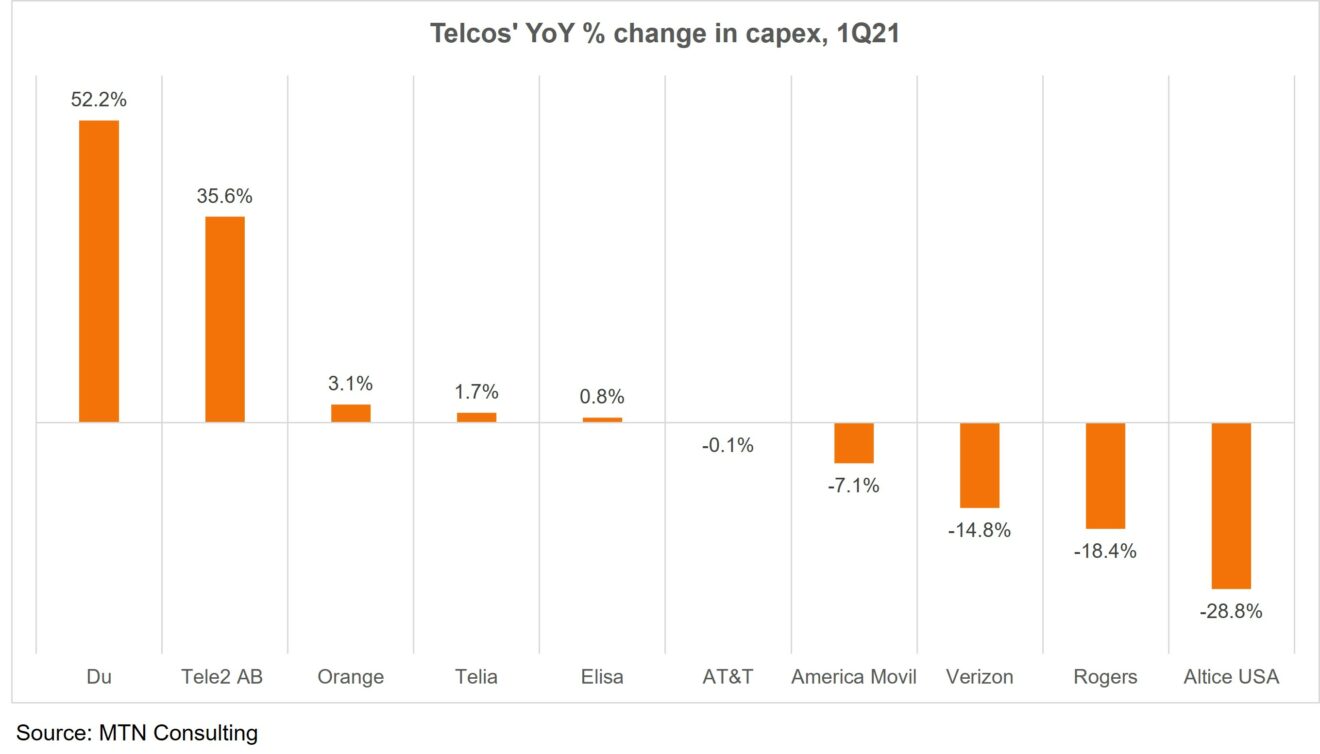 For all but Altice, the 5G transition plays into the capex fluctuations of all these telcos - with the cost of spectrum an issue that often arises.


Du's 52% growth in 1Q21 is due to capex spend "mainly on the core network as well as 5G roll-out and on improving mobile coverage and capacity." Tele2 cites its rollout of nationwide 5G in Sweden, and Remote-PHY on the fixed side. Orange's modest growth is due to a ramp-up in its core France market aimed at getting Paris ready for its March 5G launch, as well as growing fiber investments in both rural France and overseas markets like Poland. Telia's slight increase reflects a decline in fiber investments in Sweden offset by rising 5G costs as it builds out the network based on newly secured spectrum in both Sweden and Denmark. Elisa's ~1% YoY increase is due to 4G capacity increases and expansion of its 5G coverage to reach 2.5 million people in Finland.


Among the capex decliners, America Movil's dip is due in part to caution surrounding regional currency fluctuation and its December 2020 joint acquisition (with Telefonica and TIM) of Oi's Brazil business. Moreover, America Movil is determined to implement 5G with minimum effect on capex: its CEO noted on AM's 1Q21 earnings call that "

I don't think even for this year or for the next years, we [are] going to have an increase -- substantial increase of CapEx for 5G."

Altice USA's 29% dip is due mainly to a huge decline in CPE purchases, which flow into capex for Altice (as for most cable companies). Rogers also reduced capex in 1Q21, perhaps distracted by its huge pending acquisition of Shaw. Going forward, Rogers has committed publicly to major new investments in the network, in particular in rural and lower-income markets.


The two largest companies in the group of 10, by far, are AT&T and Verizon. Their capex outlays in 1Q21 were on the conservative side, falling 15% for Verizon and staying flat for AT&T (including its vendor financing payments). Their capital deployment focus in recent months has been spectrum: in the last two months, AT&T and Verizon have made payments of and $23 billion and $45 billion for C-Band spectrum, respectively, to the US FCC.


Both companies have a long way to go to build out nationwide 5G coverage and now face an energized T-Mobile post its acquisition of Sprint. That makes their recent splurges on new C-Band spectrum all the more notable. The high cost may cause some pullbacks on capex, or at least a more eager approach to partnerships that may reduce capex, for instance webscale collaborations (e.g. AT&T-Microsoft cloud connectivity, and Verizon-AWS 5G MEC).


Clearly AT&T and Verizon need to buy equipment and software to turn this new spectrum into a usable resource, but the high cost does constrain them on the capex side. Verizon addressed this indirectly in its earnings call, saying that it is "delighted that the credit rating agencies consider the spectrum asset purchases as strategic and critical to our business operations and held their rating levels unchanged." It's true that spectrum is a strategic asset, but the same can be said for fiber and data center and other types of infrastructure that compete for capital within a telco budget. Costly spectrum will continue to be an issue impacting US telcos. To the extent all US telcos face this reality, the main effect will be to slow deployments in lower ARPU areas and increase consumer prices, but also encourage adoption of products & architectures which aim to maximize use of scarce spectrum resources.


Who will capture 5G's value?
Telcos deploying 5G are clearly seeing a revenue uptick related to sales of 5G-capable devices. This also happened with 4G. Looking back, device and app companies captured much of the revenue upside related to deployment of 4G networks. This is a risk with 5G as well. As telcos deploy stand-alone 5G networks and rollout some of the more sophisticated functionality that comes with 5G, they will need to stay focused on deploying new services that deliver them growth. That will not be easy, and will require collaboration with both their vendors and the adjacent webscale sector of operators.


MTN Consulting is about to publish its 4Q20 "market review" for the telecom sector. This edition is later than usual due to several enhancements in the works. Contact us if you would like more information.
MTN Consulting: Company news
Recently published reports
Telecom's biggest vendors – 4Q20 edition

Telco NI vendor revenues stabilize at $216B in 2020; Ericsson, ZTE, Intel, NEC and Dell/VMWare the big winners as Samsung and Nokia dip
Published April 27, this report assesses the market for telco network infrastructure (telco NI) and provides market share for 126 vendors selling into this vertical market.


An excerpt from the report follows:


Winners and losers

In terms of overall share gains in 2020, the biggest winner was Ericsson, as it gained 0.73% from its 2019 base to extend its lead over third place Nokia. Huawei's fortunes in 2020 were hampered significantly by supply chain sanctions and security concerns, giving both vendors an opening. In such cases, Ericsson and Nokia often shared 5G wins (e.g. dtac in Thailand), as exclusive deals are not common, but Ericsson tended to win more of the business on a revenue basis. And Ericsson's strong presence in China also lifted its overall position.

The biggest losers of 2020 were Samsung and Nokia, dropping 0.55% and 0.54% in market share respectively, relative to their 2019 positions. Samsung's decline is due mainly to the completion of initial 5G builds in Korea. The company has a number of recent 5G wins elsewhere: KDDI and NTT DoCoMo (1Q21), as well as SaskTel and Videotron in Canada and a big deal at Verizon announced late last year. Revenues for these deals haven't hit yet, however. Meanwhile, Nokia's move away from China impacted revenues, but it has also partnered with all the big cloud providers in 1Q21, and its support of open RAN differentiates it from Ericsson – these efforts should pay off for Nokia in the future.

Other important share movements in 2020 include the following:

ZTE: its share gain in 2020 of 0.54% was only slightly less than Ericsson. The company does not face the same supply chain bottlenecks as Huawei, and it is even more exposed to the China market than Huawei – as such, China's big 5G buildout helped the vendor substantially. However, the company has not made headway in overseas 5G markets yet, and its fixed broadband and optical portfolio has not been particularly successful recently.

Intel: years of R&D aimed at not just selling into telco networks but selling directly to telcos has paid off for Intel, as it grew share by 0.45% in 2020. The company has faced some challenges recently around foundry production and the competitiveness of its leading edge chips, but in the telco space it is looking up: it launched a 3rd gen Xeon processor recently, optimized for 5G workloads; partnered with GCP on Anthos; and is working with Samsung on 5G SA core technology.

NEC's share gain of 0.41% in 2020 was the fourth largest improvement in the market, due to scaling up of Japanese 5G network deployments after COVID as well as NEC pushing harder on Europe (e.g. working with Telefonica on open RAN).

Dell Tech/VMWare gained 0.25% market share in 2020, as VMWare's telco cloud positioning has been paying off. The company has been steadily rising in share to the telco segment, from a rank of 49 in 4Q16 to break into the top 25 in 2020, ending the year at 21. That puts it on par with Fujitsu and Accenture, and slightly ahead of Ciena and Juniper.

Amdocs gained a bit of share in 2020, and remains a powerhouse in the IT service provider company segment, with $4.2B in 2020 revenues, well ahead of 2nd ranked (in this segment) IBM. Amdocs is diversifying revenue sources, integrating an important acquisition (Openet), and partnering with webscale providers (AWS, November 2020).

Prysmian, Corning, and FiberHome all lost share in 2020 due to telcos shifting away from new fiber deployments as capex focused on 5G construction. Fiber spending was especially weak early in 2020 as COVID-19 spread and companies struggled to cope.

CommScope's single quarter share in 4Q19 (post ARRIS acquisition) was 3.21% of the global telco NI market, but this dropped to 2.82% in 4Q20. The company is heavily exposed to a small number of customers with its home networks division (CPE), which is masking its overall healthy product mix. The new CEO is engaged in a strategy review right now which should see some change in 2H21, including a spinoff.

The two charts below portray the top 25 telco NI vendors in 2020 and the biggest share swings in the market for the year; note that several are due to M&A activity.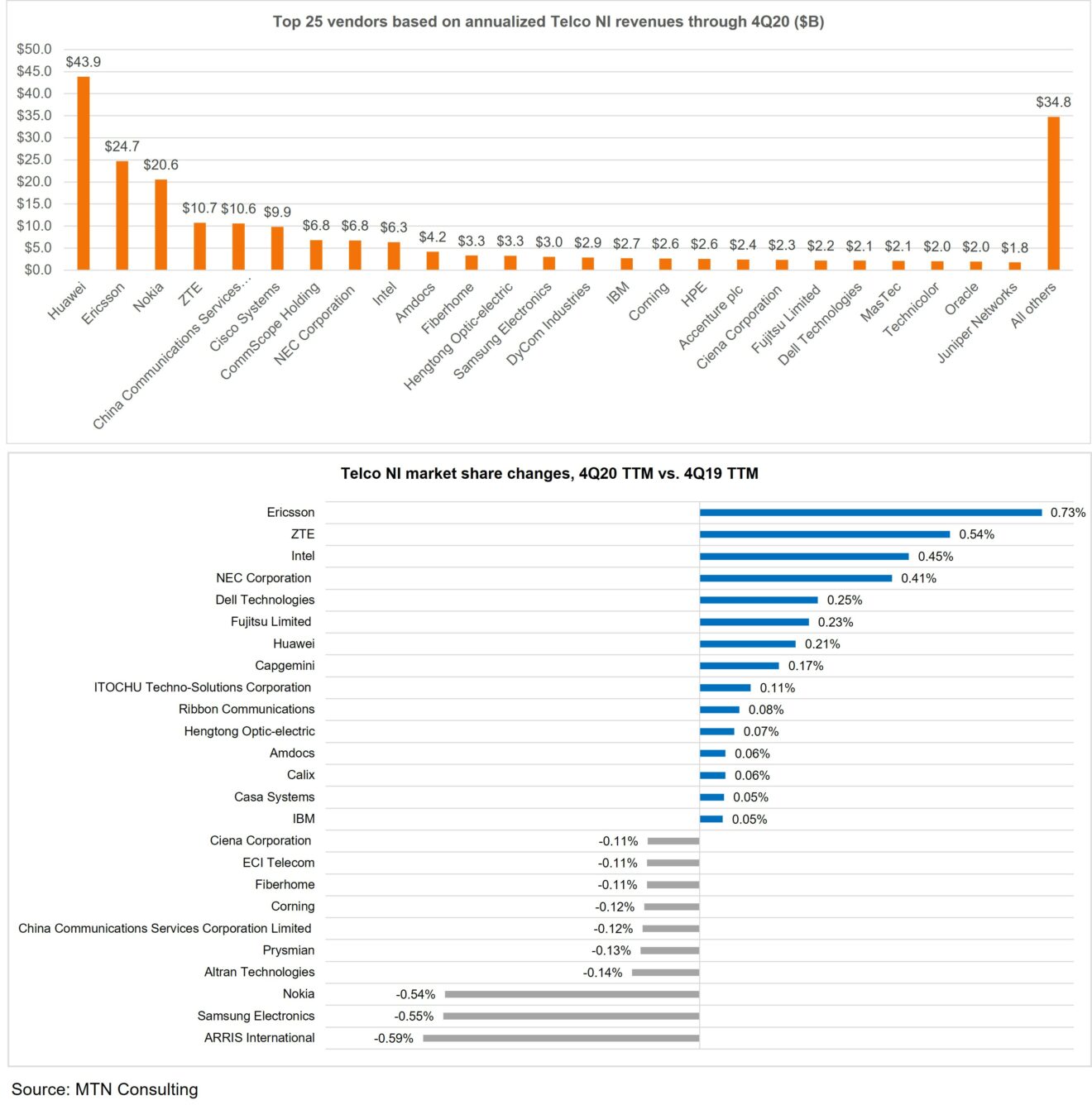 For more info, see the full report summary.


Network Spending Profile: Orange
Orange spent $15.9 billion on capex, network operations and R&D in 2020
Published April 15, this
report
reviews Orange's competitive positioning, its network infrastructure assets, network strategy, network spending patterns, and key suppliers. From the report:
Network infrastructure

Orange has a large network scattered across multiple countries and operating entities. That includes an incumbent network in France (Orange France), subsidiaries with incumbent origins overseas (e.g. Orange Polska), and subsidiaries with roots as competitive mobile operators (e.g. Orange Egypt). Orange also has substantial subsea network assets. Overall, about 43% of its net PP&E value comes from the wireline access network, which has grown its share recently as Orange has picked up investments in FTTH and searched for capex savings in the RAN via tactics like RAN sharing. Other net PP&E categories include wireless access (19.4% of net PP&E at end of 2020), core & transmission (10.8%), terminals & CPE (3.9%), software (12.9%), land & buildings (6.0% and falling), IT equipment (2.4%), and other (1.3%).

Network spending

In 2020, Orange's spending on network infrastructure included the following:

–>Total Capex: $8.31B, or 17.2% of revenues (2019: 17.7%). By region, Orange's capex in 2020 was 56% France, 12% Spain, and 12% Africa & MEA; the remaining ~20% is scattered across Europe. Software, included in "Total Capex", amounted to roughly 12% of capex in 2020. Spectrum would add 13.3% to Orange's 2020 capex if it was included.

–>Network operations opex: $6.83B, or 21.2% of opex excluding D&A. This is an increase from 20.1% in 2019 and 19.3% in 2018. Orange is clearly interested in optimizing this expense category. An important aspect of its current focus on data/AI is the creation of "smarter networks" and improved operational efficiency in network operations. The "Internal labor expenses" portion of network operations expense has been declining with time, from 62% in 2016 to 54% in 2020, as Orange has come to rely more on external partners. This shift is likely to continue.

Note that our calculations assume that energy costs, not included in the network operations category, represent a steady 4.5% of opex ex-D&A.

–>R&D: $733M. As of year-end 2020, the company claims that it has a cumulative total of 8,770 patents either approved or pending, from 6,857 in 2018.

Suppliers

Orange has many suppliers across its network, in line with the scope of its operations and mix of different facility and service types. Huawei, Ericsson, and Nokia have been the largest suppliers over the last 3 years, in line with their strength in mobile RAN markets. Huawei and Nokia are the top two vendors in access and transmission markets. Cisco is an important supplier in IP infrastructure. Other important suppliers include Adtran (fixed access) Amdocs (OSS/BSS), Dell Technologies/VMWare (virtualization, cloud solutions), Infinera (transmission), Juniper (IP infra), and NEC (microwave).

Over the last decade, Huawei was likely the largest individual vendor to Orange due to its success winning 4G network buildouts. For 5G, however, Orange operating companies have largely shied away from the Chinese company; Orange Spain is an exception.

The chart below illustrates Orange's total capex and the software portion of capex for the 2016-20 period. It also shows how much spectrum investments would add to the top of capex if they were included (we exclude them).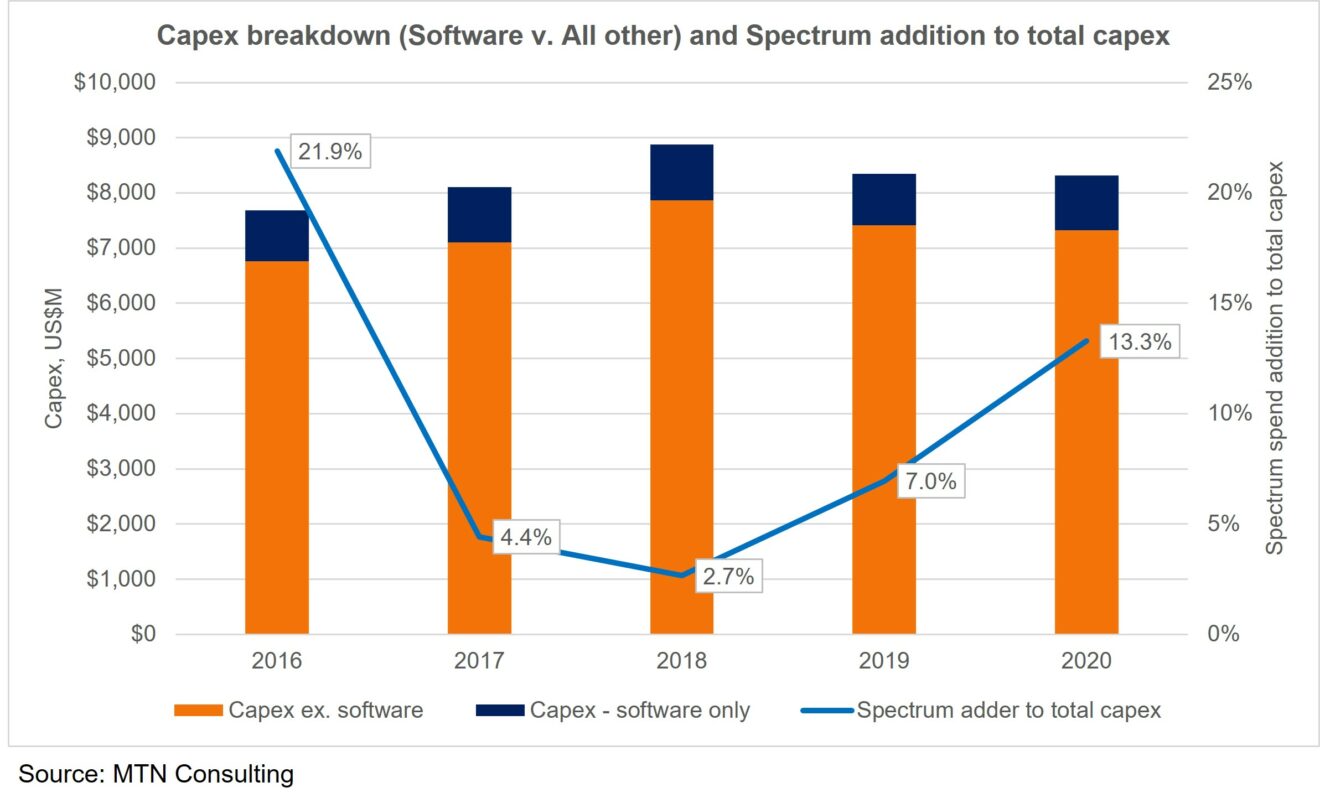 MTN Consulting's planned reports for the next few weeks include the following:

Telecom Network Operators: 4Q20 Market Review
360 CI: Data Center Chips
Network Spending Profile: Etisalat
Webscale Network Operators: 1Q21 Market Review
Forecast: Chinese cloud providers' global prospects
To see our most recently published reports,

click here
For information on subscribing to our research services, click here


You are receiving this because you are signed up to receive MTN Consulting's latest blogs and research alerts. We hope you enjoy our content, but you can unsubscribe at any time with the link at the bottom of this email - or by replying with "unsubscribe".