Connected Car Emerging Tech Series Part 1: Role of Telcos
MTNC is delighted to launch a new analytic series on emerging technologies and their impact on network operators. The first series of "Emerging Tech" articles will dive deep into the connected car space. This first article maps out the ecosystem, and highlights the key role played by telcos as well as the opportunities they have in this market.


Mobility today is changing rapidly, and connected cars are the driving force behind this disruption. The future of mobility is all about autonomous driving, electric vehicles, carsharing and connected cars. The biggest impact of this shift unquestionably is on Automotive OEMs and their suppliers. However, the connected car space is a dynamic ecosystem which includes OEMs and various stakeholders ranging from telcos, software & platform providers, equipment suppliers and consumers.


The connected car ecosystem is evolving extremely fast and many other key stakeholders apart from telcos are trying to establish or have already made a mark in the connected car value chain.


Figure 1 illustrates how complex the connected car ecosystem is becoming.
Figure 1: Connected Car Ecosystem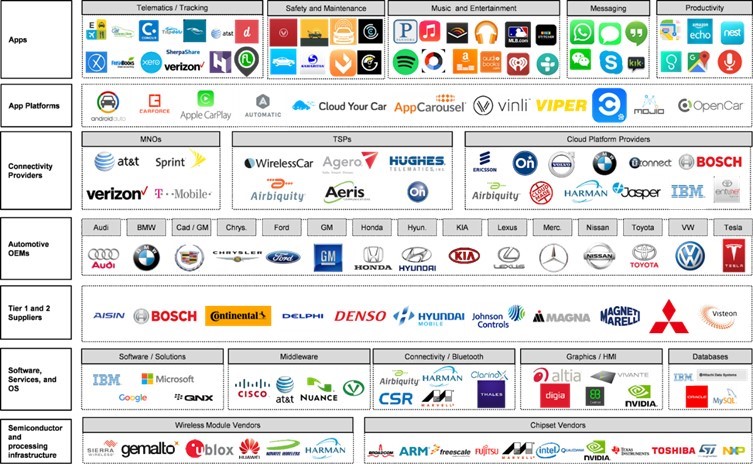 Some of the key elements in the connected car ecosystem include:

Telecom Operators - AT&T, Deutsche Telekom, Telia, Telefonica, Vodafone etc.
Technology Vendors - Nokia, Ericsson etc.
Cloud Providers – Google, Amazon, Microsoft etc.
Original Equipment Manufacturers (OEMs) – VW, Ford, BMW, Audi, Hyundai etc.
System Integrators (SIs) - IBM, Accenture etc.
Over-the-Top (OTTs) Players - Google, Apple etc.
Platform Providers - Jasper, Airbiquity
Other Suppliers - OnStar, Continental etc.
The connected car is providing fresh opportunities to traditional players such as TSPs (Telematics Service Providers) e.g., Airbiquity, Tier 1&2 automotive suppliers like Bosch, new players such as webscalers Google, Alibaba, and Apple, as well as traditional telcos. In fact telcos have a crucial role to play as this market evolves.


For instance, Bosch supplies infotainment systems to a majority of OEMs globally but these systems require cellular connections provided by telcos' 3G/4G networks. Bosch is also involved in pilot projects to test 5G technology for future systems for new innovative services and better connectivity.


The Role of Telcos in Connected Cars
In this first part of the connected car series, we will focus on the role of telecom network operators (telcos) in a connected car ecosystem. Telcos act as the backbone of any connected car by providing the required communication network.
Figure 2: Telcos play a central role in the connected car ecosystem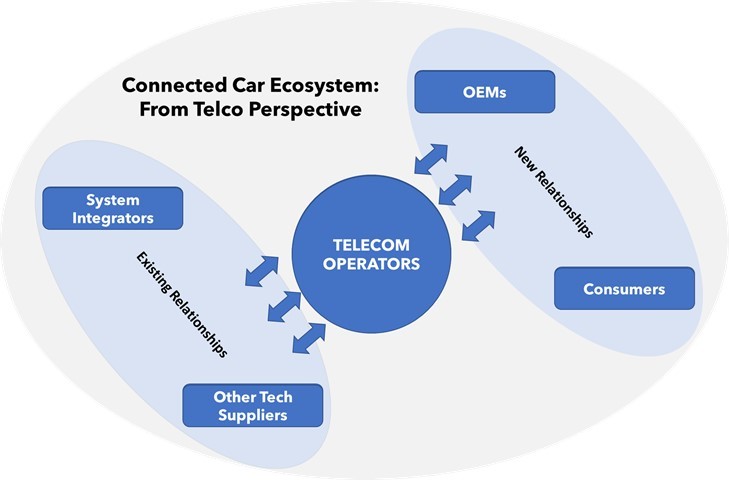 Telecom operators have a competitive advantage when it comes to providing fast and reliable connectivity for connected cars. Further, the ever-evolving connected car ecosystem offers telcos some interesting new revenue opportunities. That is important as telcos are struggling to attain any top-line revenue growth in their current scope of operations. Even with 5G now emerging around the globe, most telcos continue to see flat to down service revenue trends. Developing new types of services and penetrating new vertical markets is essential for telcos to grow.


There are two basic types of services envisioned for telcos in the connected car space:

In(side)-car services: Infotainment (music, weather, social), and Navigation (location/traffic, landmarks, etc.)
Out(side)-car services: Telematics/M2M (insurance, repairs, parts, etc.), Remote (stolen vehicle, parking information, etc.).
Telcos are playing a significant role in both types of above services. For in(side)-car services, Telcos and OTTs (aka webscalers) are trying to build a niche in the infotainment/apps space. Apple and Google for example have already launched their connected car offerings – CarPlay and Android Auto respectively – while Telcos provide the SIM cards and Wi-Fi connectivity to access the services offered by OTTs.


However, the big opportunity for telcos in the connected car space, where they have an edge over other ecosystem players are – out(side)-car services. Telcos are uniquely positioned to provide Telematics/M2M and remote services by leveraging their core connectivity assets as well as strong cloud offerings. Depending upon the service provided, Telcos are working on both B2C and B2B business models. Telcos have grabbed this opportunity by launching dedicated connected car offerings and facilitating key partnerships with major OEMs and other ecosystem players.


A few examples of telcos making a huge difference in the connected car space are:

AT&T considers the connected car business as one of the "key growth areas" and it serves over 30 million connected cars on its network. In the US, 31 different car brands are working with AT&T, where the carrier provides cellular connectivity to virtually the entire industry. LTE is the main connectivity technology but AT&T is exploring 5G for next-generation connectivity to future vehicles.
Vodafone goes a step further by providing hardware and software to be fitted in connected cars, as well as the network to connect everything. Vodafone also provides managed services to car customers and is supplying telematics systems to major OEMs like Audi, BMW, Porsche etc.
Orange has taken a slightly different approach by providing the connected car ecosystem with infrastructure services incorporating mobile and information technology. For example, Orange is supplying M2M SIM cards to all the Renault vehicles which are installed with an in-house developed connected tablet equipped with a R-Link system.
Apart from the existing use cases for connected cars, telcos are actively involved in pilot projects to benefit from implementation of 5G technology. One of the most talked-about 5G-enabled wireless communication is called URLLC (Ultra-Reliable and Low-Latency Communication). URLLC is aimed at mission critical communications, and ideal for latency sensitive applications such as autonomous driving. For instance, several URLLC use cases are under research like automated driving, road safety and intelligent navigation systems, to name a few.


Deutsche Telekom is an example of a telco that has embraced the connected car market and is actively developing a role in the ecosystem. Key to that role is a partnership with BMW.


Deutsche Telekom has been part of the BMW connected car journey since 2015. BMW ConnectedDrive is the name of the connected car service provided by BMW together with Deutsche Telekom and other ecosystem partners (see below figure). The Wi-Fi Hotspot within ConnectedDrive vehicles is provided by Deutsche Telekom. The BMW ConnectedDrive system now comes with an LTE eSIM which is permanently embedded into the vehicles.


By partnering with OEMs like BMW, Deutsche Telekom is playing a significant role in providing a seamless customer experience (CX) for car drivers and/or travellers. Together with Continental, a tier 1 automotive supplier, DT has developed a multi-media system to provide car drivers best in-car services: real-time navigation, automatic SOS (eCall) and online infotainment services.
Figure 3: Case Study -- Deutsche Telekom and BMW ConnectedDrive
Sources: Deutsche Telekom, BMW, and MTN Consulting
The Deutsche Telekom Wi-Fi Hotspot makes it possible to connect 10 Wi-Fi enabled devices to high-speed internet all over Europe. Not only that, but Deutsche Telekom is also fitting BMW ConnectedDrive cars with LTE technology in the form of embedded eSIMs which can be updated via over-the-air (OTA) whenever required from outside.


Another service offering from Deutsche Telekom is the Smart Home app which can be used to control the devices at home via a mobile phone. The Smart Home app has been available for use in the BMW ConnectedDrive system since 2015. Working hand-in-hand with Deutsche Telekom, the system makes it possible, for example, to control the lighting or heating system at home. The remote home control system is plugged into BMW's vehicle operating system through a feature that allows users to integrate third-party apps via BMW ConnectedDrive.


Telcos have a competitive edge in the connected car ecosystem as they already have a proven track record of working together and partnering with related verticals for providing fast and reliable connectivity. The value a telco can bring to the connected car is not only limited to its core assets (networks) but also existing partnerships with system integrators (IBM, Accenture), technology vendors (Nokia, Ericsson) and other tier 1/2 automotive suppliers (Continental, Bosch).


Most of the major telecom players, such as AT&T, DT, Telefonica, Telia, and Vodafone, are ahead of the curve to benefit from this opportunity. Deutsche Telekom has a dedicated connected car division, and most of the telcos mentioned here offer innovative solutions and services to OEMs along with other ecosystem players.


MTNC believes that moving forward, there are a plethora of opportunities in the connected car space for telcos, especially with the implementation and adoption of 5G technology. The future of mobility will be car-sharing, electric vehicles and autonomous driving, where 5G will be able to enhance the customer experience with innovation such as ultra-reliable low-latency communication (URLLC), putting telcos at the forefront of the connected car ecosystem.
5G positioning update: Intel and Nokia
MWC was held in person this week, for the first time since February 2019. With all the hype about MWC's re-emergence, it's easy to forget that vendors update the analyst community on products & strategy all the time, independent of trade shows and conferences. That's all the more true since COVID-19 virtually killed the trade show, and a nonstop stream of online events took over the analyst's schedule. Vendors still do pre-brief analysts in advance of important events like MWC, though. Intel and Nokia both did so in late June. Nokia addressed 5G core and hyperscale issues, while Intel provided an update on its overall 5G network and edge strategy.


Nokia: "The future of 5G Core"
Late last month Nokia held a session for analysts, "The future of 5G Core on hyperscalers and the journey to NaaS." With the growth of telco spending on 5G cores (including transmission) this year, and Nokia's repositioning towards more collaboration with the webscale (aka hyperscale) sector, this was an enlightening session.


As background, Nokia is ranked 3 in the global market for telco network infrastructure, and places second in the hardware & software segment of telco NI. The below figure illustrates Nokia's telco NI revenues over the last few quarters and its share in the overall market, as well as the services and hardware/software segments.

MTN Consulting's summary of the Nokia session follows.

With the advent of 5G, CSPs (telcos) face challenges brought by multi-layered networks that run complex operations
"Seven degrees of freedom" are key for CSPs to achieve the full business value of 5G and embark on a journey to a Network-as-a-Service (NaaS) future
The seven degrees of freedom represent seven key design principles that can be addressed by CSPs to achieve full freedom in creating value with 5G and transition to NaaS in the most flexible way. The chart below illustrates the seven degrees.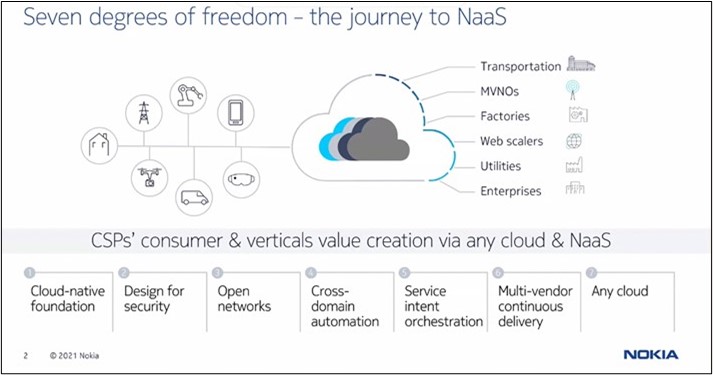 The seven principles presented by Nokia consist of the following:

Cloud-native foundation: Inconsistent or limited implementations of cloud-native real-time applications will restrict a CSP's ability to achieve a true 5G network that can take full advantage of the cloud's agility, scaling and efficiency. Software vendors must develop the right disciplines of cloud-native design across the full span of 5G applications, and consistent methodology is key for simplification.
Freedom of "any cloud" platform: CSPs gain flexibility by being able to use any platform for cloud and NaaS. The challenge is to ensure multiple vendors' telco applications can readily use cloud vendors' Containers-as-a-Service (CaaS) and Platform-as-a-Service (PaaS) capabilities.
Openness of networks and ecosystems: Service-oriented architectures (SOAs) have existed in the webscale world for 15+ years, yet telco applications struggle to fully embrace the SOA approach. It is essential for a CSP to build a norm of using open networks and ecosystems in their organization. Strong API design in secure and non-secure environments is the basis for uniform exposure that enables the creation of 5G services and simplified operations.
Cross-domain automation: Cloud-native designs increase complexity at the application and sub-domain levels. Also, when automation overlaps with a hybrid private/public cloud strategy, real-time application complexity and lifecycle management needs are enormous compared to a simple web application. There is a need for careful software design for highly complex lifecycle interdependencies.
Service intent orchestration: Service intent-driven network orchestration is vital for the design of 5G slicing and agile 5G vertical services. This requires service demand to be attached to a QoS and SLA metric across the network. Core, radio and routing must be tightly connected to deliver the required SLAs and QoS. The orchestration and assurance of these designs is complex.
Build a continuous delivery framework: CSPs work with multiple vendors that feed software into their extensive landscape of network and operations. Legacy process models cannot support a continuous feed of new software releases being introduced more often. The software delivery pipeline must be mature enough to handle multi-vendor environments, and it must be secure and consistent in both building and testing frameworks. All integration points must be automated and secure.
Design for security: Security is an ever-present and ever-growing challenge. Threat analysis, vulnerability management and software validation are essential considerations when designing and delivering applications. Applications must be built with a "design for security" practice, including a detailed security risk assessment. Security must be end-to-end and continuous across applications, endpoints, management access points and APIs.
Nokia's lessons learned from deploying with hyperscalers

Aggregation required across ISVs as cloud providers have their own continuous integration (CI) / continuous delivery (CD) pipeline and lifecycle management tools
Alignment required between cloud provider's CI/CD pipeline and ISV's repository
VLAN-based network separation not possible in user-plane network functions
Nokia's key "Any Cloud" achievements: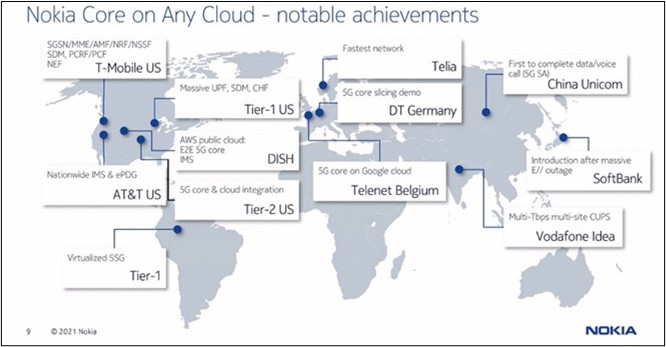 Intel: "Network and Edge Update"
Intel's role in telco network infrastructure is often overlooked. It sells to OEMs but over the last 3 years has developed a growing set of direct customer relationships with telcos. This session provided an update on Intel's "network and edge" offerings with a focus on 5G.


As background, Intel is ranked 9 in the global market for telco network infrastructure, with an annualized market share of just under 3%. That counts all Intel telco revenues as if they were direct to telco arrangements. The below figure illustrates Intel's telco NI revenues over the last few quarters and its share in the overall market, as well as the services and hardware/software segments. Intel doesn't record any services revenues in telco NI, hence its share of HW/SW is higher than overall.

MTN Consulting's summary of the Intel session follows.

Intel showcased new silicon and software platforms comprising processors, accelerators, Ethernet adaptors, memory, software toolkits – all aimed at the goal of strengthening its position in vRAN and 5G wireless network technologies at the edge.
According to Intel, operators of 5G networks want a more agile, flexible infrastructure to unleash the full possibilities of 5G and edge as they address increased network demands from more connected devices. At the same time, global digitalization is creating new opportunities to use the potential of 5G, edge, artificial intelligence (AI), and cloud to reshape industries ranging from manufacturing to retail, health care, education, and more.
According to Intel, experts expect 75% of data will be created outside of the datacenter by 2023 — at the edge in factories, hospitals, retail stores, and across cities.
Intel wants to target the market where various capabilities can be converged at the edge, such as AI, analytics, media, and networking.
A select list of the "Powered by Intel" network deployments, as presented in the session: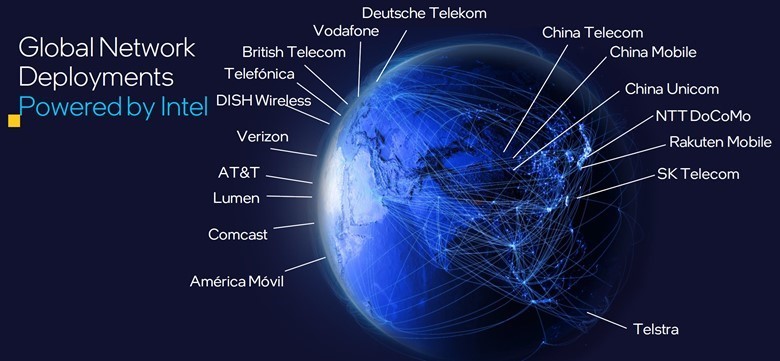 Reliance Jio, Deutsche Telekom, and Dish Wireless are transforming their networks on Intel's architecture. The vRAN promises cloud-like agility and automation capabilities that can help optimize RAN performance and ultimately improve the experience for users. The company claimed that "Nearly all commercial vRAN deployments are running on Intel technology"
Intel is expanding its family of Agilex FPGA by adding a new FPGA with integrated cryptography acceleration that can support MACSec in 5G applications. This adds another layer of security to vRAN at the fronthaul, midhaul, and backhaul levels.
The chipmaker also unveiled Intel Network Platform – a technology foundation that (Intel says) can reduce development complexity, accelerate time to market and help to ensure customers and partners can take advantage of the features in Intel hardware, from core to access to edge. INP incorporates building blocks, a reference architecture and experience kits, and can support a range of different network solutions including vRAN but also other (non-5G) applications like vCMTS.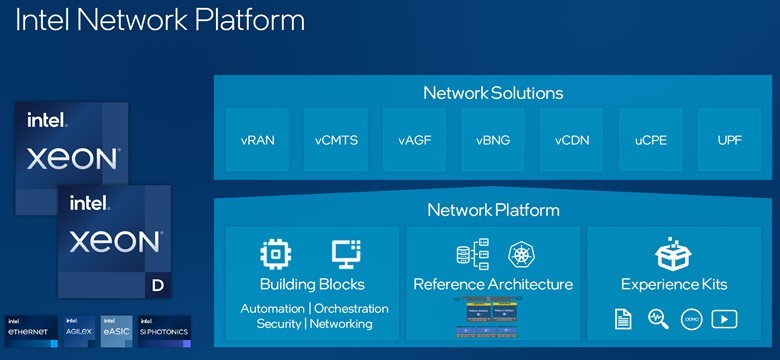 Intel also announced a new commercial software, Intel Smart Edge, focused on enterprise on-premise use cases, such as private networks and universal Customer Premise equipment.
Intel's Ethernet 800 Series family is expanding, with Intel's SyncE capable Ethernet Adapter that is designed for space-constrained systems on the edge. It is well-suited for both high-bandwidth 4G and 5G RAN as well as other time- and latency-sensitive applications in sectors such as industrial, financial and energy.
MTN Consulting: Company news
Waseem Haider recently joined MTN Consulting as Partner, EMEA. Waseem

leads MTNC business activities in Europe, Middle-East and Africa (EMEA), and is based in Berlin, Germany. He can be contacted at: w.haider@www.mtn-c.com.




Recently published reports
MTN Consulting has wrapped up publication of all key 1Q21 research. Reports published in the last few weeks include:

As always, we have a number of reports in the works, with an update to our June 2020 study of the carrier-neutral network operator market likely to publish next week.
To see our most recently published reports,

click here
For information on subscribing to our research services, click here


You are receiving this because you are signed up to receive MTN Consulting's latest blogs and research alerts. We hope you enjoy our content, but you can unsubscribe at any time with the link at the bottom of this email - or by replying with "unsubscribe".