Webscale sector's capex push to bring many more data centers online in 2021-23
Capex surge from webscale operators will continue
Technology spending by the webscale sector is on a tear. While COVID-19 depressed the telco sector in 2020, strong demand for cloud services and ecommerce drove the webscale operators providing these services to expand investments considerably. Webscale capex rose 25% YoY to hit $34.7 billion in 3Q20, or $120.9 billion on an annualized (12 month) basis. That amounts to 42% of the telco industry total for the same period. Just three years prior, in the 3Q17 annualized period, webscale capex was only 24% of the telco market.


The webscale market is dominated by a small number of big spenders. Alphabet, Amazon, Facebook and Microsoft captured 70% of sector capex in the last 4 quarters, Apple added 6%, and each of China's two big players (Alibaba and Tencent) added another 5% each. Going forward, China will account for a bigger share of the total, possibly as much as 20% by 2025.


As a reference point, the figure below illustrates recent single quarter capex trends for the 5 biggest US-based and 3 biggest China-based webscale providers.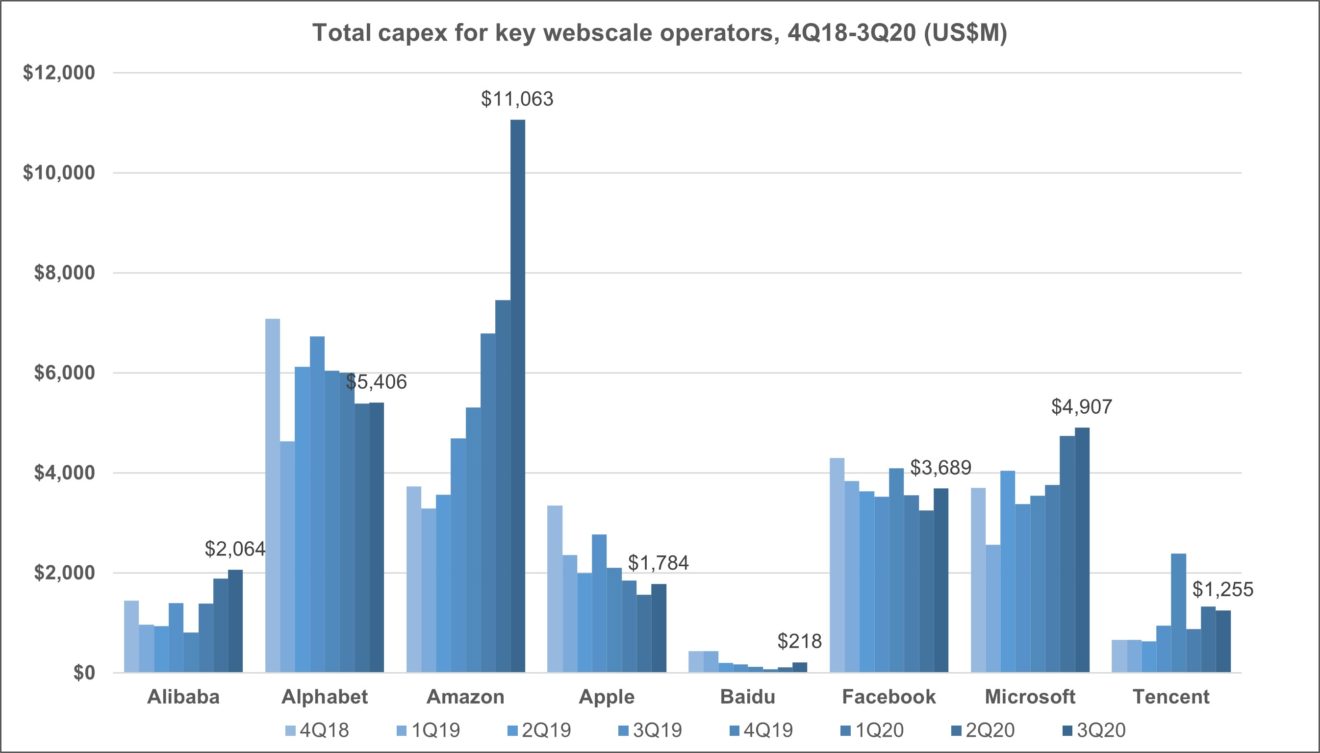 The growth in 3Q20 wasn't a one-time thing. While the outlook for telco capex is modest, MTN Consulting expects webscale sector capex to end 2021 at roughly $143 billion, and grow further to reach approximately $201 billion by 2025 (figure, below). The network/IT/software portion of capex will come in at roughly 50% of total in 2020, as it did in 2019, decline to 42% by 2023 as a spate of new data centers come on line, but grow back up to 50% by 2025 as more of capex is for server/capacity expansion of existing infrastructure. Within the technology piece of capex, data centers and their components (networking, compute, storage, power) will soak up the bulk of spending, but subsea cables and satellite networks will become increasingly important over the next 5 years.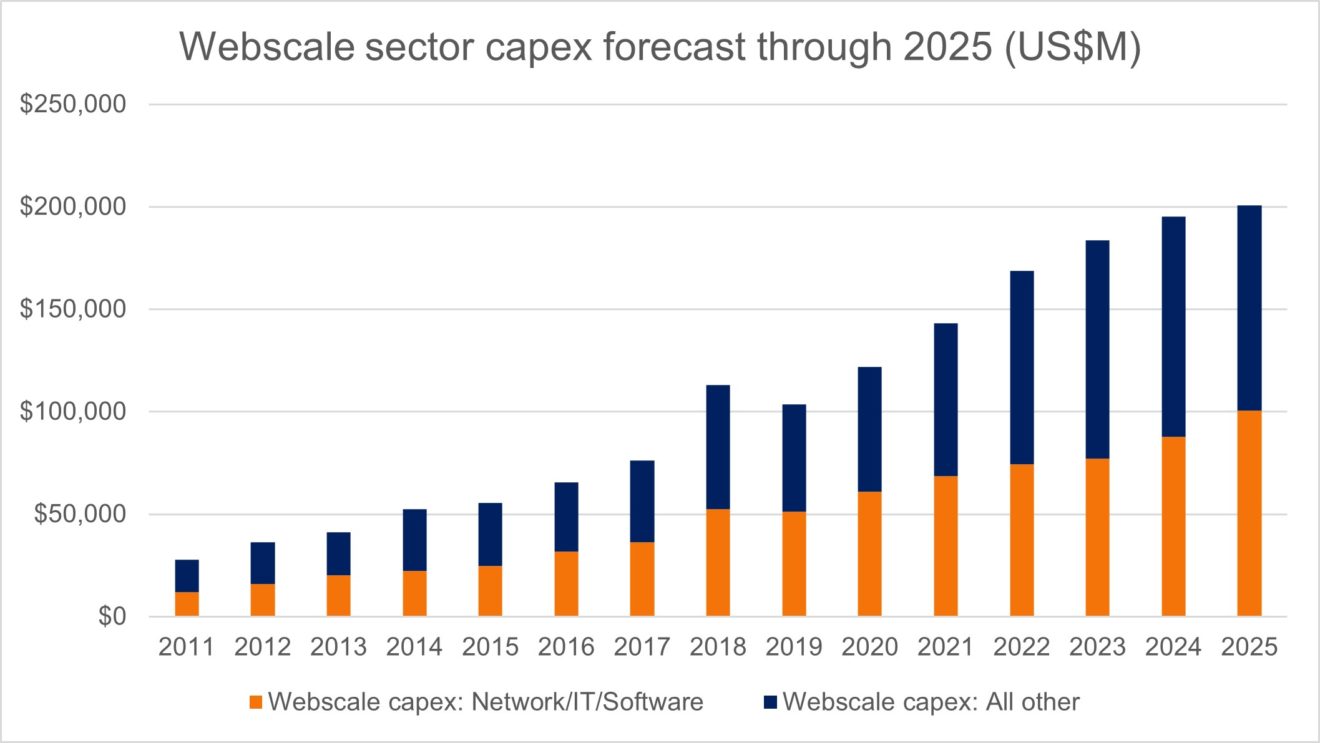 All of the big webscale providers have major data center construction or expansion projects underway, in multiple corners of the world. Some of this activity leans on partners from the carrier-neutral sector, for instance Oracle is relying heavy on leased collocation space from Equinix for the Oracle cloud buildout. However, the bulk of webscale capex is aimed at enormous, self-owned facilities designed to spec. The choice of location is crucial, and depends on many factors, including access to major population centers, big customers, submarine cables, internet exchanges, and low-cost renewable energy; government incentives such as tax abatements; and how the location complements the operator's overall global network strategy. Because location is so important, many webscale providers buy land in attractive markets far in advance of a decision to build a data center; this is known as "land banking."


Below is a brief summary of some of the webscale sector's major data center projects, either currently underway or recently completed.


Table 1: Data center projects underway - a snapshot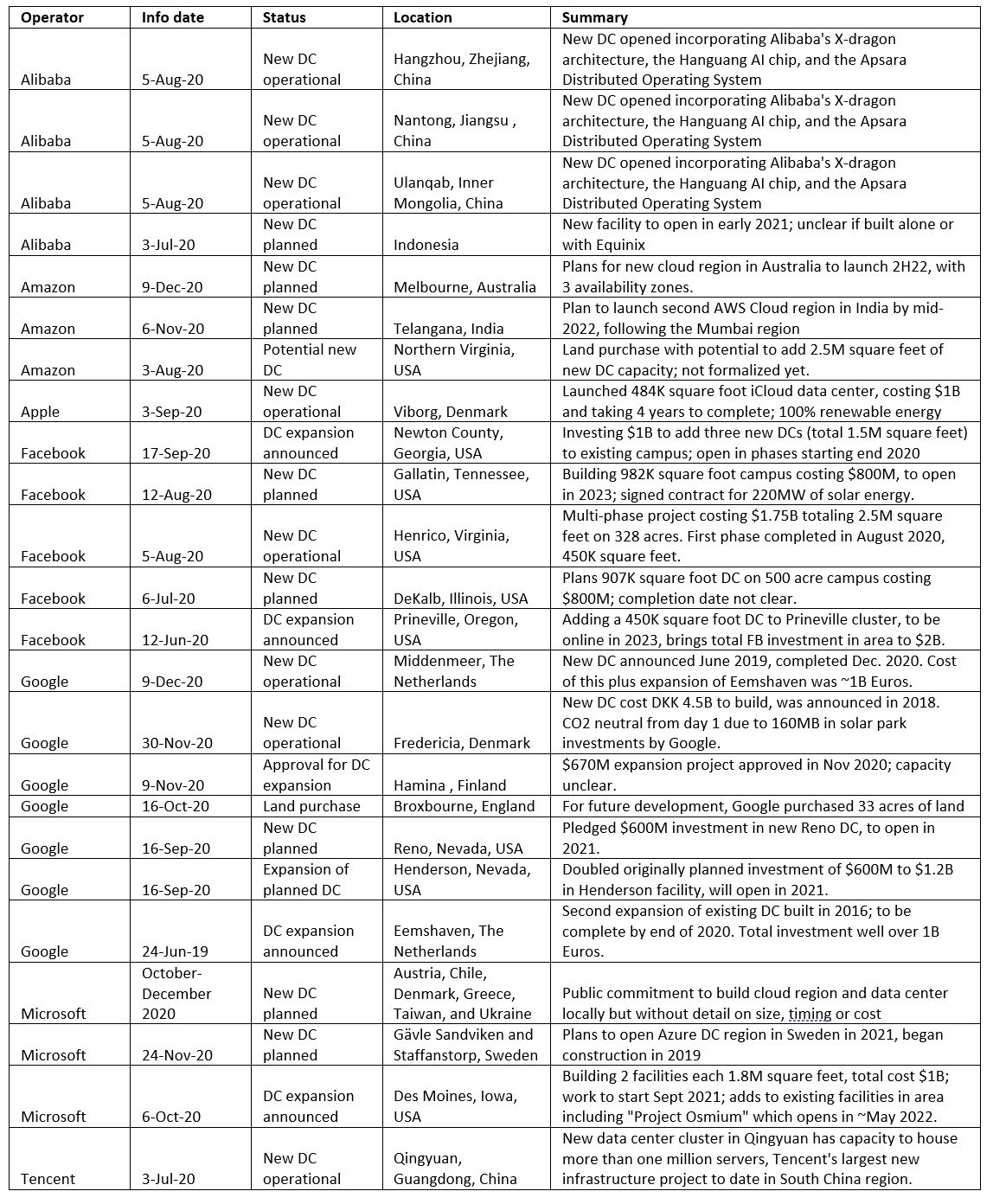 ____________________________________________________________________
MTN Consulting: Company news
Telecommunications Network Operators: 3Q20 Market Review
On January 29, MTN Consulting published its latest market tracker for the telecommunications sector.


This market review provides a comprehensive assessment of the global telecommunications industry based on financial results through September 2020 (3Q20). The report tracks revenue, capex and employee for 138 individual telecommunications network operators (TNOs). For a sub-group of 50 large TNOs, the report also assesses labor cost, opex and operating profit trends. The report also covers annual data for other financial metrics such as debt, cash & short term investments, M&A spend and cash flow from operations for the TNO-50. Our coverage timeframe spans 1Q11-3Q20 (39 quarters). The report's format is Excel.
EXCERPT - 3Q20 RESULTS SUMMARY


Annualized telecom network operator (telco) revenues in 3Q20 were $1.78 trillion, down slightly from the 3Q19 figure of $1.81 trillion. Single quarter revenues fell for the third consecutive quarter on a YoY basis in 3Q20. However, the decline was relatively modest: down 0.6% versus 3Q19, after drops of 2.0% and 5.3% in 1Q20 and 2Q20 respectively.


For the first nine months of 2020, the globe's worst performing large telcos at the top line include Telefonica (revenues down 10.8% vs. first nine months of 2019), America Movil (-10.2%), AT&T (-6.2%), BT (-6.0%), KT (-5.5%), and Verizon (-3.6%). By the same criteria, the best big telco growth stories in 1Q-3Q20 were Charter Communications (+4.3% YoY), China Unicom (+1.8%), KDDI and China Telecom (both +1.4%), Orange (+0.7%), and Comcast (+0.4%).


Exchange rates always play a role in growth as measured in USD, and that includes telco market revenues. In a fixed exchange rate scenario, where all currency exchange rates are held constant to the 1Q11 value, YoY revenue growth has been much more stable in the telecom sector than when using actual rates. Over the 2011-20 period, YoY growth in global telecom revenues hovered in the 1-3% range. However, even in the fixed rate case, growth was noticeably weaker for the sector in 2020 during the COVID-19 pandemic. Revenues declined by 2.0% and 0.5% YoY in 2Q20 and 3Q20, respectively, in the fixed exchange rate scenario.


Despite top-line weakness, profitability for the telecom sector has strengthened over the last few quarters. Annualized operating margins ended 3Q20 at 14.5%, up from 13.5%. Annualized EBITDA margins improved even more, up from 32.1% in 3Q19 to 34.1% in 3Q20. Telcos have used the COVID crisis to tighten their belts considerably. On the network side, capex has been surprisingly steady, remaining in the narrow range of 16.1-16.2% range for five straight quarters. However, opex budgets have been hit hard. Industry-wide, opex (excluding D&A) as a share of revenues were 65.9% of revenues in 3Q20, on an annualized basis, versus 67.9% in 3Q19. Shutting offices, moving sales and support functions online, automating a wide range of processes, and seeking out savings in network leasing & interconnect costs have all borne fruit over the last few quarters.


Notably, telcos have NOT made significant progress in 2020 in lowering their labor cost burden...READ MORE


MTN Consulting's planned reports for early February include the following:

Network Spending Profile: Axiata
Predictions: Global Network Infrastructure in a Biden World
Emerging satellite platforms for broadband connectivity
To see our most recently published reports,

click here
For information on subscribing to our research services, click here


You are receiving this because you are signed up to receive MTN Consulting's latest blogs and research alerts. We hope you enjoy our content, but you can unsubscribe at any time with the link at the bottom of this email - or by replying with "unsubscribe".