Organic revenue growth continues to be a stretch for telcos in 1Q21
Two weeks ago, this newsletter provided a preliminary view on revenue trends based on the first 13 significant telcos to report 1Q21 earnings. In it, we noted that revenue growth rates appeared promising for 11 of these 13, as the YoY % change in 1Q21 was improved relative to 4Q20. However, we also flagged a trend of concern, namely, that much of the apparent telco revenue growth was coming from sales of equipment (e.g. handsets) rather than core services. This has been happening on the mobile side with new 5G device sales, and also with cable companies catering to the work from home crowd. A survey of 25 additional telcos which have reported since our last newsletter confirms this trend. Telcos are still not persuading investors that the new services they are investing heavily to develop will lead to significant top-line growth.


Revenue trends in 1Q21 - the latest 25 reporters
The figure below illustrates the difference in the YoY revenue growth rate achieved for the group of 25, comparing 1Q21/1Q20 to 4Q20/4Q19. As shown, 18 of the 25 improved their YoY revenue trend line at least a bit between 4Q20 and 1Q21.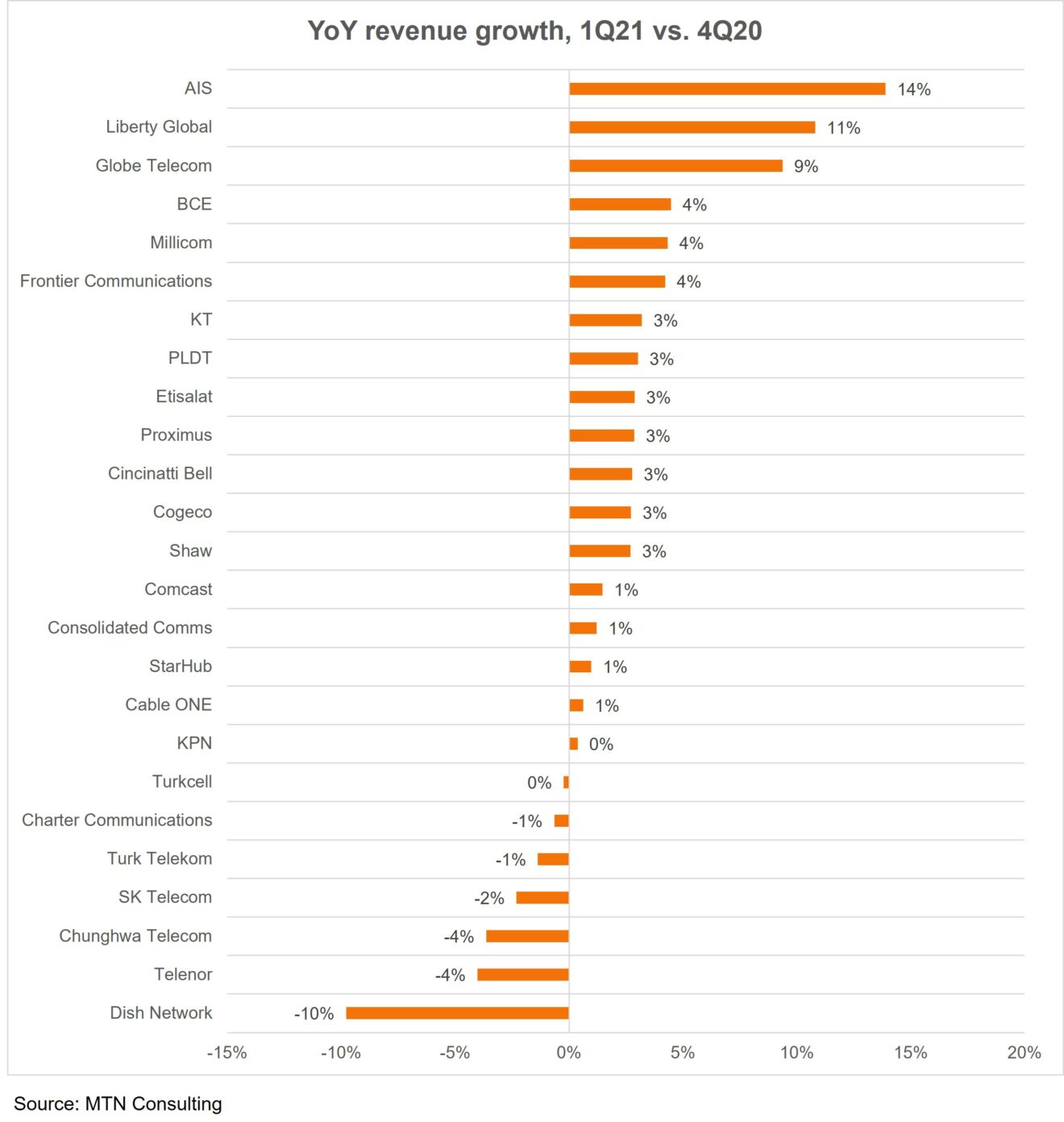 Thailand's biggest telco, AIS, had the best result of the 25 due to aggressive investments in both 5G and consumer fiber broadband completed in 2020. Its 4Q20 revenues declined by 7% YoY, while 1Q21 revenues grew by 7%, netting a positive 14%. Liberty Global grew by double digits as well, but that's almost entirely due to recent acquisitions (of Sunrise, and Vodafone properties).


The worst performer of the group was Dish Network, but this is misleading as the company is ramping up a new service so growth rates will inevitably decline over time. Telenor had the second worst result of the group, for more substantive reasons: its Myanmar operations have collapsed amidst political unrest, and its Thailand arm DTAC is running behind rivals True and AIS in 5G rollouts. To compensate, DTAC is now accelerating a 5G rollout based on 700MHz spectrum, and Telenor is attempting to gain scale in another regional market, Malaysia, by merging its local operations with Axiata. At the corporate level, Telenor continues its long-running efforts to optimize its operational cost base: it claims a 7% company-wide decline in opex for 1Q21.


For the largest companies in the group of 25 - Comcast (#6 globally by revenues as of 3Q20), Charter (#13), KT (#17), and BCE (#19) - BCE and KT made the biggest gains between 4Q20 and 1Q21. However, as noted below one-time sales of equipment were a major factor for both. It was also a major factor for AIS, in fact.


The table below provides a summary of total revenue growth in 1Q21 for a subset of the 25, and the growth reported in non-service (equipment) revenues for the same time period. As shown below, equipment revenue growth outpaced the total company trend line for nearly every telco, in some cases by huge margins (e.g. Dish, AIS, Global Telecom, Etisalat). SKT was the only exception, as its corporate revenues climbed by 7.4% in 1Q21, while the non-consolidated "others" category of sales (which includes handsets) grew by just 3.8%. Not unrelatedly, SKT is planning to spin off part of its operations in the near future, in particular the parts growing faster than its telco core.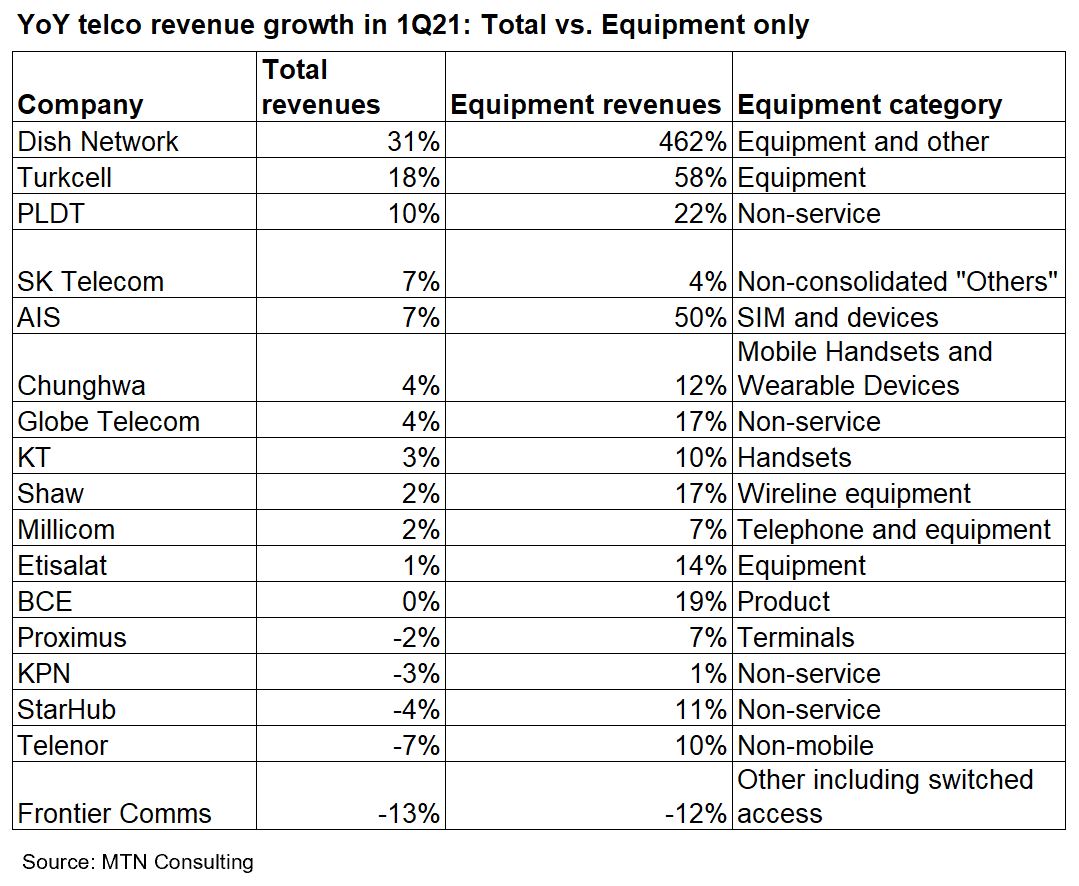 Only 17 of the 25 are included above because the rest do not report equipment revenues, as they (generally) lease CPE to customers and capitalize the gear onto their balance sheets. That's true for Cable ONE, Charter, Cincinnati Bell, Cogeco, Comcast, Consolidated, and Liberty Global; the 8th of this group is Turk Telekom, which does not publish its non-service (equipment) revenue figures for other reasons.


Capex trends - changes in capital intensity due to 5G, fiber, and transformation
Much of MTN Consulting's research is concerned with network spending trends, so we track capex closely each quarter. We are projecting a slight uptick in telco capex (in US$) for 2021. Based on early stats for 1Q21, this scenario is still likely. There are a number of sizable companies reporting capital intensity (capex/revenue) ratios higher for 1Q21 than 1Q20, for instance. This alone is not a great benchmark, as some telcos were forced to cut back capex in 1Q20 as the COVID-19 pandemic began to spread. Nonetheless, telcos aren't shying away from modest capex investments in their network in order to improve operational efficiency (e.g. digital transformation, automation) and support a new generation of services on new 5G networks and FTTH.


The table below presents single quarter capital intensity for 1Q21, the change from 1Q20, and the drivers for that change. Not all 25 telcos are shown below; this table includes only telcos which reported capital intensity either >2.0% higher or lower for 1Q21 than the prior year period, 1Q20. Companies are listed according to their relative in capital intensity across these two periods, high to low.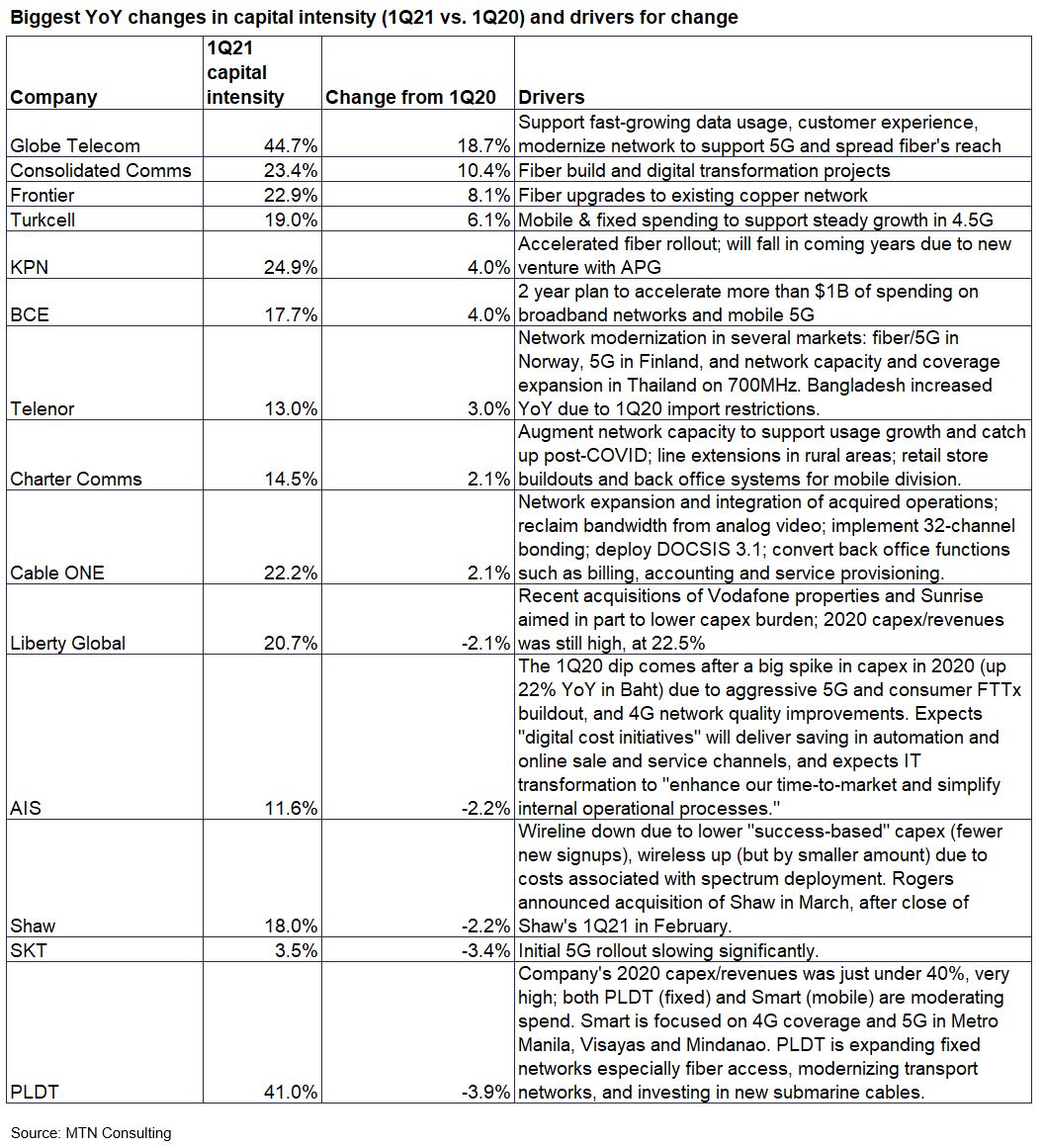 Who will capture 5G's value?
As we noted in our last newsletter, many telcos deploying 5G are seeing a revenue uptick related to sales of 5G-capable devices. This also happened with 4G. Looking back, device and app companies captured much of the revenue upside related to deployment of 4G networks. This is a risk with 5G as well. As telcos deploy stand-alone 5G networks and rollout some of the more sophisticated functionality that comes with 5G, they will need to stay focused on deploying new services that deliver them growth. That will not be easy, and will require collaboration with both their vendors and the adjacent webscale sector of operators.


MTN Consulting is about to publish its 4Q20 "market review" for the telecom sector. This edition is later than usual due to several enhancements in the works. Contact us if you would like more information.
MTN Consulting: Company news
Recently published reports
Telecom's biggest vendors – 4Q20 edition

Telco NI vendor revenues stabilize at $216B in 2020; Ericsson, ZTE, Intel, NEC and Dell/VMWare the big winners as Samsung and Nokia dip
Published April 27, this report assesses the market for telco network infrastructure (telco NI) and provides market share for 126 vendors selling into this vertical market.


An excerpt from the report follows:


Winners and losers

In terms of overall share gains in 2020, the biggest winner was Ericsson, as it gained 0.73% from its 2019 base to extend its lead over third place Nokia. Huawei's fortunes in 2020 were hampered significantly by supply chain sanctions and security concerns, giving both vendors an opening. In such cases, Ericsson and Nokia often shared 5G wins (e.g. dtac in Thailand), as exclusive deals are not common, but Ericsson tended to win more of the business on a revenue basis. And Ericsson's strong presence in China also lifted its overall position.

The biggest losers of 2020 were Samsung and Nokia, dropping 0.55% and 0.54% in market share respectively, relative to their 2019 positions. Samsung's decline is due mainly to the completion of initial 5G builds in Korea. The company has a number of recent 5G wins elsewhere: KDDI and NTT DoCoMo (1Q21), as well as SaskTel and Videotron in Canada and a big deal at Verizon announced late last year. Revenues for these deals haven't hit yet, however. Meanwhile, Nokia's move away from China impacted revenues, but it has also partnered with all the big cloud providers in 1Q21, and its support of open RAN differentiates it from Ericsson – these efforts should pay off for Nokia in the future.

Other important share movements in 2020 include the following:

ZTE: its share gain in 2020 of 0.54% was only slightly less than Ericsson. The company does not face the same supply chain bottlenecks as Huawei, and it is even more exposed to the China market than Huawei – as such, China's big 5G buildout helped the vendor substantially. However, the company has not made headway in overseas 5G markets yet, and its fixed broadband and optical portfolio has not been particularly successful recently.

Intel: years of R&D aimed at not just selling into telco networks but selling directly to telcos has paid off for Intel, as it grew share by 0.45% in 2020. The company has faced some challenges recently around foundry production and the competitiveness of its leading edge chips, but in the telco space it is looking up: it launched a 3rd gen Xeon processor recently, optimized for 5G workloads; partnered with GCP on Anthos; and is working with Samsung on 5G SA core technology.

NEC's share gain of 0.41% in 2020 was the fourth largest improvement in the market, due to scaling up of Japanese 5G network deployments after COVID as well as NEC pushing harder on Europe (e.g. working with Telefonica on open RAN).

Dell Tech/VMWare gained 0.25% market share in 2020, as VMWare's telco cloud positioning has been paying off. The company has been steadily rising in share to the telco segment, from a rank of 49 in 4Q16 to break into the top 25 in 2020, ending the year at 21. That puts it on par with Fujitsu and Accenture, and slightly ahead of Ciena and Juniper.

Amdocs gained a bit of share in 2020, and remains a powerhouse in the IT service provider company segment, with $4.2B in 2020 revenues, well ahead of 2nd ranked (in this segment) IBM. Amdocs is diversifying revenue sources, integrating an important acquisition (Openet), and partnering with webscale providers (AWS, November 2020).

Prysmian, Corning, and FiberHome all lost share in 2020 due to telcos shifting away from new fiber deployments as capex focused on 5G construction. Fiber spending was especially weak early in 2020 as COVID-19 spread and companies struggled to cope.

CommScope's single quarter share in 4Q19 (post ARRIS acquisition) was 3.21% of the global telco NI market, but this dropped to 2.82% in 4Q20. The company is heavily exposed to a small number of customers with its home networks division (CPE), which is masking its overall healthy product mix. The new CEO is engaged in a strategy review right now which should see some change in 2H21, including a spinoff.

The two charts below portray the top 25 telco NI vendors in 2020 and the biggest share swings in the market for the year; note that several are due to M&A activity.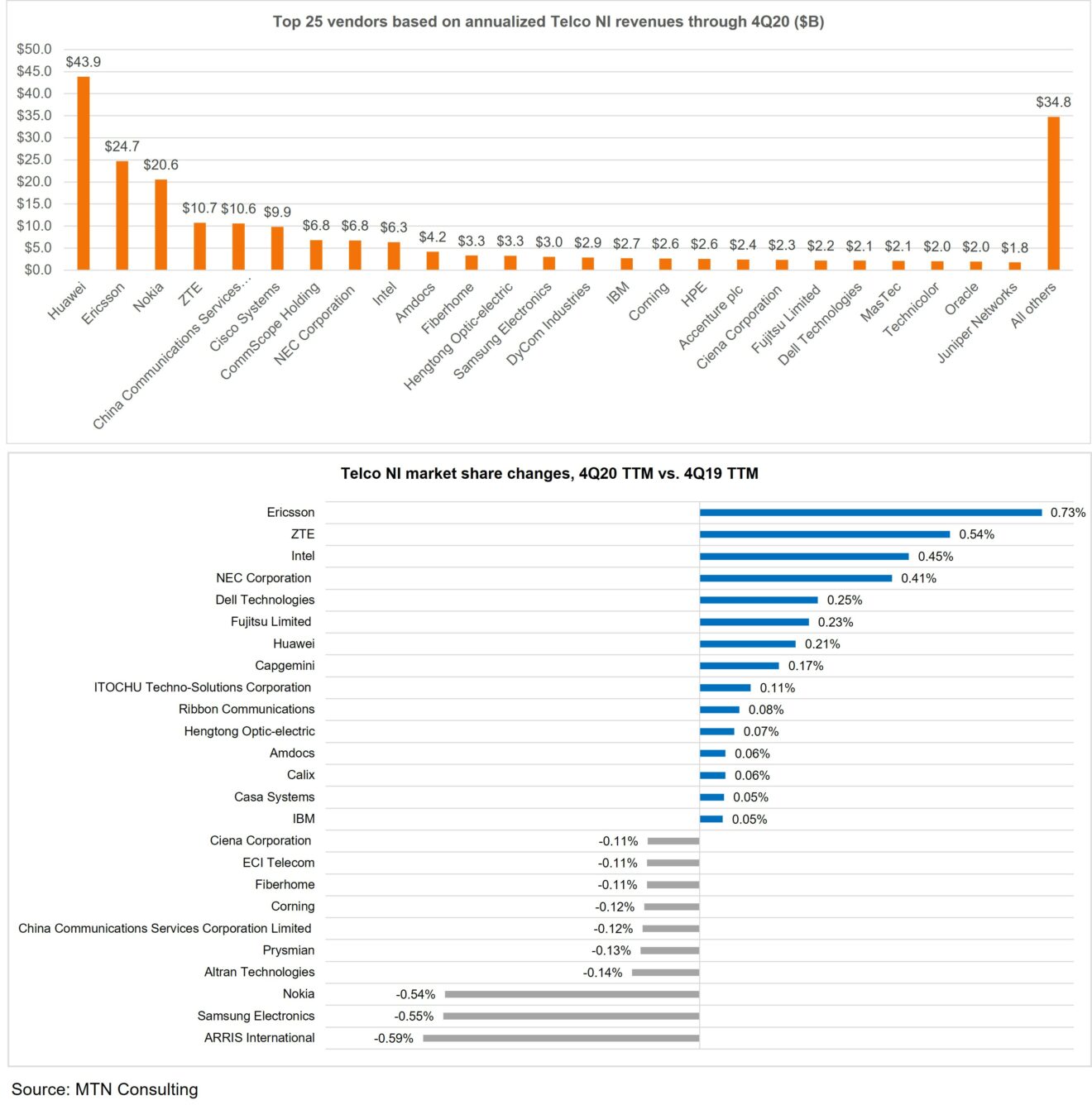 For more info, see the full report summary.
MTN Consulting's planned reports for the next few weeks include the following:

Telecom Network Operators: 4Q20 Market Review
360 CI: Data Center Chips
Network Spending Profile: Etisalat
Webscale Network Operators: 1Q21 Market Review
Forecast: Chinese cloud providers' global prospects
To see our most recently published reports,

click here
For information on subscribing to our research services, click here


You are receiving this because you are signed up to receive MTN Consulting's latest blogs and research alerts. We hope you enjoy our content, but you can unsubscribe at any time with the link at the bottom of this email - or by replying with "unsubscribe".