This is MTN Consulting's third regular newsletter to subscribers. This edition comments on recent vendor earnings in the telco market, and the Digital Realty-Interxion merger.
_____________________________________________________________________
5G vendors report earnings
The top five vendors selling 5G network infrastructure have now reported 3Q19 earnings. Nokia, Ericsson, and Samsung each reported public earnings data allowing a breakout of revenues to telcos. ZTE provided its usual interim (1st and 3rd quarter) report, which lacks revenues by customer segment. Huawei published a press release including total revenues and high-level commentary on demand trends.


There are modest signs of an uptick in telco spending in these results. Overall, the five recorded approximately $25.9B in 2Q19 revenues to the telco vertical ("Telco NI"), up 1% from the group's 3Q18 total of $25.5B. For each of these vendors, except perhaps Samsung, 5G is only a small slice of their overall activities - and many things are being re-branded as 5G, so true 5G breakouts are challenging. Nevertheless, early figures do suggest commercial 5G momentum is spreading, despite ongoing trade wars and supply chain interruptions.
These are preliminary figures, based on a few assumptions. One is that Huawei's actual carrier (Telco NI) revenues grew 3% in local currency terms; this is an assumption that needs to be further verified given Huawei's limited reporting. Second is that ZTE's carrier (Telco NI) revenues amount to 70% of total, which also needs to be confirmed.
With these assumptions, Samsung and ZTE are the clear growth standouts, growing Telco NI revenues by 17% and 13% YoY in 3Q19, respectively. Samsung continues to ride its domestic market's early adoption of 5G. ZTE's recorded growth benefits from an unusual 3Q18 base period, when sanctions were in place.
Huawei's assumed 3% annual growth in RMB translates to a -0.2% decline in USD revenues. If this bears out, this would be a significant improvement over 2Q19, when we estimate that Huawei's Telco NI revenues declined 6% YoY. The push by Chinese telcos to accelerate 5G and invest in new areas (including overseas, for China Mobile) is helping both Huawei and ZTE, as it has in the past.
Ericsson and Nokia grew Telco NI revenues at roughly the same rate in 2Q19 (in USD), about +2% YoY, but Ericsson opened up a lead in 3Q19 with 0.7% YoY growth (Nokia: -1.3%).
There is lots of noise around the number of signed commercial contracts, especially deals involving deep-pocketed telcos. However, it's notable that 5G is much more of a multi-vertical technology than previous generations, with complex use cases being laid out across sectors. All key 5G vendors are exploring these. Of the top 5, Ericsson will likely be the most reliant on partnerships, given its relatively high dependence on the telco market for its revenues (Figure, below).

_____________________________________________________________________
Digital Realty-Interxion in $8.4B deal
US-based carrier-neutral network operator (CNNO) Digital Realty announced an $8.4B combination with European CNNO Interxion "to create a leading global provider of data center, colocation and interconnection solutions."


Digital Realty is the second largest data center specialist in the CNNO segment of network operators tracked by MTN Consulting. Interxion is fourth. Their combined 2Q19 revenues were $979M, well shy of market leader Equinix but several times larger third ranked CyrusOne. (Figure, below)


Of the three network operator segments we track, the carrier-neutral segment is most affected by acquisition. Historically, M&A has burned nearly as much cash as capex in the sector. M&A activity was quiet in 1H19, but our recent CNNO market review noted the following:


| | | |
| --- | --- | --- |
| | | Despite the recent blip in growth, we expect CNNOs with a proven track record of acquisitions to continue looking for multi-billion dollar asset deals for the next several quarters and even years. The market could also see some more consolidation as the next market downturn hits. The larger CNNOs will push the envelope on their business model as they grow, adding services on top of their infrastructure and building further to the edge of the network. Top-line growth will tick up again with M&A deals, and the continued growth of new build CNNO networks (e.g. NBN). |
We didn't have Digital Realty-Interxion in mind, but the deal is not a surprise. Digital Realty needs to build on its still relatively small European presence. Interxion has seen steady topline revenue growth in the last few quarters but struggles to generate cash, given capex/revenue ratios well over 70%. The combination is much better positioned to afford a battle with Equinix.


Simultaneously, there are many small data center deals underway, some involving the consolidation of assets by private equity players, others involving the big publicly traded CNNOs expanding their portfolio. One thing that could accelerate this M&A activity further is an increase in supply, specifically from the telco sector. That's a possibility given that more telcos are struggling with high debt loads now and considering asset sales to raise cash.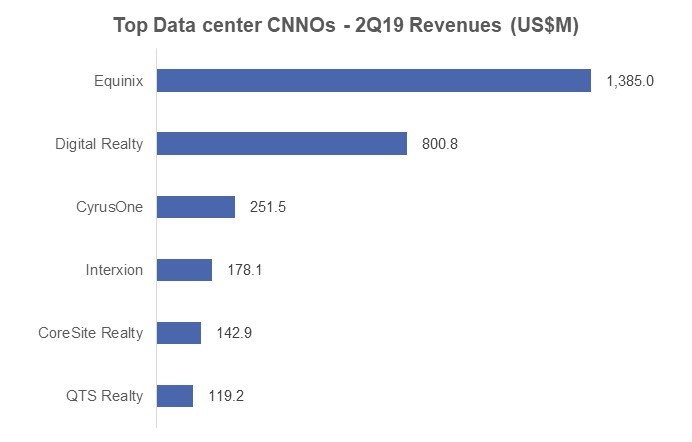 ____________________________________________________________________
"Telecom's biggest vendors: 2Q19" - Summary version available
Vendors have started to report 3Q19 financial results. As more companies report in the coming weeks, we will start to understand more about the impact of the China-US trade war, who is benefiting from early 5G deployments, and the prospects for a recession.


To get up to speed on the market for network infrastructure sales to telecom operators ("Telco NI"), we are offering newsletter subscribers a complimentary report. This short report is based upon our full interactive Excel model, Telecom's biggest vendors: 2Q19. To download the free version, click below:
To see our most recently published reports,

click here
For information on subscribing to our research services, click here


You are receiving this because you are signed up to receive MTN Consulting's latest blogs and research alerts. We hope you enjoy our content, but you can unsubscribe at any time with the link at the bottom of this email - or by replying with "unsubscribe".