Amazon drives webscale capex jump in 4Q20, Alphabet lags; Oracle's 63% YoY increase is sign of OCI ramp
Webscale capex on track to close 2020 around $122 billion
Most webscale network operators (WNOs) have now reported 4Q20 earnings. For a large sample of reporting WNOs, 4Q20 capex jumped by an average of 52% YoY versus 4Q19. Amazon was by far the most significant company, spending over $14 billion on capex in 4Q20, from $5.3B the year prior. Remove Amazon, and the YoY increase was only 14%. This is a sign of both how influential Amazon has become in the cloud and how COVID-19 enticed the ecommerce side of its business to ramp up logistics and fulfillment capacity.


The figure below illustrates YoY changes in capex for key WNOs who have already reported earnings. As shown, all but Cognizant and Alphabet increased capex YoY on an absolute basis (in US$), but nobody comes close to the Amazon surge.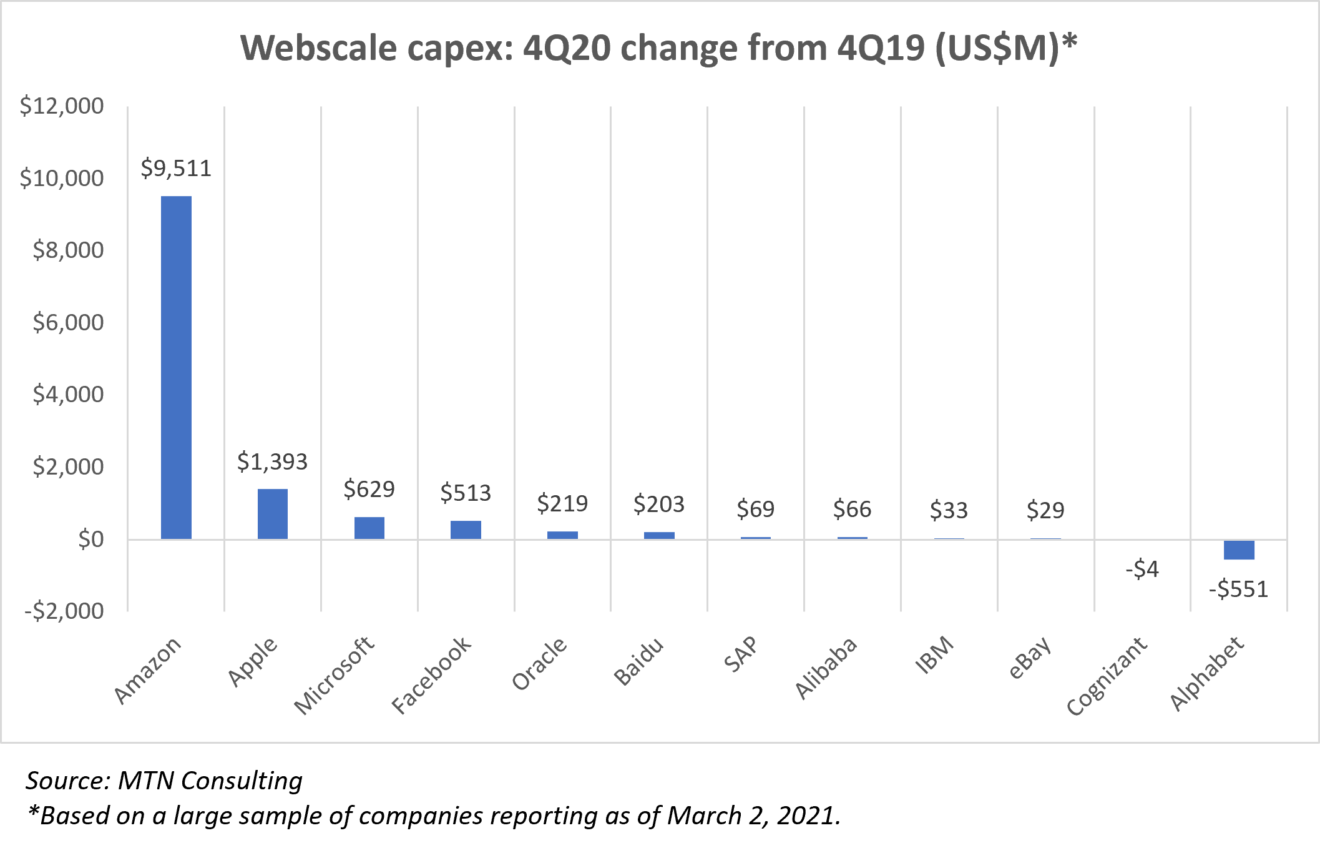 In MTN Consulting's recently published capex forecast, we projected that webscale capex would close out 2020 around $122 billion, up from $104 billion in 2019. Preliminary results from 4Q20 are consistent with this projection. Looking further out, we still expect webscale capex to continue solid growth, climbing to just over $200B by 2025. The network/IT/software portion of capex will come in at roughly 50% in 2020, as it did in 2019, decline to 42% by 2023 as a spate of new data centers come on line, but grow back up to 50% by 2025 as more of capex is for server/capacity expansion of existing infrastructure. Within the technology part of capex, data centers and their components (networking, compute, storage, power) will soak up the bulk of spending, but subsea cables and satellite networks will become increasingly important over the next 5 years.


Earnings calls: A rundown of webscale capex & plans for 2021
Oracle has big plans for expanding it data centers in 2021, according to its fiscal 2Q (calendar year 4Q20) earnings call on December 2020. The technology corporation, now headquartered in Houston, reported that it plans to continue adding new data centers through 2021, and expects to have 38 by YE-2021.


Oracle is a small cloud player relative to Amazon, especially considering Oracle's heavy reliance on collocated facilities (mainly with Equinix). However, Oracle is clearly becoming more significant in the cloud, and its use of Ampere's data center chips could also have an impact on the competitive landscape in the chip market.


Oracle's frequent mention of its data center plans indicates a high commitment to its cloud rollout and a bullish outlook on its prospects in this business. During the first half of its earnings call, Chairman Larry Ellison noted the company's "great quarter" would have been even better if it had not been capacity constrained in Oracle Cloud Infrastructure (OCI). He said to remedy this Oracle is adding OCI capacity and building OCI data centers as fast as it can. Ellison claimed that, as of December, Oracle had increased its footprint to 29 regional data centers worldwide, "more than AWS" (per Oracle), adding customers, and growing revenue well over 100% year-on-year.


Ellison explained that Oracle's strategy recognizes that, because the company has a large existing business and installed base of software customers, "we just have to get into more countries than someone – than Amazon, let's say, because we have to serve those customers where we have an installed base." He pointed to Indonesia and Israel as examples: Indonesia is a very big country with a lot of people where Oracle has a large installed base, "but a lot of people don't have data centers there." Ellison said it's very important to get a good data center in Israel, but "some of the cloud companies have been late to get there."


CEO and Director Safra Ada Katz noted Oracle has greatly increased its capital spending plans due to strong demand, and expected that it will increase 50% sequentially in 1Q21. Such an increase would imply around $850M of capex in 1Q21, a 144% increase relative to 1Q20. Oracle's data center strategy has traditionally been capex-light due to the company's partnership with Equinix, which provides many of the properties into which Oracle installs its equipment. That makes Oracle's capex increases all the more significant.


Amazon's earnings call revealed very little about its data center plans, in contrast to Oracle. That's consistent with history but also may be due to management changes. Amazon promoted its AWS CEO, Andy Jassy, to replace CEO and founder Jeff Bezos just before its earnings call webcast on February 2, 2021. In response to a capex outlook question, CFO Brian Olsavsky said "We are working through our future plans." Olsavsky did elaborate somewhat, suggesting that its 2020 capex reached $44B due to some unusual one-off investments.

Like Amazon, most other webscale providers avoided specifics on data center investment plans for 2021 on their 4Q20 earnings calls. Oracle was a standout. Clearly Oracle wants to make a splash in the market quickly, and assure its customers and prospects that its infrastructure is rapidly getting up to speed relative to the top 3 (AWS, Azure, and GCP).


Among the 17 WNO companies tracked by MTN Consulting, Alphabet had the second largest annualized capex through 3Q20, at $23B (behind Amazon). Looking forward to 2021, SVP Eric Schindler said he expected the pace of investment to return to normal levels, with spending on servers driving an increase: "Servers will continue to be the largest driver of spend on technical infrastructure."


In addition to servers and new data centers, Alphabet continues to spend on subsea cables. For instance, Google reported on its blog on February 3, 2021 that its new Dunant subsea cable, which connects US and Europe, is now ready for service. The Dunant cable, which was made in partnership with SubCom, will have ultimate capacity of 250 Terabits per second, "enough to transmit the entire digitized Library of Congress every second." Google notes that "Dunant is the first long-haul subsea cable to feature a 12 fiber pair space-division multiplexing (SDM) design."


Facebook is the most bullish of the big webscale providers in terms of its 2021 investment outlook. During its 4Q20 Earnings call, Facebook CFO Dave Wehner said "We continue to expect 2021 capital expenditures to be in the range of $21 billion to $23 billion, driven by data centers, servers, network infrastructure and office facilities." This compares to a 2020 capex total of just $15.1 billion. Wehner said several projects were delayed in 2020 due to the pandemic.


Microsoft CEO Satya Nadella noted that the company has announced 7 new data center regions recently, in Asia, Europe, and Latin America, which will contribute to capex over the next few quarters. CFO Amy Hood, speaking just after Nadella, said the company expects to see a "sequential increase on a dollar basis" in capital expenditures in 1Q21 as the company continues to meet growing global demand for its cloud services. Microsoft spending on finance leases, a.k.a. capital leases, is also significant and contributes to the company's network infrastructure footprint.


IBM, which made no specific mention of data centers in its 4Q20 call, had much discussion of its focus on and efforts to bring AI-powered automation across its platform. IBM says it is building out its cloud integration offerings for this purpose. CEO Arvind Krishna also discussed quantum computing, and claimed that this "has the potential to unlock hundreds of billions of dollars of value" for its clients by the end of the decade. IBM says it has a roadmap to build a 1,000 qubit quantum computer by 2023.


Baidu is one of the smaller WNOs but, like Oracle, its 4Q20 capex grew significantly, up 162% from 4Q19 to reach $329M in 4Q20. Baidu did not speak specifically about data centers or capex projections in its earnings call. The company's focus was on its self-driving and auto-driving projects, mentioning some combination of those terms 51 times. These projects require high levels of R&D spending. During its call, the CFO Cheng Chun Yu noted that it spent about 21% of its $12.1B USD core revenue in 2020 on research and development. During the call, a questioner asked how much time the company spends on different segments and what its priorities are. CEO Yanhong Ling answered that "half of our time and resources are invested in the mobile ecosystem part, and the other half in the AI cloud and intelligent driving and other growth areas...going forward, we will continue to do this". Baidu has fallen in relative importance over the years, but it will remain an important player in the webscale market.


SAP made one minor reference to capex and data centers in its call. CFO Luka Mucic said there will be additional capex requirements this year and next for the purpose of harmonization and modernization of its cloud infrastructure. Apple and eBay made no mention of future capex or data center investments in their latest earnings calls.
____________________________________________________________________
MTN Consulting: Company news
New report series focused on network spending
Since MTN Consulting was founded in 2017, we have had many good discussions with clients around telco capex and opex trends. One takeaway is that there is a dearth of good market research focused specifically on network spending. As such, we decided to launch a new series of reports for 2021, each one serving as a "network spending profile" of a single operator. The profiles are delivered in Excel format, and provide info on company financials, installed network infrastructure, network-related capex and opex trends, and supplier relationships. Most of these reports will examine telcos, but we have a few slated for 2H21 that will dig into spending trends in the webscale sector.


Earlier today, we published the second report in this new series, digging into Comcast; below are a few excerpts:


| | | |
| --- | --- | --- |
| | | "Comcast Cable US is a cable TV-centric telco, with a large fiber network in the core and a hybrid of fiber and coaxial cable (HFC) network near customer locations. In the last decade, Comcast has invested heavily to upgrade the capacity and functionality of this network, pushing fiber further to the edge and deploying faster access technologies (notably DOCSIS 3.1). Its broadband service speeds continue to get higher, requiring heavy investments in core capacity; Comcast claims that it doubles its network capacity in roughly 2.5 years. One example: it had 1700 100Gbps links to its core network in place in June 2020, from 500 100G links in March 2019." |
| | | |
| --- | --- | --- |
| | | "Outside the US, Comcast Corp closed its acquisition of UK-based Sky in 4Q18. Sky had 23.9 million customer relationships at year-end 2020 across five countries: UK, Ireland, Germany, Austria, and Italy. Like Comcast Corp, Sky also produces content, including to its competitors such as Virgin Media (part of Liberty Global). Content accounted for only 7.4% of Sky revenues in 2020, though, much less significant than the NBCU unit is to Comcast Corp. Sky began its life focused on delivering satellite video to consumers (via Astra), but it has evolved since then. It acquired a fixed operator in the UK over 15 years ago (Easynet) and it continues to extend its fiber penetration to the home (38% at mid-year 2019). It has taken advantage of local loop unbundling to layer broadband fixed services on top of satellite. In 2017, Sky entered the mobile market in the UK via an MVNO with Telefonica UK (O2), and extended this to 5G in 2019." |
| | | |
| --- | --- | --- |
| | | "Comcast Cable US has a long history of working closely with a small group of interdependent vendors to develop and roll out technology. CommScope, Harmonic, and Technicolor are among these vendors. Sky generally procures technology on the open market, as it lacks the buying power or unique requirements of Comcast. Going forward, Sky may seek to better leverage the market influence of its parent company to entice customization and better deals from vendors." |
| | | |
| --- | --- | --- |
| | | "Comcast invests heavily in developing its own technology, in particular the set-top box that is the consumer market's main portal to the Comcast service. The main product developed is the Xfinity X1, which is manufactured by CommScope. The X1 is also licensed for use to a small number of other cable TV providers. More recently, Comcast is exploring deals with smart TV manufacturers to lease the X1 software. In addition to the X1 platform, Comcast has also developed xFi Pod WiFi extenders, and xFi management software." |
| | | |
| --- | --- | --- |
| | | "Comcast's single largest supplier is CommScope. One reason is the X1 manufacturing relationship, overseen by CommScope's CPE group, but Comcast buys from CommScope's Connectivity and N&C units as well. In 2019, Comcast accounted for 13% of CommScope's sales, or a total of just under $1.1 billion. Other important suppliers to Comcast in the network include Amdocs, Ciena, Cisco, CSG, Harmonic, Intel, and Technicolor. Ciena is especially important in the optical transport domain." READ MORE |
MTN Consulting's planned reports for March include the following:

Emerging satellite platforms for broadband connectivity
Predictions: Global Network Infrastructure in a Biden World
Network Spending Profile: China Mobile
To see our most recently published reports,

click here
For information on subscribing to our research services, click here


You are receiving this because you are signed up to receive MTN Consulting's latest blogs and research alerts. We hope you enjoy our content, but you can unsubscribe at any time with the link at the bottom of this email - or by replying with "unsubscribe".