I hope you enjoy our latest newsletter. As always, feel free to unsubscribe using the link at the bottom of this note, or by replying "unsubscribe".
_____________________________________________________________________
Network operator capex in 4Q19: the latest results
Most network operators have now reported 4Q19 earnings. On a YoY basis, capex declined for all three of our operator segments - telco (TNO), webscale (WNO), and carrier-neutral (CNNO) (figure). Capex as a share of revenues, or capital intensity, also fell for each segment, as shown in the figure below.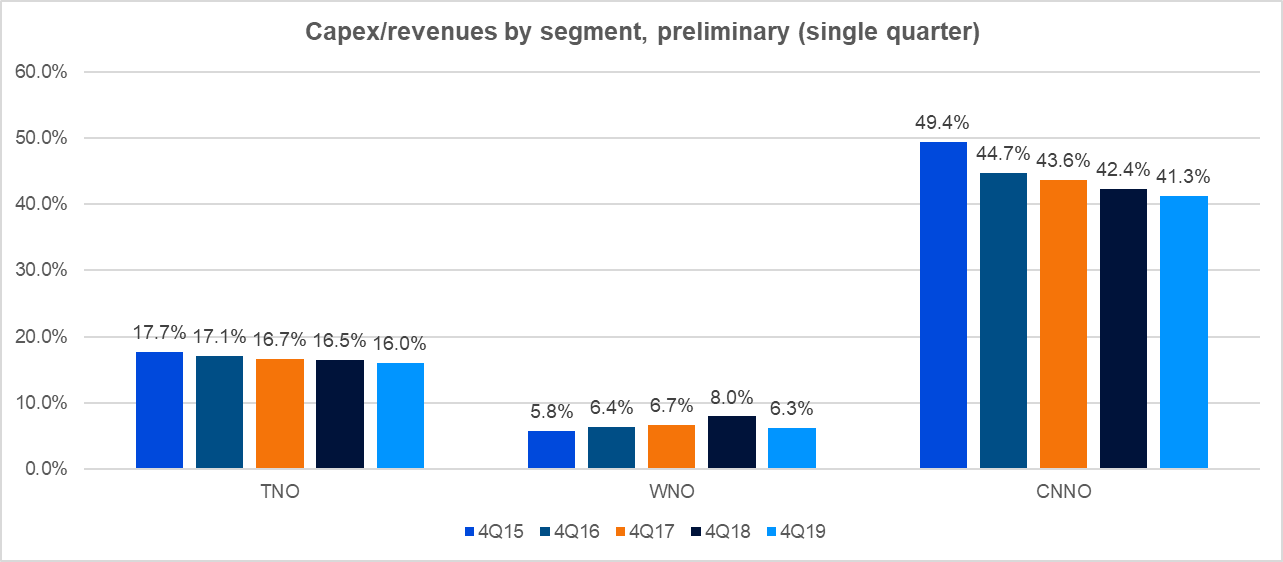 The spending climate in the telco sector has been cautious for many years, and the sector is undergoing a number of changes (digital transformation, software-based networks, asset spinoffs) which tend to lower the capex burden. However, the preliminary 4Q19 result was the worst fourth quarter since the financial crisis, on a capital intensity basis. Some of the declines include the following:

Jio: capex down 78% to $421M. Jio's initial 4G network build is largely complete, and 5G hasn't started yet.
Liberty Global: 64% decline in capex, to $343M in 4Q19. Liberty sold properties in four countries to Vodafone in July 2019, reducing the asset base. Another factor is that the cost of Project Lightning in the UK (Virgin Media) is trending down.
True Corp (Thailand): capex down 58% YoY to $253M. Company notes that 4Q18 base period included a surge in fiber/FTTx spending. Even with the decline, capex/revenues in 4Q19 was still over 20%.
Telstra: capex down 41% to $515M in 4Q19. Notes unusually high 4Q18 comparison period, and that 5G spending ramp will come in next 6 month period.
Vodafone: capex down 14% YoY to $2.34B. Reduced capex due to tower sharing, plus pause due to regulatory uncertainty around Huawei. Capital intensity will rise in future due to recent acquisition of Liberty cable assets.
Even with the overall decline, there was plenty of capex growth in 4Q19, as well:

Veon: capex up 97% YoY to $682M. Company committed capex to improve position in Russia and enhance 4G services in growth markets
Etisalat: capex up 76% YoY to $505M. Higher capital spend in the UAE focused on deployment of 5G network, investment in data centres and network modernization
STC: capex up 41% YoY to $1.28B. Increased spend on both 5G and fiber optics transport and access.
Verizon: capex up 21% to $5.61B. Fortifying 4G network, expanding 5G coverage and fiber build.
NTT: capex up 16% YoY to $3.79B. Big increase in NTT Communications due to data centers and submarine (MIST Cable)
The figure below highlights YoY capex changes for the largest 20 telcos already reporting 4Q19 results.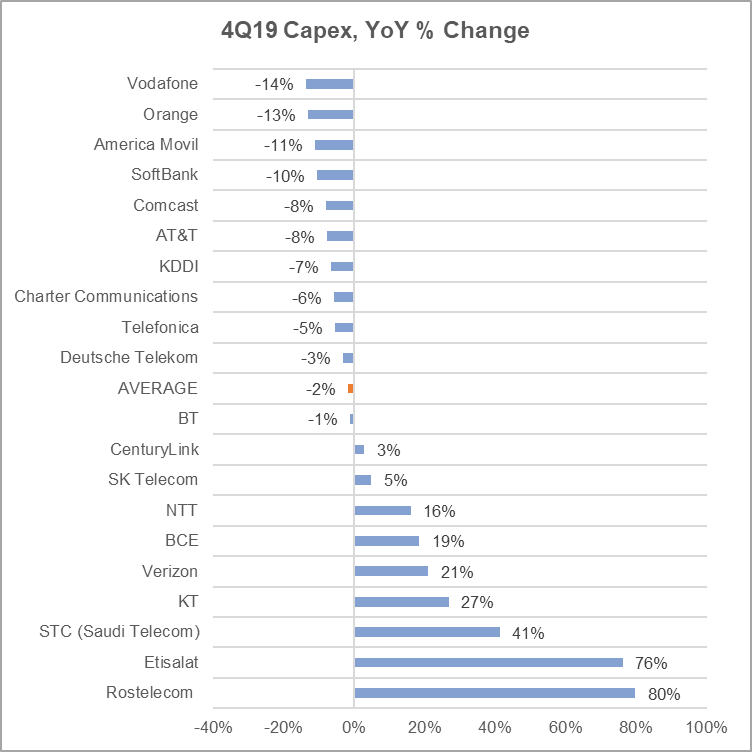 Webscale & carrier-neutral
In the webscale sector, capex has been growing rapidly over the last few years, as WNOs expand their data center footprint and global connectivity. After a spending surge in 2018, though, the sector took a short breather in 2H19. For the 3Q19 period, annualized webscale capex of

$105.3B was down by 0.9% YoY, compared to high double-digit growth rates in the previous year. For the preliminary 4Q19 period, single quarter capex is down 10.2%, and it can't be blamed on China: Alphabet's capex dropped 15% YoY to $6.1B in 4Q19, while Apple's capex fell 37% to $2.1B. Amazon's 42% YoY surge in capex (to $5.3B) was not enough to offset these shortfalls.




In the carrier-neutral sector, China Tower and several other significant providers have not reported yet. For those reporting, capex has fallen YoY at about the same rate as for telcos: down 1.7% from 4Q18. Most CNNO capex is for land & buildings, but they also spend heavily on fiber, servers, and power.
See the "Research Recap" for Bumpy Road Ahead, below.
____________________________________________________________________
Tough times at Huawei in 1Q20
If you're a Huawei watcher - and who isn't in telecom nowadays - keeping up with the newsflow of the last few months has been a challenge. The company has long generated a lot of press, but this is different.


Looking at just the last three months, three things seem clear. One, US policymakers from both major parties are skeptical of Huawei. At a minimum, they oppose use of Huawei in US networks; at the fringes, some would like to put Huawei out of business. Two, a number of large countries aligned with the US are unable to resist Huawei's offering, and/or not eager to cope with bullying from China Inc. Three, Huawei sees self-sufficiency as even more important now than a year ago, and the Chinese state budget will support that desire.


The most important recent speech on Huawei was delivered at last month's Munich Security Conference by Nancy Pelosi, Speaker of the US House of Representatives. Her speech reminds us that concerns about Huawei are generally bipartisan in the US. Pelosi warned that "China is seeking to export its digital autocracy through its telecommunication giant, Huawei, threatening economic retaliation against those who do not adopt their technologies....We must instead move towards . . . an internationalization of digital infrastructure that does not enable autocracy."

Some other recent developments causing headaches for Huawei's management team include:


Huawei's rags to riches story has taken hits lately. On December 25, 2019, WSJ published a biting investigative piece called "State Support Helped Fuel Huawei's Global Rise: China's tech champion got as much as $75 billion in tax breaks, financing and cheap resources as it became the world's top telecom vendor"
Chinese state officials continue to exert political pressure to support Huawei; recently the Chinese ambassador to Germany threatened retaliation if Berlin excludes Huawei from developing its 5G network. This is not only wrong, it is self-defeating for a company that is trying to appear a purely private concern.
Some European telcos (notably Vodafone) are being forced to rip and replace Huawei equipment in their network; even when these efforts are subsidized, it will make telcos think twice about future commitments.
On February 6, Trump's attorney general, Bill Barr, suggested having a US company invest directly (or acquire) one of the two European mobile RAN suppliers, Nokia or Ericsson. While unlikely to take place, there is real support for US government subsidies to the growing ecosystem of open RAN vendors based in the US.
In early February the US Department of Justice charged Huawei with racketeering and conspiracy to steal trade secrets in a new indictment. Around the same time, the WSJ reported that U.S. officials said they have obtained evidence of Huawei's ability to access mobile networks through a "back door," and have shared such information with several European governments in recent months
In late February Intel entered the 5G base station chip market, threatening indirectly Huawei's competitive positioning in the 5G RAN market
Huawei is keeping its eye on the long-term prize
Despite a growing list of problems, Huawei has had plenty of wins lately, and appears focused on the long term.


In late February Huawei announced it had secured more than 90 commercial 5G contracts to date, versus 79 for Ericsson. Huawei also made the most of an MWC-less February, communicating with analysts and customers virtually via webinars and targeted briefings. Huawei also reorganized recently, creating the "Cloud & AI" business unit, to function in parallel to the legacy Carrier, Enterprise, and Consumer business groups. For telcos considering a bet on further Huawei deployment, these are all positive signs.


Behind the scenes, though, I suspect Huawei sees the writing on the wall - its US problems did not start with Trump, and they won't end with a new President. As such, Huawei continues to work towards its long-term goal of self-sufficiency. This is not new, but has been accelerated by recent events. It's especially important at the chip level. For instance, Huawei has increased its investments recently in subsidiary HiSilicon, increased collaboration with local chipmaker SMIC, and placed orders with Taiwan-based TSMC to be fulfilled out of China-based factories in Nanjing. Huawei has an enormous R&D budget and always-growing ambitions, so its efforts to bypass the US for technology development will persist.



_____________________________________________________________________
Bumpy road ahead for 5G transition
Telco technology spending in 4Q19: Early reports point to weak spending climate amidst supply chain uncertainty, with more vendor dislocation likely in 1H20
(Published on February 25, 2020)


Telcos are starting to realize that they can't rush on 5G

Technology spending by telecommunications network operators (TNOs) shifted down a gear in 4Q19. The supply chain remains severely unsettled due to U.S.-China trade and intellectual property (IP) disputes, and the related US legal cases against Huawei and affiliates. Amidst the nonstop hype surrounding 5G, there are many other constraints to rapid deployment, including:

High cost of spectrum auctions: Countries of all sizes continue to execute 5G-related spectrum auctions with an eye towards maximizing government revenues. Taiwan raised $4.6B last month from five bidders; for context, Taiwan's total telco capex in 2018 was well under $2B.
Lack of an Apple 5G device: Nothing was announced in September 2019 at the big Apple fest. The proliferation of 5G devices from China doesn't compensate for this, especially given trade war issues.
Lack of a killer telco app: 5G marketers point to dozens of use cases in the Internet of Things world for 5G, including connected cars, but it's not clear how telcos will get a piece of this action beyond network connectivity
Mixed core: Most operators deploying 5G are doing so on a "non-standalone" basis, where they rely on a 4G LTE core, which limits some of the upside of 5G and impacts vendor options
Regulatory costs: Some operators, including Vodafone, face new costs imposed by regulators as they rip and replace select Huawei equipment.
These limitations provide useful context for interpreting technology vendors' recent reports of their sales to the telco market, the focus of this report.


CLICK HERE FOR MORE INFORMATION


_____________________________________________________________________
Webscale Playbook: Apple
R&D splurge to continue, as further capex falloffs on cards with virus outbreak in China
(Published on February 24, 2020)


Apple has come far since its inception in 1976. It has progressed from selling user-friendly computer systems (Macintosh, iMac) and portable media players (iPod), to become a dominant force in mobile devices, starting with the launch of iPhone in 2007. In August 2018 it became the first-ever public company to breach the US$1 trillion mark by market capitalization. In fact it is the 'iPhone', touted as the pioneer of the smartphone revolution, that has significantly helped Apple in its journey to trillion-dollar valuation. The popular device, which dethroned the likes of Nokia and Blackberry back then, continues to be Apple's bread and butter, and accounts for more than half of its overall revenues (54.7% in FY2019).


In addition, Apple launched a slew of services over the years that complements iPhone and other devices in its portfolio. These include iCloud, Apple Music, App Store, and most recently Apple TV+ and Apple Arcade. The move has enabled Apple to create its own strong ecosystem comprising hardware, software, and content – locking its users across ~1.5B active iOS devices into buying/upgrading to an Apple device again. But with the iPhone story showing cracks in the recent past, Apple is turning to its services unit as the next growth pocket – the growth-driving unit doubled its contribution to Apple's total topline since 2015 from 9% to 18% in 2019.
There is also a possibility for Apple to enter the 'public cloud' market, as evidenced by past data center expansion and upcoming plans, along with its ongoing efforts in cloud infrastructure self-sufficiency under project "McQueen" that seeks to reduce reliance on other cloud providers such as Amazon and Google. With 'services' growing in clout as a segment coupled with a growing focus on cloud and edge computing, Apple's network infrastructure requirements will rise again. However, macro risks such as the US-China trade clash and recent pandemic outbreak in China constrain Apple's supply chain, impacting capex investments further for the next few quarters.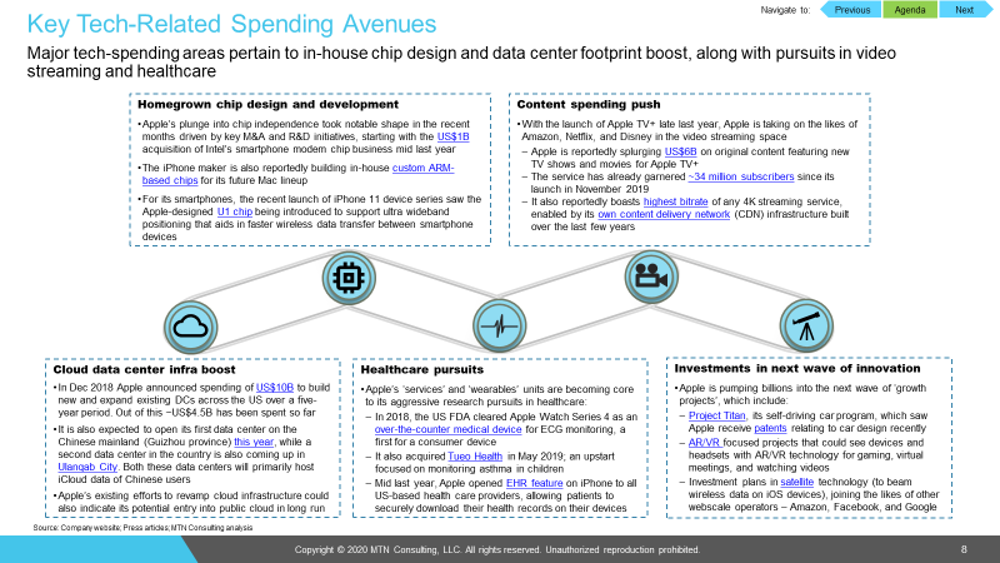 Below are a few highlights from the report:

Apple's R&D spending has soared mainly due to headcount addition from the acquisition of Intel's smartphone modem business mid last year, accompanied by the surge in content costs with Apple TV+ launch late last year
Privacy and security remain critical for Apple as it looks to enhance connectivity by developing edge-based AI capabilities and wireless data transmission through satellite technology
Apple's supply chain is under immense pressure with the recent virus outbreak in China, exposing its vulnerability and over-dependence on the Chinese market – prompting to explore new manufacturing hub sites
CLICK HERE FOR MORE INFORMATION


_____________________________________________________________________
Building the cloud: Webscale network supply chain analyzer
4Q19 Edition
(Published on March 4, 2020)


The world's largest technology companies are investing heavily in webscale networks. These are centered around enormous webscale, also known as "hyperscale" data centers, and the web of infrastructure connecting them.


This webscale network operator (WNO) sector of companies spent $105.3B in the twelve-months ending 3Q19, or 7.5% of revenues. Nearly half of WNO capex is for the network (including capitalized software). Webscale operators spend even more on R&D each year than capex; annualized webscale R&D expenses in 3Q19 were 10.6% of revenues. This is in contrast to telecom operators, who rarely spend over 1% of revenues on R&D. WNOs use their R&D smarts to design their own network and equipment. Each company has its own approach, though. As the WNO sector grows, it is important to understand how WNOs blend internal expertise with procured technology from outside vendors to build their networks. Technology partnerships are crucial, as webscale providers generally prefer new, customized solutions to off the shelf alternatives.


MTN Consulting's "Webscale Network Supply Chain Analyzer" tracks technology spending in this sector by digging deep into the webscale-related supply chains of each operator. The Analyzer tracks contracts/deals between WNOs and technology vendors across eight product categories, and provides detail on type of relationship and nature of deal. The goal is to provide a comprehensive view of the competitive landscape facing vendors who aim to sell or partner with webscale operators.


In total, this database includes 558 entries through the end of December 2019. Contracts are concentrated in the 2016-19 period but stretch back to 2010. The vast majority of contracts involve one of the top 8 WNOs, who account for ~80% of total WNO capex. More companies are building webscale networks over time, though, and more vendors are selling to them... CONTINUE READING


To see our most recently published reports,

click here
For information on subscribing to our research services, click here


You are receiving this because you are signed up to receive MTN Consulting's latest blogs and research alerts. We hope you enjoy our content, but you can unsubscribe at any time with the link at the bottom of this email - or by replying with "unsubscribe".